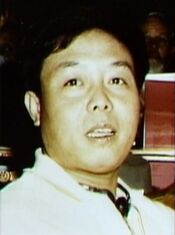 Real Name: Jian Fang
Nicknames: Jim Fang (possible misspelling)
Location: San Francisco, California
Date: December 18, 1993

Case
[
]
Details: On December 18, 1993, forty-two-year-old Jian Fang, a prosperous businessman who supplied noodles to dozens of Chinatown restaurants, was stabbed to death in San Francisco, California. His case is just one of thousands of unsolved murders that plague police departments across the country. With no immediate solution in sight, the detective in charge tried an unconventional approach. He opened his case files to a college class called "Murder We Solve", created by a woman named Brooke Stuart. The class had already helped close one case, the 1992 slaying of taxi driver Jesse Dominguez.
When Brooke's class met in December 1994, the would-be detectives included a ballet teacher, a housewife, and several writers. San Francisco Police Inspector Prentice Sanders briefed the students on the case. After working on it for a year, he knew that he had to look at it from a different angle and start all over again. The class gave him an opportunity to do that.
Jian was a businessman and owner of two noodle factories. On December 18, 1993, he and an employee were attacked by a pair of assailants. He was stabbed to death. Inspector Sanders was called to the scene at around 1:30am. The rear window of Jian's van was broken, and the van's interior was ransacked. No fingerprints were found, but the murder weapon had been left behind. It turned out to be a regular, cheap, kitchen steak knife. He noticed that it was very worn, as if it had been washed 100 times or more.
Authorities also recovered a BB gun; however, they were not certain it had been used in the assault until they interviewed the only witness to the crime. On the evening of the murder, Jian offered a ride home to one of his supervisors, Mrs. Yee Sung. Shortly after midnight, they exited the building, located in an industrial park at 1051 Quesada St., and got into Jian's van, which was parked just outside. They did not notice that the rear window was broken. After Jian had driven about 100 feet, two young men, who had been hiding in the back of the van, approached them and demanded "the money". Mrs. Yee noted that they spoke in fluent Cantonese (which was Jian's native language).
One of the men struck Mrs. Yee along the side of her head with the gun, demanding that she neither turn around nor look. The other man, wielding a knife, demanded Jian to give him "the money" or else he would be stabbed. Mrs. Yee said that the terrifying episode lasted more than half an hour, far longer than most robberies. During that time, the two men ripped apart the van's interior, repeating over and over their demand for "the money". Finally, when Jian tried to fight back and grab the knife, the man stabbed him. He struck with brutal accuracy; a single plunge of the knife sliced directly into Jian's heart. It is not known if the man was just lucky to hit such a vital spot, or if he was experienced in knowing where the vital spot was.
Before fleeing, the two men threatened to kill Mrs. Yee if she called for help. She stayed there about two hours, afraid to move because of the threat. She did not hear a car leave, nor did she hear anyone running. Eventually, she left the van and contacted the police. The killers' take was merely $100. After Inspector Sanders finished his briefing on the case, he opened the floor for questions.
The case review provoked a number of insightful questions. One of the students stated that she did not understand why the killers brought such a cheap weapon to approach and rob Jian. Another student asked if the murder weapon was used in any of the restaurants where Jian had clients. Yet another student theorized that the killers assumed that Jian had a large quantity of money on him, since they kept asking for "the money". Another student asked what Jian's personal and business bank records showed, and if there were any recent, large amounts of money that went in and out, as this could be the money that was referred to be the killers.
Inspector Sanders told the class what he knew about Jian's daily activities. At times accompanied by his wife, he had personally collected money from his customers. A typical day would net up to $1,000 in cash. One of the students did not understand why he went out and collected the money himself, since he was a successful businessman. He suspected that there was something else involved that led him to do this. Inspector Sanders had also wondered about this. He was not sure if Jian was just frugal or if there was something else going on.
In fact, there was evidence that the case had another dimension. Three weeks after the murder, Inspector Sanders received a call from a mysterious tipster. The anonymous informant advised him that he should look into the gambling angle with Jian. He said that Jian was, in fact, an avid sports gambler and had connections in the Chinese community for gambling. He said that gambling was likely the motive for the murder, rather than petty robbery.
If the caller was to be believed, Jian had been a key figure in the shadowy world of illegal gambling, both as a better and as a bookmaker. The informant claimed that on the day of his death, Jian had collected an eye-opening $25,000 in cash. It was an extremely promising lead. However, none of the information could be corroborated and Inspector Sanders found himself back at square one.
By the end of the class, each student had heard the baffling mix of evidence, leads, and rumors in Jian's case. Each student came back with a theory. One student theorized that Jian had a bet with a person on his route and won money from them. The person became upset that they lost the money and sent somebody to get it back from Jian. In the process, the hired person killed him. Another student theorized that it was either a crime of opportunity, or it was a planned attack made to look like a robbery. Yet another student believed that there was a link with Mrs. Yee and the killers because she did not give much information about them, despite being around them for a long period of time.
Brooke was excited about starting the class because it was a unique idea that had never been done before and has become successful. She has learned that the class has helped come up with leads that have helped with moving the investigation forward. The students were given a week to submit a written analysis. Some, like Nick Dolby, took their investigation to the streets. Another student, Cara Llewellyn, questioned a friend of hers who had lived in Chinatown for many years.
Cara and Nick later went to police headquarters to try out their theories on Inspector Sanders. Cara believed that the murder was an "amateurish" job. She believed that the killers were "gang wannabes" who were new immigrants to the country. She does not think that the murder fits the "traditional signature" of the Chinese gangs in Chinatown. Her friend had told her about a different network of gangs that operated within the Chinese community. She learned that many Vietnamese immigrants are well-versed in Cantonese and some of the newcomers might be eager to prove themselves to longtime gang members. She theorized that some of the "gang wannabes" had seen Jian, possibly at one of his clients' restaurants, and thought that he had money, based on his jewelry and clothing.
Nick proposed a scenario that was totally at odds with Cara's. He believed that Jian's killers knew him and his routine. He believed that Jian was involved in gambling in a very high level and that it was one of the "fun" things that he liked to do. He suspected that the killers overheard Jian, either taking or making a large bet. They knew that he was going to collect a large sum of money and expected that he had it with him that day. They were surprised and disappointed when they found nothing in the van because he did not have the money on him. Nick does not believe that the killer stabbed Jian deliberately. He was only killed because he started to struggle with the killer.
Inspector Sanders felt that talking with the students was very stimulating. It caused him to think and rethink some ideas that he had entertained during the course of the investigation. So which scenario lies at the heart of Jian's murder? Soon after briefing the students, Inspector Sanders was contacted by a second anonymous informant, who argued that the murder was tied to illicit betting. He believes the tip to be credible, but only time and further investigation will enable the police to close in on Jian's elusive killers. There is a $10,000 reward being offered in this case.
Suspects: The assailants were described as two young Asian males who spoke perfect Cantonese. They were believed to have been younger than thirty (in 1995). They carried a cheap, worn out kitchen knife and a BB gun. Some sources state that they wore masks. They have never been identified. Inspector Sanders believes that another person may have been involved as the getaway driver.
An informant claimed that Jian was involved in gambling and that his murder was related to a gambling debt. A second informant also claimed that the murder was related to illicit betting. However, none of this information could be corroborated.
One student suggested that the killers knew that Jian was collecting a large sum of money (either from a bet or through his work) and were disappointed that there was none. They did not intend to kill him until a struggle ensued.
Another student suggested that Mrs. Yee may have been involved in the murder or at least knew more than what she said. They question why she was not injured and why she was not able to give much of a description of the assailants. They also question why she took over two hours to even leave the van.
Yet another student questioned her friend who had lived in Chinatown for years. The friend told her about a network of Vietnamese gangs that worked in Chinatown. The gang members are usually well-versed in Cantonese. The student suggested that Jian may have been murdered by two of these Vietnamese gang members. They may have worked in one of the restaurants and noticed that he collected large amounts of money from his customers.
Extra Notes:
This case first aired on the March 3, 1995 episode.
The "Murder We Solve" class was filmed by the show for the broadcast.
One source states that Mrs. Yee was bound and gagged by the killers. However, none of the others mention this.

Results: Unsolved. On January 11, 2021, Inspector Sanders passed away at the age of eighty-three.
Links:
---