Obi-Wan Finale - The Loop
Play Sound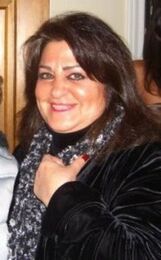 Real Name: JoAnn Matouk Romain
Case: Suspicious Death
Location: Grosse Pointe, Michigan
Date: January 12, 2010

Case
[
]
Details: On the night of January 12, 2010, fifty-five-year-old JoAnn Romain disappeared after attending a prayer service at a Catholic church along Lake St. Clair, Michigan. Her purse, wallet, and cash were found in her car, which was left in the church parking lot. Seventy days later, her body was found floating in the Detroit River, thirty miles away.
Police believe that JoAnn committed suicide. However, her daughter Michelle believes that she was murdered. She notes that JoAnn would have had to cross a road, walk through a snowy area, cross several rocks, crouch her way down two seawalls, and then enter the icy lake, all while wearing high heels. She has since obtained time-stamped Coast Guard records that reportedly raise significant questions about the timeline of the police investigation and search efforts.
JoAnn's children immediately rejected the police's conclusions, citing their mother's devout Catholicism and fear of the dark and water as reasons she would never commit suicide by drowning. They came to believe that the Gross Pointe police were actively covering up a murder, based on several oddities regarding the case. One incongruity was that the Lexus JoAnn had been driving that night was registered to her daughter, yet the police immediately started a search for JoAnn rather than her daughter. The police also began investigating the disappearance before her children had noticed their mother was missing. The police also somehow acquired a key to the Lexus the day after JoAnne disappeared, though JoAnne's car key was later found on her body. JoAnn's children attempted to sue the city of Gross Pointe for conspiracy to cover up their mother's murder, but the case and appeal were dismissed, although the District Judge acknowledged there were "disputed facts in this matter that are very disturbing and to this day remain unresolved."
Other evidence from scientists, investigators, and lawyers have led her to believe that her mother was murdered: upper left arm contusions and a torn strap of JoAnn's purse matching the same location may indicate an assault prior to her death.

Suspects: None known
Extra Notes: This case was first released on October 19, 2020 as a part of the second volume of the Netflix reboot of Unsolved Mysteries.
Results: Unsolved
Links:

---