Spider-Man: No Way Home Trailer Dropped - The Loop
Play Sound
Real Name: Delores Joan Jefferies
Nicknames: Joan
Location: Webster, Texas
Date: November 29, 1994

Case
[
]
Details: This much is known: fifty-eight-year-old Joan Jefferies died alone and scared in a suburban parking lot in Webster, Texas, on the night of November 29, 1994. The killer shot her twice in the head at close range. Her car coasted on its own before colliding with a fence. Again, the killer fired twice. Both bullets pierced her heart. No one has been charged with her murder. However, her family is convinced they know exactly who killed her: a thirty-year-old former business partner named Samir "Sam" Patel. Her daughter, Kelley Walker, believes Sam had the motive and opportunity to commit the murder. Sam, however, denies being responsible. He claims that he had no reason to kill her.
Joan was a clerk at a Houston aerospace firm. Sam was employed there as a software engineer, but he had far bigger plans. One day, he approached her about a new business that he was getting involved in. It was a private airline shuttle between Houston and Las Vegas. It would be called "Best Aviation", a specialized commuter airline for gamblers. He asked if she would work for him in public relations, talking to clients, airlines, and casinos.
When Sam initially offered the position to Joan, she was flattered, and also excited because the money was supposed to be very good. In April 1994, he hired her part-time to help launch Best Aviation. He also named her to the company's board of directors. Though he was married, the two often met at the home of Richie Guyote, his girlfriend at the time. He told Richie that he had an arranged marriage and could not get a divorce. As a result, they lived as boyfriend and girlfriend.
Sam told Joan that overseas investors would fund Best Aviation in the coming months. Meanwhile, a top priority was obtaining life insurance on the company's key people. Joan herself was insured for a quarter of a million dollars. Sam claims that the initial idea regarding the life insurance was from the investor group. They wanted assurances that if something happened to one of the key people in the organization, the company could function and they would recover their investment. Joan's son, Darrell, did not understand why she was considered a "key person" since her job was basically that of a secretary.
Sam had agreed to pay Joan a monthly salary. But between April and November 1994, she received only one check, which bounced. Kelley claims that by the beginning of November, Joan had had enough of Sam and Best Aviation. She told him that she wanted out of it, claiming that there was no money. He became defensive and offended. She was reportedly scared of him because of his reaction. She also felt that his reaction proved that something was wrong with the situation. Sam, however, claims that Joan never approached him and asked to leave the business. He claims that there was a time where she said "Hey, this isn't working out and I don't like it," and they made a compromise that she could continue working part-time until she felt comfortable and that they could get someone else to work part-time as well.
By then, Joan's back wages totaled close to $4,000. Kelley says that two weeks after the confrontation, Sam showed up at Joan's apartment, late at night and unannounced. He reportedly brought a certified check with him for her. However, she could not keep it because he had to get it Xeroxed. She called Kelley on the phone after the visit and told her about the check. They both thought that the situation was odd.
While Joan and Kelley were on the phone, Sam returned. He claimed that he could not find a Xerox machine. He also told her that he did not have a car, so he needed to use her phone to call for a ride. By Kelley's account, Sam's behavior that night turned from merely odd to downright suspicious. He told Joan that he was doing computer time at a company right around the block, and his wife Penny was bringing him a rental car.
Kelley says that Sam made no further mention of the check, but he inexplicably presented Joan with some unusual gifts: a door alarm and a taser gun. He claimed that she needed the taser for her protection. However, she was not comfortable keeping it. He then said that he was going to wait outside for Penny. He asked Joan to give him a ride if Penny did not show up. She said that she could not do that because she told Kelley that she would call her back. He told her to call her and that he would be outside.
Joan called Kelley back and told her about how Sam wanted her to give him a ride. She was very firm with Joan, saying over and over to not let him in her car. According to Kelley, Sam came to the door yet a third time that night. Joan told him to go away; he told her that he would see her at work the next day. Sam claims that Kelley is wrong; he says that he had never shown up repeatedly to Joan's apartment at night. Looking back at that night, Kelley wonders if it was a "trial run". She believes that Sam may have planned to kill Joan that night, but stopped because they were on the phone and she knew Sam was there.
Two weeks later, on November 29, 1994, after a business dinner with Sam, Joan was murdered. Kelley says that Joan was supposed to meet with both Sam and Penny. Joan expected a check for back wages. She intended to hand over the company files and sever her ties with Best Aviation. Kelley advised her not to go, saying that they could do it at work. However, Joan was not worried because it was in a public place. When she arrived, Penny was not there; Sam said that she had to work late.
Sam insists that Joan had no plans to quit. He claims that he asked her to meet so that he could give her the check and she could give him the files. He also claims that they met so that they could arrange a future meeting with the investors group, with her in attendance. The check he gave Joan was postdated to December 9, the day he said he expected the investors' money to be in hand. The two left the restaurant around 10pm. She never made it home.
By 9am, detectives were beginning to piece together a scenario. Joan's purse and keys were missing, yet her golden diamond necklace was plainly in view. Robbery seemed an unlikely motive. Because of the multiple gunshot wounds, detectives suspected that the killer was angry at Joan and committed "overkill". It was believed that the killer knew Joan well and held a grudge towards her.
Sam agreed to be questioned by police. He told them that after they left the restaurant, he and Joan spoke for about fifteen minutes in the parking lot. He walked her to her car, she went home, and he went to Richie's house. They asked him if he had been in her car at all. He said he had not. However, in a second interview, he changed his story and said that he had, in fact, been in her car, and that they would find evidence of such in her car.
Detectives next asked Sam about what he did after he left the restaurant. He said that after he got to Richie's house, he rode a bicycle for a few minutes around the cul-de-sac. Richie says that on the night of the murder, she opened her front door and found Sam there with a shirt wrapped around his neck. She asked him why he had his shirt off, since it was cold outside. He said that he had been riding his bicycle. He claims that he had not done any exercise in months, so he got really hot from riding the bicycle around.
Interestingly, the shirt Sam was wearing that night was never found. Richie believes that it is a crucial piece of evidence because Sam would have had to reach across Joan to take her car keys out, and the shirt would have had a smear of blood all the way up the arm. Sam, however, claims that the shirt has no blood stains on it. He claims that he has the shirt in his closet, and that if the police would send him a letter asking for the shirt, he would give it to them.
Investigators say their attempts to obtain the shirt have been unsuccessful. However, early on, they did believe that other evidence could link Sam to the crime scene. Vomit was found in the parking lot near Joan's car. Subsequent analysis revealed the contents: it was precisely what Sam had consumed during his dinner with Joan. It was lowly evidence, but it promised to break the case wide open if DNA could be extracted from the specimen and if the DNA matched Sam. But in the end, the lab failed to retrieve any DNA.
Though the evidence is inconclusive, Joan's family has no doubts. Kelley believes that Sam was responsible for Joan's murder. She believes that the motive was the $250,000 life insurance policy on Joan. She also believes that Joan was ending their business relationship that night, so he needed to kill her that night while she was still an employee.
Sam continues to maintain his innocence. He insists that his actions after Joan's death prove Kelley's accusations are groundless. According to him, the day after the murder, the board of directors got together and decided that they would take the entire proceeds from the insurance and either give it to her family, donate it to a local charity that would leave a lasting memorial for her, or a combination of both.
For every dark suspicion, a mundane explanation. The life insurance payment is now under jurisdiction of a probate court. In all likelihood, Sam will not see a penny of it. Meanwhile, in an effort to bring this case to a close, Joan's family is offering a $20,000 reward. On the night of her death, November 29, 1994, she was wearing a bright red blazer. Authorities would like to hear from anyone who saw her leaving Applebee's restaurant in Webster, Texas, around 10pm.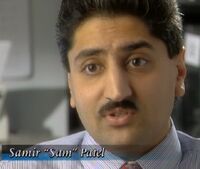 Suspects: Sam is considered a prime suspect in this case. Joan's family was first suspicious of the large life insurance policy taken out on her, even though she was basically a secretary for his company. When months passed and she had not received a check from him, she threatened to quit. He, however, pleaded with her to stay. Her family was also suspicious about his actions on the night that he showed up at her apartment three times. Kelley believes that, had she not been on the phone with her, Sam would have killed her that night.
Investigators and Joan's family believe that his actions on the night of the murder were also suspicious, especially his supposed bike ride and the conflicting stories about the shirt he was wearing. He has yet to turn it over to the police. If he was the killer, he would have had to reach over her body and turn off her car; in the process, he would have gotten blood on the shirt.
Kelley believes Sam had to murder Joan that night while she was still an employee in order to collect the insurance. She believes that he staged the flimsy robbery to divert attention from himself. He continues to maintain his innocence. He claims that after the murder, he met with the Board of Directors; they agreed to donate the insurance money to either a charity or her family.
Extra Notes: This case first aired on the April 12, 1996 episode.
Results: Unsolved. In January 1996, Joan's children filed a wrongful death lawsuit against Sam. Its outcome is unknown. No charges have ever been filed in the murder. Sadly, on April 18, 2020, Kelley passed away at the age of fifty-nine.
Links:
---