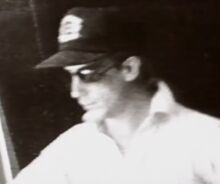 Real Name: Unknown
Aliases: None Known
Wanted For: Armed Robbery
Missing Since: 1990

Case
[
]
Details: A man known to police as the "Jockey Bandit" because of his diminutive stature has robbed twenty banks in south Florida since June 1990, taking in more than $53,000. He always makes his hits at banks near race tracks and usually hands bank tellers a note which reads: "I have a gun and nothing to lose. Give me your hundreds, fifties, and twenties. No dye packs. No bait money."
Extra Notes:
This case first aired as a part of a Bank Robber Roll Call in the January 23, 1991 episode. Also featured were Mr. Nasty and Mary Poppins Bandit.
It was excluded from the FilmRise release of the Robert Stack episodes.

Results: Captured. On April 23, 1991, thirty-one-year-old James Thomas "Tommie" Moore of North Miami was arrested after robbing the Great Western Bank in Hollywood, Florida. Interestingly, he had hired a limousine to drive him to and from the bank. A witness saw him exit the limo, go into the bank, and then run from the bank and return to the limo. The witness went into the bank and learned that it had been robbed. He then called the police and gave them the description of the limo and the robber, along with the limo's license plate number. A police officer noticed the limo while driving on I-95. It was pulled over soon after and Moore was arrested. The stolen money was found in the back seat. The limo driver, unaware of his passenger's intentions, was not charged.
After Moore's arrest, FBI agents noted that he resembled the "Jockey Bandit" and suspected him of being responsible for twenty-one other robberies. During the Hollywood robbery, he handed tellers a note identical in wording to the notes the "Jockey Bandit" used. Soon after, FBI agents stated that they felt "very confident" that he was the "Jockey Bandit." Following his arrest, he confessed to at least twenty-five robberies.
Moore later pleaded guilty to the Hollywood robbery and admitted in court to robbing fourteen other banks. He was sentenced to twelve years in prison.
Links:
---