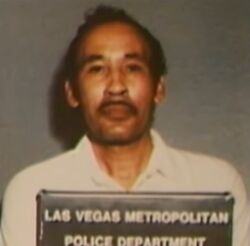 Real Name: Joseph Weldon Smith
Aliases: Joe, Smitty
Wanted For: Murder, Attempted Murder
Missing Since: October 6, 1990

Case
[
]
Details: Las Vegas, Nevada, is known as the city of "big dreams and high rollers." It has attracted every kind of crook and con man. However, during the 1980s and 1990s, the dry climate and limitless entertainment also began to attract a large retirement community. Sixty-five-year-old Frank Allen, a Los Angeles businessman, bought his dream retirement home in 1986. It was located in the Fountains, an elegant, gated community in Henderson, ten miles from downtown Las Vegas. As a temporary measure, he rented the house to another family, maintaining a room for himself as well for his frequent business trips to Nevada.
But Frank had no idea that fifty-year-old Joe Weldon Smith, the man who was renting his house, had an unsavory past. Joe, who called himself a real estate investor, had a long history as a con man and had once been convicted of attempted grand theft. He lived in the Nevada house with his forty-seven-year-old wife, Judith, and her two daughters from a previous marriage: twelve-year-old Kristy Cox and twenty-year-old Wendy Jean Cox. Wendy was engaged to be married in November.
On Saturday, October 6, 1990, Frank expected to have the house to himself. Joe had said that he and his family would be out of town for a few days. Instead of a restful weekend, Frank had stepped into a nightmare. When he came inside at around 1am that night, he locked the door behind him and noticed that the security system was off. He went to the wet bar where Joe said he would leave his mail and two checks for the house. He found a note from Joe which said: "Frank, look in the locked room upstairs for your package. The key is on the wet bar. Joe." He then went up the steps, unlocked his bedroom door, and went in. He started undressing, taking off his jacket, shirt, and tie. Suddenly, he stopped in his tracks and said to himself, "something is wrong. I don't know what it is, but something is wrong."
As Frank walked down a hallway into the game room, Joe jumped out of a closet and struck him in the head with a claw hammer. Frank grabbed Joe's right wrist and shook him, saying: "Joe, what in the hell are you trying to do?" It became clear to Frank that Joe was trying to kill him. The two struggled, but Frank was able to break away. As he ran down the steps, he realized that he had locked himself in with the double dead bolt and did not have time to reach for a key. He ran across the foyer into the living room/dining room area. Joe went in the opposite direction, planning to attack Frank in the kitchen.
Frank, expecting this, immediately turned around and ran back to the front door. Thinking he would not have enough time to get his key out and unlock the door, he decided to run straight through the door's glass. He then ran to his car and drove off. As he left, he saw Joe standing in the door, glaring at him. Joe then walked back in the direction of the bar. Frank drove his car up to the guard gate and said to the guard, "Call the police. There's a man in my house."
Ten minutes later, local police arrived at the house, expecting to find Joe still inside. They quickly made their way from the living room to a downstairs bedroom. They thought they had cornered him hiding under a blanket. Instead, they were confronted with a tragic scene: Kristy's lifeless body. She had been strangled and bludgeoned to death. According to Detective John Williams, it was obvious that she had been dead for quite some time. She had several wounds to the face and head.
Police forced their way into the next bedroom. They found Wendy lying beside her bed. She had approximately thirty-two wounds to her head and hands, several of those being defensive wounds. She had also been strangled. Police officers went upstairs and searched the open rooms and the game room. They then went and opened the doors to the master bedroom. Inside, they found Judith lying in the bed. She had also been strangled and bludgeoned to death. Police later determined that the three victims had been dead for approximately eighteen hours.
At around 4:30am, two hours after the bodies were discovered, Joe telephoned Judith's daughter-in-law, Yolanda. He told her that Judith, Wendy, and Kristy had been murdered. He denied all involvement in their deaths. In fact, he told her that he had killed one of the people that had committed the murders and knew who the others were. He claimed that Frank was one of the "real" killers and that Frank was angry because he owed him money.
Joe told Yolanda that he would either kill himself or go and find the other murderers and kill them. He also asked her to tell Judith's other children about the murders and then go to his house and get letters from a briefcase that explained what happened. Detective Williams believes that the phone call was a ruse by Joe to get support from Judith's family members and make them believe that he was not involved in the murders. In the home, police found the letter Joe mentioned in the call. It contained information similar to what he said in the phone call.
Police believe that Joe killed his family early on the morning of Friday, October 5. It is believed that he planned to kill Frank that morning as well, as Frank had originally told him he would be there that morning. When Frank did not show up, Joe called him, saying "I thought you were coming up here this morning." He told Joe that he would be there later that day. Throughout the day, Yolanda called the house several times. Joe answered each time, saying that Judith and her daughters were out shopping (in reality, they had already been murdered). It is believed that Joe waited all night until Frank came home and then tried to kill him.
Joe fled in a 1988 gold two-door Lincoln Continental with vanity Nevada license plates reading "SMITTY2". He is wanted on three counts of murder and one count of attempted murder with a deadly weapon. Police are still puzzled by what appears to have been a motiveless crime. By all accounts, the Smiths' marriage was a happy one. Though Joe was in dire financial straits, he was not named in Judith's will, nor did he have life insurance policies for her or her daughters.
Authorities believe Joe may now be in the Southwestern United States or Mexico. He may be working in real estate.
Extra Notes:
This case first aired on the January 23, 1991 episode. It was updated twice: first on the March 20, 1991 episode, and again on the November 6, 1991 episode.
Judith is not to be confused with another victim, Judith Smith, who was found in North Carolina in 1997.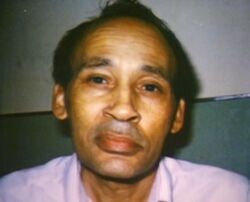 Results: Captured. Just minutes after Joe's case aired, an anonymous viewer called the tele-center to report that Joe was living in Watts, California, near Los Angeles. He was hiding out a motel but managed to escape just minutes before he could be apprehended. Once police established that he was in the Los Angeles area, they focused their attention to his brother, Harold, who they knew he had close contact with. On April 22, 1991, after five days of surveilling Harold, they established where Joe was residing. Twenty minutes later, he was arrested at the Dream Motel on West Imperial Highway in Inglewood, where he was registered under an assumed name.
Inside Joe's room, detectives recovered several credit and identification cards. He told police that he was in the process of creating a new identity. He also indicated that he had seen the last airing of the broadcast. He told detectives that it was very tough being a fugitive, and he always knew that someone would be knocking at the door one day. He said he was kind of glad that it was all over at that point. However, he also said that he had gone on the run to "prove [his] innocence."
Two days later, Joe was returned to Nevada. In November 1992, he went on trial for the murders and attempted murder. Prosecutors theorized that he committed the murders to escape "family responsibilities." His stepson testified that Joe had expressed concern and irritation over financial obligations such as Wendy's wedding and the new house. He said that he sometimes wanted to "get away" and start a new life somewhere away from his family. He also said that "the worse thing to f**k up a man was to have a family."
At his trial, Joe testified that he was involved in a drug dealing operation in California that had ties to Colombian drug dealers. During one transaction, he kept cocaine and money that was supposed to belong to the operation. According to him, on the morning of Friday, October 5, 1990, he woke up to find three men in his room. They forced him into the game room and then left the house. He then discovered Judith and her daughters' bodies. He claimed he did not go to the police because they would have assumed that he committed the murders. He also claimed that he attacked Frank because he thought that Frank was one of the killers returning to the house. He refused to be cross-examined on his story.
On December 11, 1992, Joe was convicted on three counts of first-degree murder and one count of attempted murder. On January 26, 1993, he was sentenced to death for Kristy and Wendy's murders and life for Judith's murder. In 1994, he appealed his conviction and sentencing. In September, the state Supreme Court affirmed his convictions but vacated his death sentences, ruling that the jury had been given improper instructions. They ordered a new sentencing hearing.
At the hearing in April 1996, Joe expressed remorse for the murders and asked for leniency. The jury deliberated for less than four hours before again sentencing him to death. In January 1998, the state Supreme Court vacated his death sentence in Kristy's murder, ruling that a jury instruction given by the judge in the case was wrong. However, the court affirmed the death sentence in Wendy's murder. As a result, Joe remains on death row.
In July 2021, Joe joined a lawsuit against Nevada prison officials over their choice to use a new lethal injection cocktail in future executions.
Links:
---