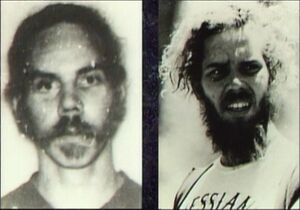 Real Name: Johnathan John Brown
Aliases: Thumper Brown
Wanted For: Drug Manufacturing with intent to sell
Missing Since: February 1988
Details: Thirty-four-year-old Jonathan "Thumper" Brown is a meth manufacturer wanted for the creation and distribution of drugs. He has been involved in several drug labs and is also a member of the motorcylce group "The Hessians". He is a federal fugitive and has outstanding warrants in California, Tennessee, and Oregon.
Thumper managed to elude detection until November 1987, when after a lengthy stakeout, he was tracked to one of his laboratories near Lancaster, California. Officers observed him carrying six containers of acetone to a trailer which contained the lab. As he tried to leave the area, authorities closed in and arrested him. He claimed that the acetone belonged to another individual, and that he was just delivering it. He was charged with possession of methamphetamine.
After his arrest, a search warrant was obtained. A sizable methamphetamine lab was discovered; however, Thumper posted bail and vanished before more serious charges were filed against him. Authorities believe that his lab could have product amphetamines that would be worth up to $1 million.
In February 1988, an informant told the authorities that Thumper was hiding out at a drug lab near Medford, Oregon. When officers forced their way into the lab, the occupants began to fire. In the exchange of gunfire, two officers were wounded and one Hessian was killed. When tear gas was placed in the lab, the occupants surrendered.
It was later determined that Thumper had escaped before police arrived. He has not been seen since.
Extra Notes: This case first aired on the February 14, 1990 episode.
Results: Captured. On February 24, 1990, Jonathan "Thumpr" Brown was arrested in Las Vegas, Nevada due to a tip about a female companion of his. He was convicted of drug manufacturing charges and sentenced to 30 years in prison. He was paroled in 2016.
Links:
---
Community content is available under
CC-BY-SA
unless otherwise noted.