Spider-Man: No Way Home Trailer Dropped - The Loop
Play Sound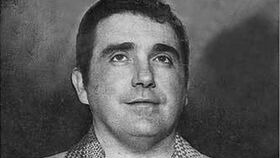 Real Name: John B. Callahan
Nicknames: No known nicknames
Location: Miami, Florida
Date: August 3, 1982

Case
[
]
Details: John Callahan was president of World Jai Alai until it was bought by Tulsa Millionaire Roger Wheeler. In 1976, Callahan was forced to step down due to his links with organized crime. When Roger was gunned down at a country club in 1981, Callahan became a suspect. A reported underworld figure named Brian Halloran told the FBI that Callahan had ordered the hit on Roger. Callahan had indicated that he was going to lose a lot of money if Roger wasn't "eliminated".
Brian was gunned down in Boston in May 1982. It was believed that Callahan was involved in that murder as well. Detectives tried to locate him to question him about the murders, but they were unsuccessful. Then, on July 31, 1982, he flew from his home in Boston to Fort Lauderdale, Florida, where he kept a condo and a Cadillac. While there, he mysteriously vanished. Eight hours later, his car was parked at the Miami airport.
On August 3, Callahan's body was found stuffed in the trunk of his car. He had died of multiple gunshot wounds. His car had been washed, vacuumed, and wiped clean. The only evidence at the scene was his body and several unspent bullets found in the trunk. Authorities believe that his murder is connected to Jai Alai and the mob.
Suspects: None known
Extra Notes: The case was featured as a part of the January 20, 1987 episode.

Results: Solved. In 1995, John Martorano, the mob hit man who had assassinated Roger, was caught and turned state's evidence. He confessed to luring Callahan to Florida and murdering him. As part of the plea negotiation, he served about twelve years for more than twenty murders.
Stephen "The Rifleman" Flemmi also cut a deal and pleaded guilty to Callahan's murder. He and James "Whitey" Bulger agreed that Callahan was a "weak link" and would implicate them in Roger's murder, based on information given to them by their FBI agent handler, John Connolly. In 2008, Connolly was tried and convicted of the second-degree murder in Callahan's case. He was sentenced to forty years in prison. His conviction was overturned in 2014 but reinstated in 2015.
In 2011, Bulger was arrested in California and later convicted of Callahan's murder, along with several others. He was killed in prison in 2018.
Links:

---