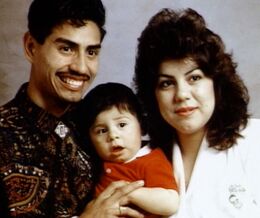 Real Name: Jonathan Ortiz
Nicknames: No known nicknames
Location: Redwood City, California
Date: March 17, 1992

Bio
[
]
Occupation: None
Date of Birth: May 13, 1990
Height: Unrevealed
Weight: Unrevealed
Marital Status: Single
Characteristics: Hispanic male. Brown eyes, black hair.

Case
[
]
Details: On the afternoon of March 11, 1992, paramedics were dispatched to an emergency at the "Toys R Us" toy store in Redwood City, California. Inside, sprawled on a table in the employee's lunchroom, was twenty-three-year-old Gilbert Ortiz. He was sweating profusely and experiencing severe convulsions. He managed to tell the medics that he had become ill after drinking a high-protein amino acid milkshake commonly used by bodybuilders to help them "bulk up" and strengthen muscle. He said that he had gotten the shake from a friend.
As the medics tried to ask more questions, Gilbert began to slip in and out of consciousness. His twenty-three-year-old wife, Elizabeth, was contacted, and paramedics rushed him to nearby Sequoia Hospital. Doctors in the emergency room were baffled by his condition. They examined the plastic sports bottle which had contained the shake and set it aside so the contents could be tested later. Within moments, Elizabeth arrived in the emergency room. Doctors hoped that she could provide an explanation for his sudden, mysterious illness.
A doctor asked Elizabeth if she had even seen the bottle before. She said she had not. The doctor told her that they suspected Gilbert may have had an overdose of drugs. However, she said that he did not do drugs. By 10pm that evening, he had developed pneumonia, his lungs had collapsed, and his liver and kidneys had failed. He was admitted to the intensive care unit. He would later suffer cardiac arrest and slip into a coma. As his life hung in the balance, doctors worked feverishly to determine what had caused him to become so violently ill.
Detectives wanted to know where the bottle came from. They wanted to determine if it was really a bad mixture that made him sick or if it was a deliberate mix. But sometime that afternoon, the bottle mysteriously disappeared. It was a first in a series of bizarre incidents that would lead authorities to believe that Gilbert had been poisoned by someone he thought he could trust.
In 1987, Gilbert was serving in the Army when he met Elizabeth Fuentes. They married three years later and moved into an apartment in East Palo Alto, shortly after the birth of their son, Jonathan. Gilbert took an entry-level position in the toy store in Redwood City, but he and Elizabeth had a "troubled" relationship and frequently fought over money. Their fights culminated in a "shoving match" after she thought he had hurt Jonathan. He was arrested after that incident but released the next day without charges. The two reconciled and stayed together, apparently for Jonathan. In March 1992, Gilbert received a promotion, and the future suddenly seemed brighter. Less than a week later, he was in the hospital, fighting for his life.
Gilbert's mother and sister soon joined Elizabeth at the hospital. They said that while they were in the waiting room, Elizabeth received a strange phone call which seemed to upset her. According to Gilbert's sister Brendha, Elizabeth was nervous when she came back from the phone. Elizabeth told them that she was going to go home and check on Jonathan because she was concerned about him. She also said she was going to go to Gilbert's work to see if she can find anything related to his illness because she knew the combination for his locker. However, she did not say anything about the phone call or why she was "concerned" about Jonathan.
About two hours later, Elizabeth came back into the hospital waiting room. She was hysterical and yelling, "He's got Jonathan! That man's got Jonathan!" Brendha, her mother, and an ICU nurse sat Elizabeth down and tried to calm her. They asked her what was happening, and she said that "there was a man outside in the parking lot who said he was going to hurt Jonathan." Brendha asked if the man had Jonathan outside with him. Elizabeth then said that the man said he was going to kidnap Jonathan.
Confused, Brendha said to Elizabeth that she thought Elizabeth's mother had Jonathan. Brendha decided to call her. She confirmed that Jonathan was at her house with her. While Brendha was on the phone, Elizabeth blurted out a disjointed, frightening story. She said she had been approached by a small boy in the hospital parking lot who then directed her to a masked man in a parked car. She did not recognize the man. The man told her that he knew what had happened to Gilbert and that he had "drank the wrong stuff."
According to Elizabeth, the man then handed her a paper bag. He said that Gilbert had drank what was in the bag. Inside the bag was a bottle of Ortho Sevin, a liquid insecticide. The nurse said that she was going to contact the police. However, Elizabeth did not want her to, claiming that the man threatened to hurt Jonathan if anyone called the police. The nurse, skeptical, immediately made two phone calls: one to the National Poison Control Center, and the other to the Redwood City Police.
Five days later, Elizabeth was questioned by detectives about the mysterious masked man she said had handed her the insecticide. For about the first hour of the interview, she maintained the story that she had given the officers and the nurses at the scene about the man with the mask and the little boy. She told Detective Kathryn Anderson that while she thought the story was strange, it was the truth.
Detectives asked Elizabeth how the man and the little boy knew that Gilbert had drank the insecticide. She said she did not know, as she had never met them before. Detective Anderson told her that the story did not make sense. She and her partner decided to "jam her" by telling her certain things and seeing how she would react. They wanted it to seem like they knew more than they actually did.
Detective Anderson told Elizabeth that there was a witness in the parking lot who did not see a masked man or a little boy; they only saw her. At that point, Elizabeth admitted that she had made up the story of the man and the boy. She said that a doctor had told her that whatever Gilbert drank was in their house and asked if she had any insecticides. She said that she searched the house and found the bottle of insecticide. She then said that she made up the story because she was "scared" and thought that Gilbert might have been trying to hurt himself. She thought that he might have been depressed and wanted to commit suicide. She said she did not "want him to get in trouble."
Detective Anderson asked Elizabeth if she would be willing to take a lie detector test. Elizabeth said that she had to leave because she had a job interview. Detective Anderson asked if she could come back in the afternoon after the interview to take the test. She agreed, saying she would be back. However, she never returned to the police station.
The next morning, Detective Anderson reached Elizabeth at her mother's home in San Francisco, twenty minutes from Redwood City. This time, she refused to come in. Eleven days later, Gilbert regained consciousness, and police suspicions were finally confirmed. He had apparently been poisoned by his own wife.
According to Gilbert, at around 12pm that day, Elizabeth called him and told him that she wanted to have lunch with him. She also told him about a coworker's son who had "bulked up" by drinking amino acid milkshakes. Gilbert said that he had lifted weights in the past, but he could never "get big", which was the kind of guy Elizabeth liked.
Gilbert said that Elizabeth's coworker mixed up the milkshake and gave it to her. She came to Gilbert's work at lunchtime and dropped it off with his lunch from McDonald's. The two met at around 2pm in the toy store parking lot. The shake was already mixed in a plastic sports bottle. She said that her coworker told her that he should drink it before he ate anything. She said that there were amino acids in it, and that they would make him "big". She also told him that it might taste "a little nasty", but that was how it was supposed to taste because of the amino acids.
Gilbert opened the bottle when he got into the lunchroom. To him, it looked like a regular chocolate milkshake. When he tried it, it burned his throat a bit. He also noticed that it had a sour taste. However, he figured that it was supposed to taste like that. He continued to drink it until he almost finished the bottle. Then, he started feeling very hot and his throat started burning more. He also started shaking. He felt like he was getting sick. Shortly after that, he passed out. The next thing he remembered was waking up in the emergency room.
Police obtained a search warrant to see if they could trace the poison or the plastic bottle to Elizabeth. But when they arrived at the Ortiz apartment, they made a startling discovery. Elizabeth had vanished, along with the couple's two-year-old son, Jonathan. When Gilbert learned that Elizabeth was gone, he realized that she must have poisoned him. It hurt him to learn that his wife had done that to him. However, it really hurt him when he learned that she had taken their son as well.
Nearly a year has passed since Gilbert was poisoned, but he still has not fully recovered. The insecticide caused serious damage to his liver, kidneys, and nervous system. Initially, he was unable to walk due to the pain in his feet. He endured months of pain as he recovered from his injuries. His right foot is numb, and he has difficulty walking without assistance. The tips of his fingers are also numb, and he cannot feel anything with them. Doctors are uncertain if he will every fully recover, or if the damage to his nerves is permanent. The damage to his body has also left him unable to work.
Jonathan has not been seen since March 17, 1992. An arrest warrant has been issued for Elizabeth Fuentes Ortiz, the charge: attempted murder, with a special consideration for torture.
Suspects: Elizabeth Ortiz
Extra Notes:
This case first aired on the November 25, 1992 episode, which was the "Special Live Broadcast"; it was updated on the October 15, 2001 episode.
It was also profiled on America's Most Wanted during the investigation and Snapped after it was resolved.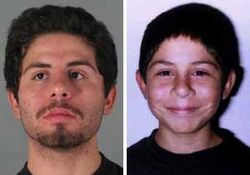 Results: Solved. After following thousands of tips with possible sightings of Elizabeth (mostly in Mexico), on March 14, 2000, former Detective, now Sergeant Kathryn Anderson finally received a phone call from an FBI agent. Thanks to tips from viewers of America's Most Wanted, Elizabeth was arrested by the FBI at her home in La Barca, near Guadalajara, Mexico. She was using the name "Rosa Isela Negrete". However, when she was arrested, she was by herself. The FBI continued to search for Jonathan in the area that Elizabeth had been arrested in.
Elizabeth was brought to Redwood City for trial. But where was Jonathan? Assuming that Elizabeth would want to see her son, Anderson had an age-progressed composite created and posted at the Redwood City jail. She also warned guards to be on the lookout for visitors. Then, Anderson received the second phone call she had been hoping for. Corrections officer Laura Boersig told her that they had a little boy at the jail who was a dead ringer for the composite. The boy was, in fact, Jonathan; he had been brought to the jail by his maternal grandmother and another relative on the night of May 30. According to the police, he had been living in Mexico during the time he was missing. He had recently traveled to California and was staying with his grandmother in Alameda.
The following morning, Gilbert finally was able to see Jonathan, the son he had never stopped thinking about. Eight years had passed since they had last seen each other. As soon as Gilbert saw him, Jonathan came up and hugged him. Gilbert was unable to explain his feelings, as there were too many emotions going on. Fortunately, Jonathan recognized him immediately because he still had family photos of them together. Gilbert and Jonathan began the long process of healing and getting to know one another as father and son. Gilbert said that the hardest part of his experience was losing the son that he loved.
In January 2002, Elizabeth went on trial for poisoning Gilbert. He noted that he still had pain in the soles of his feet and tips of his fingers. She admitted to planning the poisoning, purchasing the insecticide, giving him the milkshake, and lying to police and doctors about it. She claimed that she poisoned him in self-defense because she feared she was in imminent danger and wanted to escape his alleged physical abuse. She said that he had beat her, raped her, and also threatened to kill her when she asked for a divorce. She also claimed that she only wanted to make him sick, not kill him. Prosecutors, however, claimed that she was a "bitter" woman who tried to kill Gilbert because she was jealous and angry about his long work hours. Also, it was noted that in her initial interview with detectives, she said he was not abusive and that he was a nice person who treated her well.
In February 2002, Elizabeth was convicted of attempted murder and child abduction. She was sentenced to twenty-five years to life in prison for attempted murder. She was given an extra six years for child abduction and inflicting bodily harm. In 2004, she appealed her conviction, claiming that her trial was flawed because the jury was not instructed that it could find that she acted in self-defense. However, the state appellate court rejected her argument, upholding her conviction and sentence. She was denied parole in 2010 and 2014. During the 2014 parole hearing, she was "found unsuitable for parole" and denied another hearing until 2017. She has since been released.
In a surprising twist, in January 2011, Jonathan, then twenty, was arrested for attacking Gilbert. He was charged with two counts of assault with a deadly weapon and one count of inflicting great bodily injury. The attacks occurred in June and October 2010. During the first one, he stabbed Gilbert in the chest and screamed at him about "what [he] had did to [his] mother." He then took Gilbert to the hospital, where Gilbert said he was attacked during a robbery. During the second one, he beat Gilbert. Gilbert again said that he was attacked during a robbery. However, after that, a family member called Sgt. Anderson and told her that Jonathan was responsible for the attacks. Gilbert then confirmed that Jonathan was responsible.
At the time of the attacks, Jonathan was living with Gilbert and other family members. After his arrest, he claimed that the attacks were in "self-defense". His attorney claimed that it was related to his issues involving adjusting from living with Elizabeth to living with Gilbert. In September 2011, Jonathan pleaded no contest to felony assault and inflicting bodily injury. He was sentenced to one year in jail and also received a five-year suspended sentence. Then, in August 2012, he was arrested and charged, along with two other men, for the July 2012 attack on an alleged rival gang member.
In 2013, Jonathan pleaded no contest to a charge of felony assault for the 2012 attack. He was sentenced to four years in prison along with a concurrent five-year sentence for the 2010 charges.
Links:
---