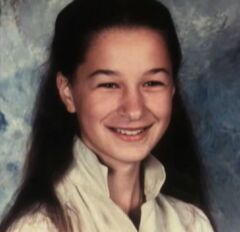 Real Name: Kari Lynn Nixon
Nicknames: No known nicknames
Location: Au Sable Forks, New York
Date: June 22, 1987

Bio
[
]
Occupation: Student
Date of Birth: May 2, 1971
Height: 5'3"
Weight: 105 lbs.
Marital Status: Single
Characteristics: Caucasian female with brown hair and blue eyes. She has multiple piercings in her ears (two on her left, four on her right). When she vanished, she was wearing maroon-colored sweatpants, flat white shoes, a yellow short-sleeved shirt with blue stripes on the sleeves, and a jean jacket.

Case
[
]
Details: Sixteen-year-old Kari Lynn Nixon lived with her family in Au Sable Forks, New York, population 3,000. Located in the shadows of New York's Adirondack Mountains, Au Sable Forks is a friendly, family-oriented community. Violent crimes are extremely rare. Indeed, anything out of the ordinary is likely to attract attention. But in 1987, Au Sable Forks was stunned when Kari mysteriously disappeared. She was an above average student and the pitcher on her high school softball team. She was an avid singer and aspiring writer. She was hardly the type of girl who would willingly invite trouble.
On the evening of June 22, 1987, at approximately 9:30pm, Kari left her home to run an errand for her father, Gary. She headed for Thomas' Country Store, a neighborhood market a few blocks away. After purchasing some groceries, she left the market at 9:55pm and headed towards her home. As she took the familiar path along Palmer Street to her house, at 10:05pm, she exchanged greetings with a neighbor. At 10:10pm, a group of boys walked by, but saw only an empty street. Somehow, in the five minutes between 10:05 and 10:10, and just 700 feet from her home, Kari had disappeared.
Kari's mother, Kathy, says that she was just innocently walking down the street in a neighborhood that she was born and brought up in, and something happened. When Kari was not in her bed at 6am the next morning, Kathy's immediate reaction was terror. She says that it has been a nightmare ever since.
After Kari was reported missing, authorities began a large air and ground search of the approximately fifty-mile area around Au Sable Forks. Many volunteers from the local fire departments and Air Force base came to help in the search. Authorities have conducted several searches and followed up on hundreds of leads. Despite this, no trace of Kari has been found. Captain Robert Leu of the New York State Police says that it is as if she "walked off the face of the earth."
According to Investigator Richard Sypek of the New York State Police, Kari wrote several letters to a friend; in these letters, she indicated she would like to live in Hawaii, Florida, or possibly California. She stated at least twice in the letters that she wanted to leave Au Sable Forks when she turned eighteen. He wonders if she may have decided to run away.
However, Captain Leu theorizes that Kari was abducted. He notes that she was dressed in sweats. Gary gave her $20 for groceries. She went to the market for him, paid $3 for the groceries, and left the market with the bag of groceries. Captain Leu says that if she was a runaway, she would have done none of those things. He believes that she would have been dressed better and taken money with her that she had in her bedroom. They found this money when they searched her room. He believes she is the victim of a kidnapping.
There was other evidence that Kari had not run away. She was close to her family, and they often bowled together. Everything pointed to a happy, stable relationship with her parents. Gary is 100% positive that she did not run away. He believes that somebody pulled up alongside her while she was walking home that night. He is not sure if she knew the person or not. But one way or the other, he believes that somebody picked her up.
Was Kari abducted? Or did she run away? By the winter of 1987, the investigation had reached a dead end. But in November, New York State Police received a letter from an anonymous writer in Flint, Michigan. The letter reads: "Look for Kari Lynn Nixon in the Eutawville, South Carolina area." Despite the tenuous nature of this lead, her family traveled to Eutawville. They blanketed the small town with fliers. The family was as surprised as the police when a local resident remembered having spoken with a sixteen-year-old, who had shyly given her name. It was Kari Lynn Nixon.
Shirley Kannapel is the Eutawville resident who reported this encounter. She had seen Kari's picture on one of the fliers posted by the Nixon family. She says that she recognized her immediately because she had just seen her about three weeks earlier. Her hair and earrings were the same as in the picture. But most importantly, her name was the same as the girl that had been introduced to her. According to Eutawville Police Chief Russell Parker, there have been numerous townspeople around the Eutawville area that said they have seen Kari. He believes that she is still alive.
Shirley was unable to remember many details of her sighting. So, at the request of the New York State Police, she underwent hypnosis. They hoped that her memory might be jogged. The hypnotist asked her to go back to the day that she saw the girl. She recalled that it was a hot day. A little red-headed girl came up and asked her to meet a new friend of hers, whom she identified as Kari Lynn Nixon. Shirley asked "Kari" where she was from, and she said New York. Shirley asked her if she "was down here to stay," and she said yes.
The hypnotist next asked Shirley to describe "Kari". She said that she had long, brown hair. She asked Kari where she was staying, but the friend answered for her, saying "across the lake." Kari seemed shy, unwilling to offer much conversation beyond her name. Shirley asked her to repeat her first name, and she said "Kari" again. Shirley said to her, "Kari Lynn Nixon, that is a pretty name." Shirley then walked away from the group.
Shirley had worked for about four-and-a-half years in a program where some of her clients were runaways. This allowed her to "pick up on some things," such as the way "Kari" evaded her questions. She believed that Kari was a runaway. After the session, authorities investigated the circumstances of Shirley's sighting. They found the girl who was allegedly with Kari, but were disappointed to discover that she suffered from a memory lapse and could not recall the incident.
After failing to find any other confirmed sightings of Kari, the investigation, once again, reached a dead end. In the time since she vanished, police have investigated seventy sightings, conducted over 1,500 interviews, and examined over 200 unidentified bodies. They still have no idea where she might be today.
Kathy says that she loves Kari very much and wants her back. She just needs to know that Kari is alright. She says that if Kari has decided that something else is better for her, she will have the total support of her family. Kathy just wants to know whether or not she has been hurt. Shirley is 100% convinced that she has met Kari. She wants Kari to call home and let her family know that she is alive.
This case has frustrated police and devastated Kari's family. Was the anonymous writer in Flint, Michigan, correct? Was Kari in South Carolina? In a strange development, Unsolved Mysteries has also received two other letters from Flint. Handwriting analysis has shown that these letters are from the same correspondent.
Suspects: None known; there are conflicting theories on what caused Kari to disappear. Some believe that she vanished voluntarily, while others are convinced that she was abducted. If she was abducted, her family believes that the perpetrator was someone that she knew.
Extra Notes:
This case first aired on the May 10, 1989 episode; it was updated on the November 7, 1990 episode.
Kari's younger sister, Lori, portrayed her in the broadcast.
It was also documented on an episode of Nightmare Next Door.
Some sources incorrectly spell her name as "Kerri" or "Carrie".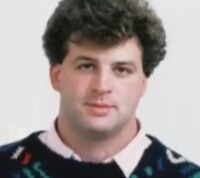 Results: Solved. As the years and the investigation dragged on, Kathy and Gary began to give up hope of ever finding Kari. But all that changed in March 1990 when family friends saw a videotape of a concert given by the popular singing group, New Kids on the Block. On June 5, 1989, the group filmed their "Hanging Tough Live" concert in Los Angeles, California. Among the crowd of teenage fans, the friends saw a familiar face: a girl they believed was Kari. They immediately showed the video to Kathy and Gary. They could not believe how much the girl in the video looked like Kari. They kept rewinding it and going it over and over again. They were happy because they never really had any hope that she was still alive. Kathy said she was not 100% convinced, but she believed that the girl did look a lot like Kari.
When Investigator Sypek viewed the tape, he picked the girl out immediately the first time it ran through. It was obvious to him that the girl did look like Kari and appeared to be her. A detail enhanced photograph was made from the videotape and compared with a picture of Kari taken shortly before she disappeared (shown above). Investigator Sypek noted many similarities, including hair length, hair color, face shape, chin, and mouth. Specifically, the girl had multiple earrings in her right ear; Kari was known to have four earrings in her right ear and two in her left. The enhanced photo further convinced Kathy and Gary that the girl could have been Kari.
Members of New Kids on the Block did not recognize the girl in the crowd. But after hearing Kari's story, they wanted to make a personal appeal on Unsolved Mysteries. Member Jonathan Knight asked Kari to call the police and explain her situation to them. Member Jordan Knight asked viewers who may have seen Kari at a NKOTB show or out in public to contact the police and let them know where she is. Kathy said that they needed to find the girl in the video to see if she was Kari, and if she was not, they could go on to something else to try and find her. Again, she told Kari that she loved her and needed to talk to her.
In November 1990, investigators located the girl in the video, alive and living in California. However, the girl was not Kari; her name was Lynette Melancon. She was interviewed on Inside Edition about the case.
This case continued to frustrate police in Au Sable Forks for nearly seven years. In January 1994, however, they finally got a break, when twenty-nine-year-old Robert Anthony Jones was identified as a suspect. He had been arrested for four bank robberies which were committed in northeastern New York and Maine between 1987 and 1993. In September 1993, he pleaded guilty to the robberies as well as a firearms charge; in December, he was sentenced to fifteen years in federal prison.
While being questioned about the robberies, Jones' wife, Theresa, told police that he had confessed to killing Kari. Shortly afterwards, she pleaded guilty to aiding and abetting one of the robberies. She had driven the getaway car for it; shockingly, their two children were in the car at the time. While awaiting sentencing, she persuaded him into confessing to the police. He agreed to do so, in an effort to get her a lighter sentence. In January 1994, his attorneys contacted authorities and said that he had information on Kari's case.
At the time of Kari's disappearance, Jones was twenty-three-years-old and living in Bar Harbor, Maine, with Theresa and their children. On the week that Kari vanished, he returned to his hometown of Au Sable Forks for a week-long visit. He told police that on the night of June 22, 1987, he spotted her while he was buying beer at the neighborhood market. He followed her and forced her into his car at gunpoint. He then drove her to his parents' remote cabin in Jay, New York (six miles from Au Sable Forks), where he raped her for several hours. He tried to strangle her, but when that did not kill her, he shot her in the chest. He buried her in a wooded area near the cabin the following morning. He later returned to the Au Sable Forks area where he settled with his family. Every year following the murder, he took his family to the area of the grave for a picnic so he could check and see if it had been disturbed.
On January 28, 1994, Jones led state troopers to the shallow grave, where they recovered Kari's remains. Also found in the grave were her clothing, shoes, and the groceries she had purchased that night. The grave was just a few miles from her home. In February, he pleaded guilty to first-degree kidnapping, first-degree rape, and second-degree murder in relation to her case. As part of his plea deal, he was given a sentence of eighteen years to life. It was to be served concurrently with the fifteen-year robbery sentence.
Theresa received two years' probation for her role in the robberies. She and Jones later divorced. After serving time in federal prison for the robberies, he was transferred to state prison in 2005. He is currently an inmate at Wyoming Correctional Facility in New York. Based on his plea deal, he was granted his first parole hearing in September 2011. Au Sable Forks residents embarked on a letter writing campaign to the parole board, opposing his release. During the hearing, he stated that he abducted and killed Kari because he was upset that Theresa had cheated on him. He said he hid her body because he was "scared." He also claimed that he had committed the robberies in hopes of getting caught. His parole request was denied. All subsequent requests have also been denied; he will next be eligible for parole in August 2023. In 2018, he attempted to appeal his conviction; the New York State Court rejected his appeal.
Kari's parents later established a scholarship fund in her honor. Sadly, on December 3, 2007, her brother, Jonathan Edward Nixon, passed away at the age of twenty-nine, after a yearlong battle with ALS. He was survived by a daughter, who was named Kari Lynn Nixon in her aunt's honor. On August 28, 2011, Gary passed away at the age of sixty-three.
Links:
---