We're Getting Mutants in the MCU - The Loop
Play Sound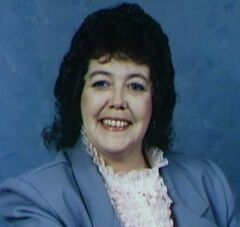 Real Name: Sandra Kay Beeman
Nicknames: Kay
Location: Cumberland, Maryland
Date: August 29, 1990

Bio
[
]
Occupation: Prison Guard
Date of Birth: February 7, 1944
Height: 5'3"
Weight: 170 lbs.
Marital Status: Divorced
Characteristics: Caucasian female. She has experience as a beautician and may have changed her hairstyle and color.

Case
[
]
Details: Forty-six-year-old Kay Beeman was divorced when her children were nearly grown. Her twenty-four-year-old son, Eric, and twenty-one-year-old daughter, Leslie, lived with her in a mobile home in Frostburg, Maryland. For ten years, she had worked as a matron and corrections officer at the Allegany County Detention Center for Men and Women in Cumberland, Maryland. On August 29, 1990, she was on duty in the prison control center with another female officer, Michele Puderbaugh. At 2:12am, Kay left the control center to conduct a routine check of the cell block. All inmates were behind bars except one low security prisoner who was working in an adjacent room.
Everything seemed normal, but within minutes, the calm of an uneventful night shift would be dramatically turned upside-down. At around 2:30am, as Michele sat and worked, a thirty-year-old maximum-security inmate, Edgar Eugene Kerns, Jr., entered the room, armed with a "hard object." He said, "Come on lady, you're coming with us." She asked what he was doing in there. He repeated for her to "come on!" She said, "do you know how serious this is?" and he responded, "do you know how serious I am? I ain't got time for this!" He told her that another inmate had a weapon and had taken Kay hostage.
Michele was not sure what they were going to do. She believed that they were going to take her hostage as well. As they walked through the cell block, she saw the bathroom door standing ajar. She ran for it, went inside, and locked the door. She felt relief because she was, at least for the moment, safe. But then she realized that she could not call for help from there. She also feared for Kay since they had her. She was afraid of what they were going to do to her.
It appeared that Kay had been taken hostage by thirty-five-year-old James Vernon Barnes, Kerns' cellmate. Barnes was serving fifty years for kidnapping, rape, and robbery charges in Virginia. He was being held in the jail while awaiting trial on charges of kidnapping, rape, and assault with a deadly weapon in Cumberland. He and Kerns were the only two inmates being held in the maximum-security cell block.
Michele heard buttons being clicked and the controls being moved that open the door. She figured that Kerns and Barnes had escaped with Kay. Shortly afterwards, the prisoner that was working in the other room told her it was safe to come out. She immediately called the police to report the escape. Two days later, on September 1, Kay telephoned Leslie at their home. Leslie says that the collect call came in at about 5:15am. Kay told her that she was alright and that she loved and missed her. She told her not worry about her, that she was fine. She then said, "I went with them."
Because of the call, authorities began to suspect that Kay was involved in the escape. It was discovered that she was the only guard who had keys to the maximum-security cell shared by Kerns and Barnes. On the night of the escape, she volunteered several times to make early rounds of the jail. She also convinced another guard to go to the convenience store to get food, something she normally did herself. On September 2, three days after the escape, Barnes was apprehended in Hampshire County, West Virginia, about thirty-five miles from the jail. He told authorities that Kay's car was used in the getaway. He said that she was with Kerns. He also said that she had helped plan the escape because she was in love with Kerns.
Kerns was from Martinsburg, West Virginia. He had been convicted of theft and forgery there. He was awaiting sentencing in Maryland for assault, grand larceny, and passing bad checks. He also had previously been charged with attempted murder and kidnapping his girlfriend and her daughter; however, those charges were dropped when the girlfriend refused to testify. Barnes said that Kay and Kerns had been romantically involved for three months. At the prison, the two had long, soulful conversations.
Barnes told authorities that Kay would sometimes spend between half an hour and forty minutes in the maximum-security area just talking to Kerns. Authorities were certain that there was a relationship between them. It also appeared that there were other reasons for Kay to want to leave her old life behind. She often fought with Eric and Leslie and did not get along with them. She no longer liked her job. She also had money troubles. Shortly before the escape, she told a coworker, "It won't be too much longer, then I'll be free." The coworker did not realize what she meant at the time.
It was discovered that Kerns was not the only inmate Kay had been involved with. She had previously dated two inmates after they had been released. Strangely, she was also supposed to marry an inmate at the Maryland Correctional Institution at Hagerstown four days before the escape. That inmate claimed they had met the year prior and developed a "love affair." She wrote to and visited him regularly. However, when she did not show up at the prison on their wedding day, he called her; she said she wanted nothing to do with him. Four days later, she escaped with Kerns. Deputy Craig Robertson of the Allegany County Sheriff's Department says that when people fall in love, they sometimes do "strange things." However, he says that Kay has pretty much lost everything that she ever had over the escape.
Michele says that once she learned what really happened that night, she felt betrayed. She could not believe Kay could do that to her. Leslie says that she wants to know why Kay did it. She wants Kay to turn herself in because she does not want her to get hurt. She would like to have Kay home so she can explain what she did to her. She says that she loves Kay and is confused about the whole thing. She also says that Kay hurt her, and she does not know how to feel about it, or about her. Finally, she says, "it just hurts a lot."
Is Kay a victim or a criminal? Leslie holds out hope that she is innocent, but no matter what, she wants her mother to come home. Authorities, however, are certain that she was involved and have issued an arrest warrant, charging her with aiding an escape.
On the day of the escape, Kay and Kerns had an auto accident. She suffered a cut above her right eye and injured her arm. Those wounds may not have been treated. They sold her damaged car in West Virginia. They were last known to be in Pennsylvania. However, police believe they could now be in New York or Canada.
Suspects: Kerns is believed to be responsible for Kay's disappearance, although it is uncertain if she was abducted or if she left voluntarily with him.
Extra Notes:
This case first aired on the October 17, 1990 episode; it was updated on the December 19, 1990 episode.
Other cases of women helping their lovers escape from prison include: Diane Brodbeck, Karen Walters, Melody Woods, and Donna Moses Brown.
To protect her privacy, Leslie was filmed in silhouette.
This case was also featured on Inside Edition.

Results: Solved. At around 4am on October 18, 1990, just six hours after the broadcast, Kay and Kerns were captured in Canada. On September 10, twelve days after the escape, they checked into the Beach Motor Motel in Hamilton, Ontario. They registered as husband and wife under the assumed names "Fred and Sandy Smith." They claimed they were on vacation from West Virginia. On the night of the broadcast, motel manager Joe Mitchell was watching the show when he saw Kay's picture. He called his wife Nancy in and said, "Do you recognize this lady?" And she said, "yes, she's the lady that's living in room 12." By that point, Kerns' picture appeared. Joe realized that he was the other person living in room 12. He immediately called the police.
When police arrived at the motel, they learned from the Mitchells that Kay and Kerns had not left their room and it was not their policy to leave it during the evening. As a result, police believed that they were still in the room. The officers of the Emergency Response Unit (equivalent to a SWAT team) forced the door to the room open. However, the room was empty.
An employee at a nearby motel told authorities that he had seen Kay and Kerns getting into a taxicab earlier that evening. Authorities were able to determine the name of the cab and a check with the cab company revealed the driver: Gene Paul Garreau. He picked them up at the beach strip near the motel. He asked them where they were going and they said the Red Rose Motel, which was several miles away. When authorities got to that motel, one of the officers was able to determine from the office register that Kay and Kerns had registered there, and that Kerns had used his real name.
A few minutes later, the Emergency Response Unit moved in. Four officers approached the front door of the motel room. At that point, someone from inside of the room looked out through the drapes. The officers forced open the door and entered the room. Kerns was forced to the floor and held in a position of safety. Kay was in the bed; her hands were handcuffed above her head to the headboard. She and Kerns were then arrested and transported to Central Station.
Kerns asked authorities how they had learned of his whereabouts. They asked him if he had ever seen the show before. He said he had. They told him he was featured on it that night, and he was astounded. He said that they had entered Canada through Fort Erie, Ontario, telling a customs officer he was planning to fish for salmon. On October 30, 1990, he and Kay were extradited back to Maryland. They left little doubt about the nature of their relationship when they kissed in front of reporters while being taken to court. Shortly afterwards, she announced they were engaged and that she wanted to have a child with him.
Kay was charged with aiding an escape, conspiracy to escape, delivering contraband (two hacksaw blades) for use in an escape, and conspiracy to deliver contraband. In March 1991, she pleaded "no contest" to the charges. In May, she was sentenced to ten years in prison; however, half of it was suspended.
Kerns was charged with escape, assault and battery, receiving contraband, conspiracy to escape, and conspiracy to receive contraband. He also faced sentencing on charges of forgery, passing bad checks, and eluding police. In November 1990, he was sentenced to six years in prison for the forgery and eluding police charges. In February 1991, he was sentenced to eighteen months for the bad check charges. In October, he was convicted of escape and sentenced to eight years in prison.
After their release, Kay and Kerns moved in together. They lived together until her death on January 23, 2002. She was fifty-seven.
Barnes was convicted of escape and sentenced to eight years in prison. That sentence will not begin until he completes a fifty-year sentence he is serving in Virginia.
Links:
---