Obi-Wan Finale - The Loop
Play Sound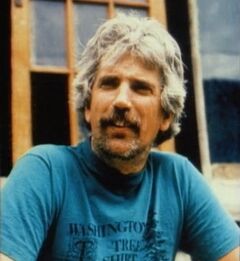 Real Name: Keith R. Reinhard
Nicknames: No known nicknames
Location: Silver Plume, Colorado
Date: August 7, 1988

Bio
[
]
Occupation: Antique Store Owner
Date Of Birth: September 10, 1938
Height: 6'2"
Weight: 210 lbs.
Marital Status: Married
Characteristics: Caucasian male with gray hair and blue eyes. He wears glasses only for reading. He was last seen wearing blue jeans and a flannel t-shirt.

Case
[
]
Details: For twenty-three years, Keith Reinhard worked as a sports reporter for a suburban Chicago newspaper. In 1988, at the age of forty-eight, he grew long hair and a beard. In June, he began a three-month sabbatical in Silver Plume, Colorado, a small town with a population of 130; it is located in the middle of the steep, majestic Colorado Rockies. His goals were to get in shape by mountain climbing, overcome his fear of heights, and begin writing a novel. His old friend, Ted Parker, ran a café in Silver Plume. During his sabbatical, he wanted to try running an antique store geared toward summer tourists. If it was successful, he hoped that he and his wife, Carolyn, could relocate there permanently.
Keith and Ted had grown up across the street from each other and had known each other for about forty years. Ted felt that their relationship was similar to that of brothers. According to Ted, Keith was both apprehensive and excited about turning fifty. He had come to Silver Plume to finish out the last of his forties in the way that he had dreamed of. According to his son, Sven, he had felt that he was going to get old soon and wanted to enjoy the last years of his "younger" life without any regrets. He also wanted to do certain things in his life before he became too old to be able to do them.
Keith's antique store was located on Main Street, across the street from Ted's café. He soon learned that the building it was in used to be a bookstore owned by a man named Tom Young, who had vanished nine months earlier on September 7, 1987. He had done so for about a year before he vanished. That day, he closed it up and disappeared along with his dog, Gus. He had told people that he was going on a trip to Europe, so three weeks went by before anyone suspected that his absence was suspicious.
Keith became obsessed with Tom's mysterious disappearance. He began talking to everyone in Silver Plume who had known him. He decided to base the novel he was going to write on him. When he began it, he created a character named "Guy Gypsum" who was a composite of himself and Tom. Sometimes it seemed hard for him to tell the difference. His daughter, Tiffany, recalled that he was very interested in Tom's disappearance and talked about it all the time. She noted that writers like to "live the story" that they are writing about and get a feel of it so that it is easier for them to write about it. She speculated that he may have wanted to feel what it was like to disappear so that he could write about it.
On July 31, 1988, ten months after Tom vanished, two hunters exploring on Republican Mountain, just 1.5 miles outside Silver Plume, found the remains of him and Gus. Each had died from a bullet wound to the head. A revolver was also fond at the scene. In subsequent investigation, police found out that Tom had purchased a gun approximately four days before he vanished. His case was later closed; it was ruled a suicide, both by the coroner's office and the Clear Creek County Sheriff's Department.
One week later on August 7, 1988, Keith closed up his store at around 2:30pm. Throughout the afternoon, he walked through Silver Plume and told several residents that he was planning to climb to the top of nearby Pendleton Mountain. Most did not take him seriously, knowing that he had a fear of heights and disliked climbing alone. At 4pm, he went to Ted's café and told him that he was going to make it to the top of the mountain. He also said that if he did not come back, he should "call on the rescue". He then said goodbye and left. Ted also did not take him seriously.
Keith was last seen walking toward Pendleton Mountain. It was 4:30pm, much too late to begin a difficult hike that would normally take six hours. He had no jacket, only a flannel shirt. He also carried absolutely no supplies. That night, he did not return. The next day, helicopters were called out to search Pendleton Mountain. On the ground, more than 125 men and a dozen trained dogs combed the difficult terrain for seven days. Searchers felt like it was the proverbial "needle in a haystack", with the latter being 3,000 vertical feet of 60-degree slope. It was about as difficult a search terrain that they had ever covered. They were also at a disadvantage because Keith had gone into the mountains wearing no more than blue jeans, a flannel shirt, and tennis shoes. He had no backpack or equipment for them to look for; overall, he had left behind no clues for them.
In thirty years of operation, the Colorado Alpine Rescue teams have found every single person they searched for. However, they could find no trace of Keith. Friends later found a newspaper next to his computer. The headline was: "Tom Young's Body Found". Still in the computer were these words, part of his unfinished novel: Guy Gypsum changed into some hiking boots and donned a heavy flannel shirt. He understood Tom now and his motivation. Guy closed the door, then walked off towards the lush, shadowless, Colorado forest above.
Could these words imply that Keith, like Tom, had decided to take his own life? Carolyn did not think that he would have considered suicide because he was a very optimistic, upbeat person. His advice to her was always: positive mental attitude. With his type of personality, she felt that he would not have committed suicide.
Another theory suggested that neither Keith nor Tom committed suicide, but instead were victims of foul play. First, ballistics could never prove that the bullet that killed Tom came from his own gun. Second, both rented exactly the same space to run their shops. They both might have come across information someone did not want them to have. Tiffany believed that foul play was involved and that Keith had stumbled upon something. Sven does not believe that they will find out the truth until Keith or his body is found.
A final theory was that Keith planned his own disappearance. Carolyn does not believe that he would have left at 4pm for a long distance hike with a far destination in mind. At that time of day, she believed that he would have gone for a walk up the mountain as far as he felt comfortable, and then turned around and came back down. She thought it was odd that he did not take either of his cameras with him. He was in the habit of carrying his camera, especially with the scenery there.
Police noted that Keith was possibly having a midlife crisis, was frustrated that he could not make it off his antique store in Silver Plume, and had told so many people that he was going on a hike. They are not sure why he made the point with so many people that he was doing so. It also did not make sense why he would climb to the top of the mountain by himself if he had vertigo and a fear of heights. They noted that Tom left a false trail surrounding his disappearance. They wonder if Keith did the same thing.
Carolyn, however, does not believe that Keith would walk away from his life. He loved the people in his life and loved keeping in touch with them. She does not believe that he would have left them all behind. However, she hopes that if he is still alive, that they could work out whatever reasons he had for disappearing. Realistically, she has prepared herself for the possibility that he is no longer alive.
One interesting footnote to this case was that Keith had told several friends shortly before his disappearance that he had wanted to visit West Virginia. Also, the night before he vanished, he had attended a party where he had spent a great deal of time talking to a woman named either "Greta" or "Gretchen" who was from Denver. Police believe that she may have information on his disappearance.
As of yet, authorities have been unable to determine what truly happened to Keith.
Suspects: None known
Extra Notes: This case first aired on the January 31, 1990 episode. It was also featured on Lost in the Wild.
Although not mentioned in the segment, a search plane crashed while searching the mountains for Keith. Tragically, one of the pilots, Terry Leadens, died in the crash.
Results: Unsolved. According to a family friend, investigators later located the woman known as "Greta" or "Gretchen" and questioned her about Keith. However, she had no information about his disappearance.
In April 1998, Unsolved Mysteries aired the case of an amnesia victim named Pat Brown who was found in Cheyenne, Wyoming. Some believed that he may have been Keith, as they shared a physical resemblance. Viewers even called the telecenter, connecting both cases. However, thanks to other viewer tips, the man was identified as Carl Broadnik of Indiana.
Sadly, in November 2001, Sven died of carbon monoxide poisoning. Keith has yet to be found; however, he has since been declared legally dead. Most of his relatives have accepted that he is most likely so.
A documentary called "Dark Side of the Mountain" is currently being created about this case. It explores Tom and Keith's disappearances and the possibility that they were the victims of foul play.
In September 2021, new clues, including the discovery of Keith Reinhard's wallet, were discovered by two hikers on Pendleton Mountain while shooting footage for a college film, which has now turned into a documentary on the Reinhard disappearance featuring this new shocking evidence.

Links:
---