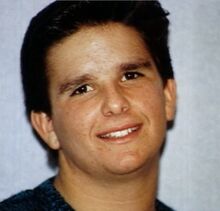 Real Name: Kevin Mitchel Wheel
Nicknames: No known nicknames
Location: Hawaiian Gardens, California
Date: May 3, 1991
Details: Kevin Wheel lived in the Los Angeles suburb of Lakewood, California. Lakewood is located near Hawaiian Gardens, a city with a hotbed of gang activity. Some of his friends were in gangs, but Kevin himself was not. On May 3, 1991, at around 11:30PM, after an evening with friends, he was driving home along Norwalk Boulevard when, at 221st street, a car pulled up behind him and began following him. A few seconds later, the car pulled up next to him and opened fire, killing him. He was struck twice to the head and three times to the back.
His mother Teresa and father Stan started a flier crusade to bring his killer to justice. For years, they have stood on the sides of roads, holding signs asking for any information about Kevin's murder. They have also posted a $10,000 reward for information. Unfortunately, the police have met nothing but silence in finding the killers. Kevin's murder has never been solved.
Kevin's parents went to psychic James Van Praagh to help find more information about their son's death. They intentionally sat on different sides of the room, and James immediately said that Teresa and Stan, Kevin's parents, were married to each other and they wanted to know about their son, even though James was not told anything about it. James then said that he saw a "K" and said that their son's name was Kevin. However, skeptic Michaer Shermer claimed that Teresa had a necklace with the letter K on it which helped James pick out his name. However, Kevin's parents are convinced that James spoke to their son Kevin from beyond the grave.
Suspects: The suspects are described as four Hispanic males driving a white compact car. They are believed to be gang members from a rival gang in nearby Artesia. Investigators believe that the killers recognized Kevin's car, as he had driven his gang member friends in the car before.
Investigators and Kevin's family believe that they know who pulled the trigger; however, no one is willing to testify against him.
Extra Notes: This segment about Kevin's murder originally ran on the May 11, 1994 episode. The case was also featured in a segment about psychic James Van Praagh which aired on February 3, 1995.
Results: Unsolved
Links:
---
Community content is available under
CC-BY-SA
unless otherwise noted.