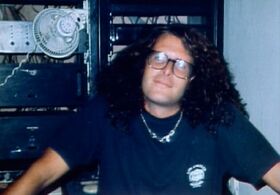 Real Name: Lee Michael Selwyn
Nicknames: No known nicknames
Location: Los Angeles, California
Date: October 8, 1988

Case
[
]
Details: Twenty-six-year-old disc jockey Lee Selwyn was a familiar face in the trendy rock-and-roll nightclubs that populate Los Angeles. These included: Durango, Angel City, and Le Hot Club. He was a close friend of many popular rock stars and musicians. He was also a member of the late-night motorcycle riding crowd in Hollywood. On October 8, 1988, he would fight for his life, a victim of a bizarre encounter with a crazed killer on the streets of Los Angeles. It was a fight for survival that he would not win.
Lee was a man who loved the nightlife of Los Angeles and was an important part of it. But simply because he looked different, he and his friends were arbitrarily targeted for murder. The sad irony of his death is that he was only an innocent bystander. The search for his killer has been taken to the streets of Los Angeles by his family and the rockers and bikers who loved him.
Lee had a love for music and began playing records when he was fifteen. When he first got his motorcycle, his mother, Linda Caciola, was somewhat nervous about him having it. However, she said she knew he was careful and would not take unnecessary chances, such as riding on the freeways. Since he was not a "crazy kind of person" or one to take risks, she really did not worry about him. Shortly before his death, he and several associates made arrangements to rent the Triple X nightclub, fulfilling one of his lifelong goals. Their first show was on October 5, and he, of course, played DJ.
At 2am on October 8, Lee and three friends left a Hollywood nightclub, planning to cruise the nearly deserted streets on their motorcycles. They were unaware of the danger that awaited them. They rode two by two, Lee and a friend named Beachy trailing Mike Auerbach and Rob Kalafut, who rode in front. According to Rob, they were driving down one street when, out of nowhere, a pickup truck came flying by him. As the truck drove by, he swerved into their lane, nearly hitting Rob. Rob heard him laugh and scream at them.
Rob says that things like that happen to motorcyclists in Los Angeles every day, but normally, the drivers are not so blatant about it. When the truck and the motorcyclists came to a red light at an intersection, Rob pulled up next to the truck's driver's side window. He was infuriated because he believed the driver was trying to kill him. He yelled at the driver, saying "What are you trying to do? Trying to kill me?" The driver screamed back at him. Rob thought he looked like a "nut" and suspected that he may have been drunk or on drugs.
During the confrontation, the driver rolled down his window and spat in Rob's face. In retaliation, Rob punched out the truck's driver's side mirror and kicked the driver's side door. The driver continued rolling his window up and down, spitting at Rob and "growling" and screaming at him. The driver then reached down in his truck. Believing that he was reaching for a gun, Rob punched and smashed the driver's side window. The driver then shot out into the intersection, did a U turn, and faced his truck towards the motorcyclists.
Rob and Mike looked at each other and realized that the driver was going to try and run them down. They both drove past him down the street. The driver made another U turn and started following them. Lee and Beachy followed as well. As they quickly drove down the street, Rob could see the driver's headlights bearing down on them. He and Mike decided to make a right turn at the next intersection. The driver slid into the intersection, slammed on his brakes, and stopped.
When Lee got the intersection, he turned left, and the driver followed him. Instead of Rob, Lee became the target of his rage. According to witnesses, Lee and the driver were both going anywhere from 60 to 100 miles per hour. Detective Frank Bishop notes that Lee was known by his friends and family as a very peaceable man who purposely avoided fights even when confronted; even if he was physically harmed by someone, he would turn and walk away. He was supposed to be having fun that night; instead, he was being terrorized by the unknown driver.
Detective Bishop believes Lee was in complete terror. The chase went on for five miles, across thirty city blocks. The entire time, the driver was right on his rear end. According to witnesses, the driver was right on him and tried to bump him several times. The chase continued until the driver hit him and drove him into a telephone pole. Lee flew in the air almost 180 feet before he came to a rest on La Cienega Boulevard in the Wilshire District. He was rushed to Cedar Sinai Hospital, but died within hours. Detective Bishop says this was a murder; someone intentionally took Lee's life that night.
The massive skull fracture Lee received in the collision was the cause of his death. That night, Linda received a call from the hospital. They said he was in intensive care. She knew he was going to die, but did not want to believe it. She still has trouble believing it, saying, "it's real, but it isn't real." She says he was such a big part of her life. Along with being her son, he was also her "buddy."
At Lee's funeral, hundreds of his friends paid tribute to him. A music video, with footage shot at the funeral, was set to an original song dedicated to his memory by the rock group Little Caesar. His sister, Lori, says it was amazing to see so many people come to his funeral and show that they really cared for him. She feels it was a real tribute to who he was, by how many people were there and how people have shown how much they care.
Lee's friends organized a rock concert in his honor, with special guest performances by Billy Idol and Julian Lennon, among others. It was held on November 8 at the Palace in Hollywood. The proceeds from the concert went to a fund offering a reward to anyone who could bring Lee's killer to justice.
Detective Bishop says that a lot of people have the opinion that motorcycle riders are gang members. In reality, Lee and his friends were just out having a good time and they happened to ride Harley Davidson motorcycles. He says that what really counts is who they were and what they were doing. Lee and his friends were not doing anything wrong that night. They had a right to be out riding their motorcycles and dressed the way they were. Lee was not even the one that gave the killer the problem. However, the killer was so bent on catching that person, it did not matter to him who was on the motorcycle. He had to catch it and run them over, and that is what he did.
Since Lee's death, his family and friends have tried to help police find his killer. Beachy helped distribute wanted posters with a composite sketch of the killer. He also called dozens of auto body shops and surveyed dozens of auto parts distributors, trying to find buyers of replacement windows for pickup trucks.
Linda says it is incomprehensible for her to think that they could never find the killer. She says she cannot imagine living the rest of her life not knowing who killed Lee.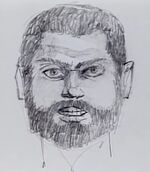 Suspects: The killer drove a late model two-tone vehicle with a chrome luggage rack and tinted windows. Most eyewitnesses agree that it was a Ford Bronco II or a Chevy Blazer, and that its colors were red on white. Damage to the vehicle included a smashed outside rear-view mirror, a broken window, and a dented door, all on the driver's side. The vehicle would probably have come in to an auto body shop for repairs sometime after October 8, 1988.
The killer was described as a Caucasian male, between twenty-eight and thirty-two years of age (in 1988), with green eyes and reddish brown hair and beard.
Extra Notes:
This case first aired on the January 11, 1989 episode; it was updated on the October 13, 1993 episode.
Some sources spell Perkins' middle name as "Legrant".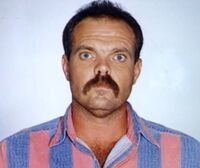 Results: Solved. More than four years went by before police finally got the tip they had been waiting for. After the case was re-aired on Lifetime on March 15, 1993, a viewer called the tele-center and said there was a man in prison in Moultrie, Georgia who had often bragged about running down and killing a biker in Los Angeles. The viewer had heard this from her ex-boyfriend who was in prison with the man. The Los Angeles police obtained a mugshot of the suspect, thirty-six-year-old Franklin Legrand Perkins. Lee's friends picked him out of a photo lineup. Police also discovered that he was a member of the Vagos motorcycle gang.
On July 30, 1993, just five days before Perkins was scheduled for parole, he was charged with first-degree murder. At the time, he was serving a five-year sentence for possession of a firearm by a felon. One week later, he was brought back to Los Angeles by Detective Dan Andrews. Detective Andrews says that most murder victims know their killers. But Lee's case was not that way. It was a random event of a person who was basically minding his own business, and unfortunately, was in the wrong place at the wrong time. He says it is a good feeling that they were able to solve Lee's case after five years.
Linda knows that nothing can bring Lee back; however, she hopes that Perkins' arrest will bring some closure to the five years of uncertainty and pain that they have gone through. She feels that justice can finally be served. She is also grateful that Perkins is not out on the street, committing other crimes, hurting other people, and killing other people's loved ones. Lori says that one portion of their grief can finally be closed and dealt with. She knows now that when she is driving on the streets, she will not be looking in other cars and wondering if that person is her brother's killer.
In 1994, Perkins was convicted of second-degree murder. In December, he was given a sentence of fifteen years to life in prison. In 2005, he became eligible for parole, but was denied. In 2020, he filed a petition for resentencing; it was also denied.
Links:
---