Cobra Kai Season 4 - The Loop
Play Sound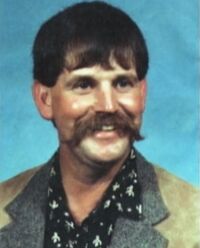 Real Name: Leonard Neal Dirickson
Nicknames: Lenny
Location: Strong City, Oklahoma
Date: March 14, 1998

Bio
[
]
Occupation: Dairy Farmer
Date of Birth: July 25, 1958
Height: 5'10"-6'0"
Weight: 200 lbs.
Marital Status: Divorced
Characteristics: Caucasian male. Brown eyes, brown hair. He was wearing green jeans, dark hiking boots, a brown cap with a green bill and a faded black coat.

Case
[
]
Details: March 14, 1998, began as a typical morning at thirty-nine-year-old Leonard Dirickson's dairy farm near Cheyenne, Oklahoma. He made breakfast for his nineteen-year-old son, Jared. The two sat down to eat before a long day of chores. Then, at 9am, a visitor arrived unannounced in a white pickup truck. Neither of them recognized the truck. Leonard went out and spoke with the driver for several minutes. They did not appear to know each other, but their conversation seemed cordial. When Leonard returned, he told Jared that the man wanted to look at one of his stud horses. He gave no sign that he found anything unusual about the man. He told Jared to go to Elk City and get feed for the cows. He said that he would go with the man to look at the horses in Mobeetie, Texas, and then Elk City. He said that he would be back by the afternoon. However, he never returned.
Nobody knows what happened to Leonard. To this day, police have found no signs of a struggle, no evidence of foul play, and no body. Their only clue is the mysterious man who came to Leonard's house. Authorities believe he is the key to explaining Leonard's baffling disappearance.
After leaving his home, Leonard did not simply vanish. Two hours later, a waitress claims to have seen him eating breakfast with another man at a local coffee shop. Authorities thought this was odd because he had just had breakfast with Jared two hours earlier. The waitress noticed that the unidentified man was doing most of the talking, and that Leonard was mainly just drinking coffee and listening to him. The man at the coffee shop matched the description of the man who picked Leonard up at his home. There was nothing suspicious about his behavior. And if he had meant to harm Leonard, why would he be seen with him in a public place?
Police next checked the barn where Leonard kept his stud horse. He never came there that day. In fact, an exhaustive investigation turned up absolutely no information on his whereabouts until six months after he vanished. But this sighting was even more perplexing than the first. A man at the Highway Bar in Amarillo, Texas, phoned the police, claiming that Leonard was in the bar with him. He said that he was wearing a blue checkered shirt and was drunk. He also said that he knew Leonard and was from Elk City. However, he would not tell them his name. He said that he would wait until the police arrived. He then hung up the phone. By the time local police arrived at the remote bar, both the caller and the man he claimed was Leonard were gone.
The following day, the Roger Mills County Sheriff's Department interviewed the bartender. She remembered the caller being at the bar and corroborated his story. They had no reason to disbelieve him. Some investigators believe that Leonard was in the bar that night. But why would he be hanging out in an Amarillo bar six months after being reported missing? Could he have voluntarily disappeared? If so, why? He had recently suffered through a painful divorce and investigators believe his dairy business was collapsing, along with the rapidly dropping price of milk. Could he have decided to escape both his alleged financial and personal problems once and for all?
Investigators believe that it is possible that Leonard left on his own. They believe he could be working as a ranch hand for a dairy or cattle ranch. There is only one problem with that scenario: Jared. He and Leonard were together everyday, working and doing chores on the farm before he went to school. He does not believe that Leonard would ever leave him because they were so close. Leonard's mother, Norma, also does not believe that he would leave Jared and go off without telling anyone where he was. She believes that they were too close of a family for him to do that. Furthermore, he did not cash his last paycheck or use his credit cards since his disappearance.
If Leonard would not have left Jared behind, the focus then switches back to the mysterious man. One aspect of this case has always troubled investigators. Jared did not know the man, and Leonard did not act as if he did either. But then how did the stranger know where they lived? And why was he asking about a horse that Leonard had not advertised as for sale? The Dirickson's home was in such a specific remote place that the man would have to have known how to get there because it was not a straight drive there. One would have to turn and go on the back roads to get there. As a result, someone had to have given him directions to the home.
There is a possibility that the man was involved in setting Leonard up to be murdered. If he did not commit the murder himself, he may have taken Leonard somewhere to someone that did it instead. However, investigators have not been able to find a motive for someone to want to kill him. Without it, the search for him will continue to be hampered. Until then, his family can only pray that he is safe and well somewhere and will someday return home.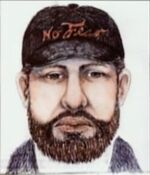 Suspects: The unidentified man that left with Leonard is described as a white male who at the time was about forty-one-years-old (in 1998), 6'2, 210 pounds, had a full reddish-brown beard, wore a baseball cap with the words "No Fear", was right-handed, and smoked Marlboro Light cigarettes. He was driving a white Ford pickup truck with a yellow tag on the front and possibly a New Mexico license plate. He has never been located and is not considered a suspect by police, but they do want to question him.
Extra Notes: This case first aired on the October 4, 2001 episode.
Results: Unsolved. According to a relative, police do have a suspect in this case; the man knew Leonard, lives in Texas, and has allegedly refused to let investigators search his properties. However, no further information is available on the alleged suspect.
Sadly, Leonard's father, Donald, passed away in 2015 at the age of eighty-eight. In his obituary, Leonard is listed as having pre-deceased him.
Links:
---