Real Name: Lester Edward Eubanks
Aliases: Victor Young, Pete Eubanks, Lester William Eubanks
Wanted For: Murder, Escape
Missing Since: December 7, 1973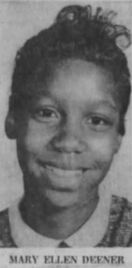 Case
[
]
Details: Lester Eubanks is wanted for escape; he had been serving a life sentence for the murder of fourteen-year-old Mary Ellen Deener of Mansfield, Ohio. Mary Ellen's sister, Myrtle Carter, recalls that Mansfield was a great place to live. Like any small town, everybody knew each other. It was a very safe place. She never remembers feeling scared or afraid of something happening to her.
Myrtle recalls that Mary Ellen was a typical little girl. They would ride bikes, roller skate, play hopscotch, and play with dolls. Mary Ellen was described as exceptionally bright and responsible, with a "giving heart." She was a good student; she was on the school newspaper staff and was a member of the glee club. She never got into any trouble. She took good care of her younger siblings and had many friends. Myrtle remembers that she was always "giggling" with her friends.
Mary Ellen had dreams of becoming either a nun or a laboratory technician one day. She and Myrtle were two of seven children. They lived in a home on West Dickson Avenue. They all had their own chores to do. The boys would collect the trash and mop the floor. The girls would do the dishes, and wash and fold the clothes.
On the night of Saturday, November 13, 1965, Mary Ellen and her twelve-year-old sister, Brenda, were in charge of doing the laundry. They had washed all the clothes but could not dry them at home because the dryer was broken. Instead, they took the wet clothes into a taxi and went to the Half Hour Laundromat on Springmill Street. Their mother, Cassie Deener-Jones, felt comfortable sending them there at that time of night because their grandmother, Love Williams, lived right next door to the laundromat. They knew they could go there if anything happened.
Mary Ellen and Brenda arrived at the laundromat around 10:30pm. Once they started putting clothes in one of the dryers, they realized they did not have enough change. Mary Ellen told Brenda that she would go to Love's house to get change. Brenda asked to come along, but Mary Ellen told her that she needed to stay and watch the laundry. A few minutes later, Mary Ellen returned, saying that Love did not have any change. She also tried a nearby gas station, but they did not have change either. She asked Brenda to go and see if the other laundromat on North Mulberry Street was open. Brenda was afraid of the dark, but she agreed to go. She went to the corner and saw that the other laundromat's lights were on.
As Brenda walked back, she passed a man standing on the corner. He was wearing green Army clothes and had a "weird" look on his face. She returned to the first laundromat and told Mary Ellen that the other one was open. Mary Ellen then left to get change from there. It was a five-minute walk between the two laundromats. When she did not come back, Brenda went to Love's house and told her that Mary Ellen had gone to get change but never came back. Love told Brenda to stay there while she went to look for Mary Ellen.
At 12:45am, a person living near the second laundromat called police and reported seeing someone laying on a sidewalk behind a vacant house in the 300 block of North Mulberry Street. Officers responded and found a young girl; she was dead. At that same moment, Love started walking to the second laundromat. As she turned the corner, she saw the police cars. She told the police that her granddaughter was missing. They asked her to view the body; it was Mary Ellen's. She had been shot to death. Her skirt had been pulled up; it appeared that someone had tried to take her clothes off. A handful of coins were found next to her.
That morning, detectives came to Mary Ellen's home to inform the rest of her family of her murder. At the time, Myrtle was married but still lived nearby. She remembers that Cassie was hysterical and crying. For years, Cassie was plagued by guilt. Brenda was in shock for a long time. The murder affected her greatly; she and Mary Ellen had been very close. After it, she spent years in counseling. Myrtle says that she cannot imagine having to deal with that.
Shortly after the murder, the police were able to determine what caliber of gun was used. They went to all of the gun stores and the hardware stores that sold guns in Mansfield. While at Diamond Hardware on South Diamond Street, they asked to see their books. In the books, they noticed a weapon that fit the description of the one that was used to kill Mary Ellen. It was purchased less than a month earlier by twenty-two-year-old Lester Eubanks, a former Air Force medic.
Police began searching for Eubanks. An informant told them that he had seen Eubanks in the area of the crime scene on the night of the murder. Myrtle knew that Eubanks lived down the street; however, she did not know him well. She thought he was weird. To her, he appeared to be a loner. He always had nunchucks with him. He would walk up and down the street, flipping them around.
Eubanks grew up in Mansfield. He was described as a "sharp-looking man." He was well-liked and could easily fit in anywhere. But he was also considered to be a sexual predator. He had been arrested twice in the past for sex offenses. In 1959, when he was sixteen, he assaulted a twelve-year-old girl. Fortunately, she was able to escape him. He was later sentenced to probation. He also admitted grabbing another girl after a high school dance; he let her go when she screamed.
At the time of the murder, Eubanks was out on bond for attempted rape. He had been released from jail just two weeks earlier. That crime had taken place on August 19 in a restaurant across the street from the second laundromat. The victim was an eighteen-year-old waitress who was working alone. She said that Eubanks grabbed her by the throat, pushed her into the restroom, threatened to kill her, and then choked her until she passed out. Former Mansfield Police Captain John Arcudi says that Eubanks should not have been out of jail because of the seriousness of his prior offenses.
At the time of the murder, Eubanks lived in an apartment close to the two laundromats. When police searched it, they found a paper bag with shell casings and bullets. They also found his .32-caliber Iver Johnson revolver. The bullets from her body matched the spent shell casings and bullets from his apartment. His footprints were also found at the scene.
At around 5:45pm on Sunday afternoon, officers located Eubanks as he walked home from church. They picked him up, took him to the police station, and interviewed him. At first, he denied being involved in Mary Ellen's murder, saying that his gun was stolen. But eventually, when confronted with the evidence against him, he confessed. Police knew that they had the right man. His confession was detailed. He said that on the night of the murder, he went to the Hollywood Nightclub with a local prostitute. While on the dance floor, he dropped his gun; several people, including a high school friend of his, witnessed this. Shortly afterwards, his date left with another man to "do a little business." Before she left, he told her that he would check on her in an hour.
Eubanks' date lived across from the second laundromat. After walking around town, he was still waiting for her around 11pm. That is when he saw Mary Ellen leave the laundromat and walk by. He said that he tried talking to her, but she wanted nothing to do with him. When she raised a bottle of soda that she was drinking, he claimed that he was not sure if she was going to hit him with it. He blocked her movement with his hand. On "impulse", he grabbed her and dragged her 150 feet behind a vacant house. He attempted to rape her. When she started to scream, he put his hand over her mouth. He then shot her twice and left her for dead.
According to Eubanks' confession, he left the scene and went around the corner to his apartment. He emptied the bullets and spent shells into the paper bag, cleaned himself up, and tried to calm down. But he was not sure that Mary Ellen was dead. He got dressed, planning to go downtown and go dancing. About forty-five minutes after the initial attack, as he made his way downtown, he came back to the crime scene. Mary Ellen was "writhing in agony" but was still alive. She tried to call out for help. Realizing that she was still alive, he picked up a paving brick that was in the alley and struck her in the head several times. Once again, he left her to die. After that, he picked up his date and went dancing downtown.
When asked why he killed Mary Ellen, Eubanks said, "It wasn't my intention. I didn't have any intention to her at all." Her murder rocked Mansfield. He was charged with first-degree murder and attempted rape. He pleaded not guilty by reason of insanity. In May 1966, he went on trial in the Richland County Courthouse. Myrtle went to the trial daily; she wanted him to know that Mary Ellen had a lot of people that cared about her and loved her. She wanted him to know what he had taken from the world. And she wanted him to know that she and her family cared.
Eubanks' attorneys claimed that he had a mental defect that caused him to be "impulsive." A psychiatrist who examined him agreed with this, saying that he had "poor conscious control over his behavior." Eubanks himself also testified. He said that after Mary Ellen was shot, he took her pulse and discovered that she was dead. When asked why he did not call for help, he said that there were no phones nearby. Retired Mansfield Police Lieutenant Dale Fortney believes that Eubanks testifying was "the trait of a narcissist." Eubanks did not seem to show any remorse at all, other than being remorseful that he was caught.
Based on Eubanks' confession in the courtroom, on May 25, a jury convicted him of first-degree murder while attempting to commit rape; they had deliberated for about ten hours. He was sentenced to death. Mary Ellen's family was happy because they thought that everything was over. And it was that way, for a while.
Eubanks was sent to the Ohio State Penitentiary, which was located in downtown Columbus. Another inmate at the time, "Bill", says that he did not want to be around Eubanks because he did not like him. He knew that Eubanks was there for a murder, but he did not know any other details. He remembers that Eubanks was tall, cocky, opinionated, and had an attitude. There were a lot of people and things that he did not like. He was basically a loner; he spent most of his time writing and painting, the latter of which was self-taught. Death row prisoners were allowed to do those things at the time. At one point, he was featured in the Columbus Dispatch, which was doing a profile on prison artists. It heralded him as "the best of the Death Row painters."
On three separate occasions, Eubanks' execution was pushed back for unknown reasons. Finally, in 1972, the death penalty was abolished in the United States. The U.S. Supreme Court found that the death penalty was administered in an "arbitrary and capricious method." As a result, Eubanks, along with all other Ohio death row prisoners, had their sentences set aside and commuted to life in prison without the possibility of parole.
Myrtle was angry, shocked, and confused when she learned that Eubanks' sentence was commuted. However, she says that since she could not do anything about it, she decided to "let it go." So, she and her family members went on with their lives. They were content with the fact that he was still in prison.
After the death penalty was abolished, Eubanks was put into general population. Bill says that Eubanks could put on a façade where it looks like he is a good guy when he is not. According to Deputy U.S. Marshal David Siler, Eubanks was a "smooth talker" who was able to win the guards over. They gave him letters of recommendation, allowed him to join the prison's honor program, and awarded him "honor prisoner" status.
At the time, there was a national "reform-type" movement taking place in the United States. Prison administrators tried new approaches to rehabilitate inmates and prepare them for life on the outside. Eubanks became eligible for the honor/furlough program that allowed him, under certain circumstances, to venture outside the prison. Sometimes, they were allowed to drive trucks from prison to prison. Sometimes, they were permitted outside in the presence of a guard to go run errands. On some occasions, they were allowed to attend football games. Some even went to the Ohio State Fair.
According to prosecuting attorney Ron O'Brien, the rationale behind these programs was to reward prisoners for good behavior. This would help prison guards to both control the population and incentivize good conduct. Eubanks was involved in several art shows where he won awards. Lt. Fortney says that it is clear now that Eubanks should not have been allowed in the program because sex offenders have such a high recidivism rate. However, no one apparently realized that at the time.
Eight years after Mary Ellen's murder, on December 7, 1973, Eubanks, along with three other prisoners in the program, were allowed by the Ohio Department of Corrections to go on a Christmas shopping trip to Great Southern Shopping Center in Columbus. The prisoners were dressed in civilian attire and given money for the trip. They were dropped off by prison officials at 10am. They were allowed to go into the mall for four hours and buy presents for their families. They were told to report back at a specific place by 2pm. And rather than staying in a group, they were allowed to leave the guards and be on their own, shopping among the public.
2pm came and went, but Eubanks never arrived at the meeting place. He had simply walked away. Guards searched the mall but were unable to find him. Captain Arcudi wonders what they were hoping to accomplish by taking a child murderer to a mall and letting him go shopping without having a guard with him the entire time. After the escape, the policy of letting inmates go shopping unescorted was changed. But it was too late to stop Eubanks.
Later that day, Myrtle received a call from Cassie. She said that the sheriff had called her and told her that Eubanks had escaped. Cassie was very upset. Myrtle was angry and shocked at what had happened. She could not understand how a prisoner could be allowed to go Christmas shopping. She and her family felt "traumatized" by the whole ordeal.
No one knows how Eubanks escaped from the immediate area of the mall. O'Brien does not think that Eubanks could have escaped successfully if it was a "spur-of-the moment" decision. He believes that Eubanks planned the escape and made some kind of arrangements in advance. Police found Eubanks' visitation list to be alarming. He went from having visitors about once a month to having them about every week. Deputy Siler finds that suspicious. He is certain that the escape was pre-planned and that the visitors were somehow involved.
It has been theorized that someone from Eubanks' family supported him and helped him escape. O'Brien does not believe that the escape would have been successful without some kind of outside support. According to Deputy Siler, Eubanks' family and associates were interviewed. However, none of them gave any information about his whereabouts. Deputy Siler is certain that the escape was premeditated. He believes that it started at least a year earlier, with Eubanks earning the trust of the guards and becoming an honor inmate. He believes that Eubanks manipulated the guards, manipulated the system, and put up the persona of a "good guy" until he was given the chance to escape.
After the escape, the Franklin County Sheriff's Office put a local warrant for Eubanks in the system. The FBI also took out a federal arrest warrant for him. The warrant was a "nationwide pickup," meaning that if he was caught anywhere in the continental United States, he would be arrested and brought back to Ohio. Interpol also assisted in the search. Despite an extensive manhunt, there were no leads to his whereabouts until twenty years after his escape.
In December 1993, Captain Arcudi decided to look into the case. He wondered if Eubanks had been caught somewhere and they just were not aware of it for some reason. He searched the records of the National Crime Information Center (or NCIC), expecting to see Eubanks' warrant information. However, he discovered that no warrants existed for Eubanks in the database. The federal warrant was removed from it. This would mean that if he was ever stopped for a traffic stop or something similar, he would have been let go. O'Brien believes that either a clerical error or lack of follow-up occurred.
Captain Arcudi fixed the error. He then decided to go nationwide in his search for Eubanks. He contacted America's Most Wanted. On September 10, 1994, they aired a story about Eubanks. On the night of the airing, a tipster came forward and said that someone picked up Eubanks from the mall on the day of his escape and drove him to Michigan. Captain Arcudi also received a call from a woman who said that she knew Eubanks. She said that she used to "run around" with him in Los Angeles in the 1970s. She also said that he ended up living with Kay Banks, the widow of his cousin Darrell.
On October 28, 1994, Los Angeles detectives went to Kay's home and met with her. Fearing that she would be charged with harboring a fugitive, she agreed to cooperate. She said that Eubanks had lived with her in Los Angeles. However, she also said that he was no longer living there. She said that she was originally from Ohio and had met Darrell there. At the time, he was a popular singer in Detroit, Michigan. Sadly, he was later killed there.
After Darrell's death, Kay moved to Los Angeles. She established a relationship with Eubanks while he was still in prison. She became his pen pal. Interestingly, a photo of Eubanks taken in his jail cell shows that he had a picture of Kay on his wall. She said that after he walked away from the mall in Ohio, he made his way to Detroit, Michigan. He stayed there for a few weeks to see if he was going to be chased or not, and to see how diligently they were looking for him. He then got a job painting houses in a small community there.
Three weeks after Eubanks' escape, someone gave him money to take a Greyhound bus from Michigan to California. Once the bus arrived there, it was pulled over by law enforcement. He thought that they were coming for him; however, it turned out that they were looking for illegal fruit being brought across state lines.
Shortly afterwards, Eubanks arrived at Kay's home. She was surprised that he was there. She told detectives that she did not know about his plans to escape. While there, he used the assumed name "Victor Young." He got a hunting license under that name, which he used as his I.D., because he did not have to give his fingerprints for it. Captain Arcudi believes that Eubanks is smart and knows how to stay off police radar.
Kay told detectives about Eubanks' love for painting. She also said that he was a "real bully" and that she was intimidated by him. After dealing with him for so long, she decided that she had to think of something to get him out of her life. So, one day in 1975, she told him that she got a call from the FBI and said that they were asking about him. That was all it took; he left that day and she never saw him again. Before leaving, he told her that he was going to "head north."
Kay told detectives about Quality Quilters mattress factory in Gardena, California, where Eubanks had worked in manufacturing. They went to that location and checked into it. The former owner, Joy Springer, said that Eubanks had worked there until either 1985 or 1986. She said that he worked hard, kept quiet, and rode a ten-speed bicycle to work. When it rained, she sometimes offered him a ride to his Gardena apartment building on El Segundo Boulevard, right across from a golf course. She remembered that he always wore a heavy amount of cologne; she said it was "overwhelming" and sometimes gave her migraines. She also said that he purposefully avoided being photographed during work events.
After that, Eubanks is believed to have lived in Northern California for some time. LAPD detective Tim Conner worked the case for about two years. He and his team suspected that Eubanks was using his art as a possible source of income. In 1996, they ended their investigation because there were no more leads to follow.
In 2003, Lieutenant Michael Vinson of the Ohio State Highway Patrol was asked by a superior officer in Columbus to look into the case. He had not heard of it before. He decided to look into Eubanks' father, Mose Eubanks. Mose was a minister; he was the only known relative of Eubanks' that was still living in Mansfield at the time.
Lieutenant Vinson went out to talk to Mose. He said he would "talk about anything except Lester." He said that he had spent time working with prisoners, helping them to turn their lives around. He then said that "there is nothing that can be done to bring that girl back." Lieutenant Vinson asked him, "Do you think justice was done in this case with your son?" He responded, "People change and go on and start new lives. And I pray for Lester every day. And that's all I'm going to say about him." Lieutenant Vinson felt certain that Mose knew where Eubanks was.
Some time later, a Mansfield detective talked to an informant who said that that same summer, she had been at Mose's house. While there, the phone rang and Mose excused himself. When he returned, he told her that he was on the phone with his son in Alabama who was taking a break from painting a house. By that point, Lieutenant Vinson had tracked down all of Eubanks' siblings; none were in Alabama at the time. He then got a subpoena to get Mose's phone records. He discovered that there were several calls in that time frame that were coming and going to a center for troubled youth.
A man matching Eubanks' description was working at the center at the time. The man did not have a driver's license and did not drive. His social security number was determined to be false. Lieutenant Vinson believed that the man was Eubanks. Unfortunately, the man left a few months prior to this discovery.
In 2015, shortly after the U.S. Marshals created a cold case unit, Deputy Siler took over the Eubanks case. He learned from a source that Eubanks was in Mansfield in 2003 and 2010. In 2012, Mose died; Eubanks reportedly returned for the funeral. An associate of Eubanks told Deputy Siler that "you are never going to catch him." This leads Deputy Siler to believe that the associate knows where Eubanks is, and that he is still alive. His siblings refused to cooperate with the new investigation, which has led to speculation that they know his whereabouts as well.
Deputy Siler believes that Eubanks is married and has children who have no idea that he is a fugitive. In July 2018, he started working to get Eubanks on the U.S. Marshals 15 Most Wanted list. On December 7, the forty-fifth anniversary of his escape, he was officially added to the list. Deputy Siler says that the people on the list are the "worst of the worst." He hopes that someone will recognize Eubanks and lead to his capture.
In 2019, a man believed to be Eubanks' biological son agreed to give his DNA to U.S. Marshals; he believes that his late mother was raped by Eubanks. They want to compare it to samples taken from unsolved crimes around the country in hopes that it will offer hints to his new identity or location. However, the FBI's policy prohibits searches of their database using a relative's DNA profile.
Myrtle says that Eubanks could have asked for forgiveness, but he never did. His family has never said anything to hers. She says that she has forgiven him; however, she also wants him caught because he took Mary Ellen's life. She wants him to serve his life sentence. Sadly, many of their family members will not see justice in the case. In 2000, Cassie passed away; Myrtle says that she died of a "broken heart." In 2014, Brenda passed away as well. Myrtle says that Brenda never got over Mary Ellen's death. Her murder has not been forgotten in Mansfield; after discovering that her grave was unmarked, the Mansfield Cemetery organized an effort to place a stone on her plot.
Lieutenant Forney says that it is tragic that Eubanks has been able to go on and live his life, while Mary Ellen cannot. He has been a police officer for forty years; he says that this case is the "biggest miscarriage of justice" that he has ever seen. He says that he cannot and will not forget about it.
Captain Arcudi says that Eubanks needs to be captured and needs to pay for the heinous crime that he committed. However, Captain Arcudi says that they need the public's help. Eubanks' family and friends have lived in Ohio, Michigan, Florida, Texas, Alabama, California, and Washington. He still has relatives in Mansfield.
Eubanks is a Black male with black hair and brown eyes. At the time of his escape, he was 5'11" and weighed 175 pounds. He has a mole under his left eye. He has a large scar/burn on his upper right arm; it is about an inch-and-a-half long and wraps all the way around his arm. It is pretty thick and "identifiable." He also has a three-inch scar on the same arm. He is left handed. He was born on October 31, 1943.
Eubanks was known as an "extremely talented" painter. He may be using his talents as a source of income. He may also be living in a community that focuses on art. He has a black belt in karate. He is a practicing Baptist and may be working as a minister. He may avoid jobs that require fingerprints or background checks. He has been described as quiet and a "loner."
The U.S. Marshals Service is offering a reward for any information that leads to Eubanks' arrest.
Extra Notes:
This case was first released on October 19, 2020 as a part of the second volume of the Netflix reboot of Unsolved Mysteries.

It was previously profiled on America's Most Wanted and In Pursuit with John Walsh.
It has also been featured on the podcast Have You Seen This Man?
Some sources state that the murder took place on November 14, 1965.

Results: Wanted - In October 2020, the U.S. Marshals increased their reward in this case from $25,000 to $50,000. It is the largest reward they have ever offered. As a result of the show, hundreds of tips came in about Eubanks and his potential whereabouts. These tips have led them to believe that he is still alive. However, he has yet to be located.
In March 2021, the U.S. Marshals released several newly unearthed photographs of people who had worked with Eubanks at Quality Quilters mattress factory during the mid-1970s. The photographs were discovered as a result of the Have You Seen This Man? podcast. They would like to identify and locate these people, in the hopes that they have some information about Eubanks. One of those photographed may have been Eubanks' girlfriend at the time, "Renee", who also went by "Sherm." Another worker is named "Rick." The U.S. Marshals hope to talk to them or any of Eubanks' associates from California.
Based on new information that has been uncovered, the U.S. Marshals believe that Eubanks has lived in North Hollywood, the Gardena area, South Los Angeles, and Long Beach. They suspect that he may have never left the Greater Los Angeles area. In the late 1980s or early 1990s, he is believed to have worked as a janitor at St. Francis Hospital in Lynwood, California.
Links:
---