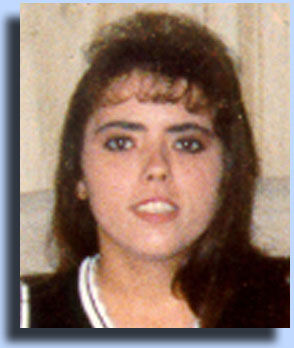 Real Name: Lisa Ann Myers
Nicknames: Lisa Neugent (former married name)
Location: Conway, South Carolina
Date: September 8, 1999

Bio
Occupation: Employee for "Isley's Painting and Odd Jobs"
Date of Birth: July 13, 1977
Height: 5'0" - 5'3"
Weight: 110 - 140 lbs.
Marital Status: Divorced
Characteristics: Caucasian female. Brown hair and eyes. She has a wizard tattoo with stars on her right shoulder. She also has scars on her legs from playing basketball.

Case
Details: One afternoon in September 1999, Jerry and Brenda Myers, accompanied by a police officer, arrived at the Horry County, South Carolina home of their twenty-two-year-old daughter, Lisa. They had made the 250-mile trip from their house in Greensboro, North Carolina, after failing to contact her for two weeks. No one was home and the place was locked, except for one window. Inside, chaos: clothes, furniture, and photos were scattered everywhere. It appeared to have been ransacked. The Myers feared the worst.
Lisa's life had not gone the way her parents had hoped. She was not a strong student and dropped out of high school in her junior year. A marriage at eighteen to Ricky Neugent, eight years her senior, had ended in divorce amidst allegations of abuse. In fact, he was convicted of assaulting her three times. But when she showed up one day with a new boyfriend, the Myers breathed a sigh of relief. Twenty-nine-year-old Frank Isley was polite, ambitious, and appeared to genuinely care for her. The Myers thought that their worries about her were finally over.
To the Myers, Frank seemed to be exactly what Lisa needed to get her life back on track. To them, he seemed like a good person; he was well-mannered and acted like a gentleman. He told them that he would take care of her. The two became inseparable, a picture of happiness. But to Brenda, a disturbing possessiveness soon emerged. When Lisa would visit the Myers, Frank was always with her. If she was sitting there talking to her parents, he was always close by. If she went to the bathroom for too long, he would holler and ask her what she was doing. Then, he would go into the bathroom with her.
Brenda saw Frank's actions become increasingly paranoid. He developed a fanatical fixation with the odometer on his truck. One day, while Lisa was visiting her parents, he came to her and asked her where she went; he could tell because the miles had gone up on the odometer. She said that she had gone to the store to get a drink. He became upset, apparently because he did not believe her.
Then, one night, while watching TV, according to Brenda, Frank's behavior became truly frightening. They were watching a movie about a woman who was trying to get away from her boyfriend. Frank turned to Lisa and said, "If you ever leave me like that, I'll kill you before I let anyone else have you." He then angrily slammed his fist into the ground. Brenda, upset, asked him if he was crazy. He then laughed it off like it was a joke. Brenda, however, believes that he was serious.
But Lisa seemed oblivious to Frank's threatening obsessiveness. In May 1997, within a year of meeting him, she made a startling announcement: she was moving into his home in Conway, South Carolina. Brenda begged her not to go. She had a feeling that something bad was going to happen. The move only accelerated Frank's mania, according to the Myers. Initially, when she moved there, she got a job with a courier service in Conway. However, Frank persuaded her to work with him at his family's company, "Isley's Painting and Odd Jobs."
In July 1997, Frank and Lisa married; however, the union was not legal because she had never divorced Ricky. She never told her parents about it. For two years, their lives seemed normal. They spent holidays in North Carolina, and the Myers visited them in Conway whenever possible. However, his possessiveness and mania continued. The Myers witnessed him following her into the bathroom and kicking her dog, Princess, out of her lap. She once called them and told them that he was upset because they had bought her a car. It all came to a head when they paid Lisa a visit on Labor Day weekend in 1999.
In the afternoon, Lisa and Brenda drove into town to go shopping. As they were driving, Frank appeared from behind in his truck. He rode their bumper, then went around them, driving at high speeds. Brenda asked Lisa what was going on. Lisa told her that Frank had gotten involved in heavy drugs. The next morning, he was still not back. Finally, Lisa mustered the strength to escape; she left with her parents, taking her belongings with her.
But leaving Frank would not be so simple. More than a dozen phone messages awaited Lisa on her return to her parents' home. He wanted to talk things over. The following day, he appeared in person. He wanted to discuss their relationship in the privacy of a nearby motel room. She was once again swayed by him. Brenda tried to convince her to stay, saying that if Lisa got in Frank's truck, Brenda would never see her again. Lisa asked if she really believed that, and she said yes. Lisa, however, said that everything would be okay.
The couple never made it to the motel. The next day, September 8, Brenda received a call from Lisa; Frank had taken her to a resort near Myrtle Beach. She said that they were going back to Frank's house in Conway so that she could help him with a home repair job. But she assured Brenda that she would be home for good in two weeks. The last words she said to Brenda were: "Mom, you always remember, I'll always love you."
After failing to get in touch with Lisa, the Myers drove over to Frank's house. What they found turned their worries into outright panic. They immediately filed a missing persons report for her. The police could not find her or Frank. But they did discover that he told a friend of Lisa's that she walked out on him in the middle of the night on September 9, taking Princess and $1,200 of his money. A few days after she disappeared, he packed up their belongings and left the area. Without any sign of foul play, there was little more the police could do. To them, it appeared to be just a case of a woman who had left her boyfriend and left the area. They noted it was possible that she was staying with friends and just had not contacted her family for some reason.
The Myers took matters into their own hands. They drove tirelessly around Conway, looking for any sign on Lisa. Instead, they came across something they never expected: Frank. They noticed him when they pulled off the side of the road. He had pulled his truck off on the other side. When Jerry yelled out to him, he got back in his truck and quickly drove off. They chased after him, but quickly lost sight of him.
After the sighting of Frank, the police investigation intensified. They entered his name into a national crime database and got a fortunate break: six weeks after Lisa's disappearance, he had been arrested in Thomas County, Georgia, for drug possession but was out on bail. He was due back in court in several weeks. However, when South Carolina police went to his court hearing on February 21, 2000, he did not show up. He has not been heard from since.
Brenda said that the hardest thing about Lisa's disappearance is not knowing where she is, and whether she is dead or alive. If she is alive, they want to find her and help her if she needs it. They feel that they will only be able to find her if they can find Frank.
Frank is currently wanted on drug and burglary charges in Georgia. He is also wanted by the Horry County, South Carolina police department for questioning in Lisa's disappearance and on a charge of failure to pay child support. He may be driving a blue GMC pickup truck with a toolbox attached to the truck bed.
Suspects: Frank is considered the prime suspect in Lisa's disappearance. However, he is only wanted for questioning. According to her parents, Frank threatened to kill her if she ever tried to leave him. Brenda believes that she was trying to end their relationship when she vanished.
Extra Notes:
This case first aired on the August 19, 2002 episode.
It was excluded from the FilmRise release of the Robert Stack episodes.
It was submitted to the show by Detective Robby Maxwell.
Her family attempted to get her story on America's Most Wanted.

Results: Unsolved. In March 2003, New Mexico police contacted Georgia police about Frank; he had apparently been using someone else's name to apply for a New Mexico driver's license. In August, he was arrested in New Mexico. However, due to an error on his fingerprint record in Georgia, New Mexico police were told that his fingerprints did not match; he was released as a result. On October 24, after the error was discovered and the correct fingerprints were sent, he was arrested again in New Mexico.
Frank was extradited back to South Carolina to face charges of failing to pay child support. He was questioned about Lisa's disappearance, but was never charged due to a lack of evidence. He remained a "person of interest". In 2006, police learned from an acquaintance of the couple that Lisa's body was apparently buried on the property of their home in Conway. Cadaver dogs were brought in, but nothing was found.
On February 14, 2020, Frank died at the age of fifty.
Links:
---