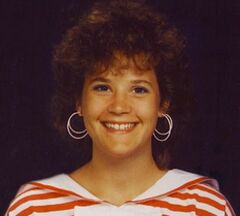 Real Name: Lisa Marie Ziegert
Nicknames: No known nicknames
Location: Agawam, Massachusetts
Date: April 15, 1992

Case
[
]
Details: Agawam, Massachusetts, near the western Connecticut border, is a small town, and the people who live there like it that way. In 1989, Agawam voted overwhelmingly not to be known as a city, but to remain simply a town, a place where neighbors are friends, and friends are family. At the Agawam Middle School, under a dogwood tree in the courtyard, there is a memorial to one of the town's most beloved residents, twenty-four-year-old Lisa Ziegert, whose untimely death changed Agawam forever. Her mother, Dee, described her as a special person who was bubbly, outgoing, and full of fun. She always had a special rapport with children and treated them like people; they knew that she really liked them.
Lisa had grown up in Agawam. After college, she returned home to teach special needs students at the middle school. School counselor Dick Cowles felt that she was a very gifted teacher who made sure that her students felt valued. Her students recalled that she always helped them with their problems and answered their questions, and that she was always nice to them.
On Wednesday, April 15, 1992, Lisa left school around 4:30pm. She drove directly to Brittany's Card & Gift Shoppe where she worked weekdays from 5 to 9pm. At 5:30pm, her sister, Lynne, stopped by. Lisa was working on a sketch for their friend. Lynne recalled that their conversation was normal and that nothing seemed out of the ordinary. She left at around 6pm.
The next morning at 8:45am, Sophia Maynard arrived as usual to open up the store. She was surprised to find Lisa's car in the parking lot, as it was a school day. The lights were on in the store and the open flag was out. Sophia thought it was strange and she could not understand why Lisa was there. Then, she remembered that Easter weekend was coming up and that they had planned to blow up balloons. She figured that that was why Lisa was there.
Sophia did not think much of anything until she walked inside the store. She called Lisa's name several times, but received no reply. She came behind the counter and found that all of Lisa's belongings, including her drawings, pocketbook, and car keys, were still there. She knew something was wrong, so she went to a restaurant across the street and had them call the police.
Police found signs of a struggle in the back store room. Several boxes had been smashed; a few traces of blood were found on those boxes and on some greeting cards outside of the room. Otherwise, there was no physical evidence at the store. That day, the Agawam police department, aided by the FBI and the Massachusetts State Police, launched a massive search. Lisa's family hoped for the best and feared for the worst.
Sadly, on the afternoon of Easter Sunday, April 19, four days after Lisa disappeared, her partially-clothed body was found in a wooded area off Route 75 on the edge of town. The location was about three miles from the store. She had multiple knife wounds around her shoulders and throat. Although several pieces of evidence were found at the scene, the murder weapon was not located. An examination by the county medical examiner later indicated that she had been sexually assaulted.
Never before in the history of Agawam had there been such an outpouring of love, such shared grief. At Lisa's wake, more than 1,000 people stood for five hours in a spring rain to pay her tribute. Her family was happy to see so many people come because it showed what kind of person she was and how much of an impact she had. One of her students recalled how she was a friend to everyone; they wished that there were more people in the world that were like her.
As Agawam mourned, the authorities pressed their investigation. Three critical phone tips came in which helped establish a time frame. The first call was from a person who had been in the store at 8:20pm. They had made a purchase and actually had a time stamped receipt. They did not notice anything unusual in the store or about Lisa's demeanor.
The second person was a customer of the store who had gone in at 9pm. She found it open with the lights on, but nobody was around. She did hear some noise in the back room; she described it as a banging noise. She waited for a minute and when nobody came out, she left. This suggested to police that Lisa was in the store at around 9pm and in the back room. Further investigation revealed that she had been laying horizontal on the floor; there were two kick marks from her shoes on the bottom of the door.
The third tip came from a woman who worked near the store. At 9:15pm that night, the woman was on her way home. She stopped at the stop sign at the intersection of Route 75 and Adam Street. While stopped there, she observed a full-size Bronco or Blazer-type vehicle pull off the road into a piece of property that led into the area where Lisa's body was later found. She said that there was an operator in the front, and in the back seat, she believed there was two people, one male and female. She saw the female's head go up and down a couple of times as the vehicle drove off into the woods. At the time, the woman thought it was just a carload of teenagers; she drove on. There have been no further clues.
Today, the students of Agawam Middle School cherish the memorial they established in honor of Lisa, who, in her own brief life, touched so many of their lives. Dee believes that Lisa's death caused many of her students to realize that life isn't always fair and that they have to be extra careful, and that sometimes, even if they're extra careful, it doesn't matter. She believes that Lisa's murderer(s) have to be punished, so that the students know that there is justice in the world.
Suspects: The car described by the third woman was a late model, full-sized Bronco or Blazer, and was either dark red or dark blue. It has never been found.
Police took plaster molds of tire tracks left at the murder scene; they were identified as Cooper tires. The combination of tires on the vehicle were so distinctive, detectives were able to comb through sales records of local dealerships and track down the driver of the vehicle. However, it turned out that he was at the scene with friends several days before the murder. He was ruled out.
An unidentified man reportedly watched Lisa and other members of the Healthy Habits fitness center while they worked out. This happened shortly before her murder. Witnesses noted that he watched her closely, in a "perverted" fashion. The man was described as Caucasian, in his thirties (in 1992), 5'10", with a beer belly and wavy light brown hair. At the time, he wore work clothes and drove a red sports car. It is not known if he has any connection to the case.
In the weeks prior to Lisa's abduction, she told people that she believed that she was being watched. She also asked several friends and relatives to visit her frequently at the store, as she did not like being there alone. This led investigators to believe that her killer had been stalking her in the weeks up to her murder.
Lisa's boyfriend's roommate, Edward Borgatti Jr., was questioned regarding her murder. He is also the son of an Agawam police officer. He was working at a restaurant across the street from the store when she vanished. However, it is not known if he was ever considered a suspect in this case.
Extra Notes:
This case first aired on the October 27, 1993 episode.
It was profiled on Crime Watch Daily during the investigation and documented on Dateline and Forensic Files II after it was resolved. Dateline also mentions Unsolved Mysteries as profiling it.

Results: Solved. In December 2015, DNA found at the crime scene was sent to Parabon Nanolabs, a DNA forensic analysis service. The company then created a composite (seen to the right) using DNA phenotyping. Based on their analysis, they determined that Lisa's killer was likely fair-skinned with hazel or brown eyes and brown or black hair.
In 2017, investigators looked into eleven suspects who had refused to give a DNA sample over the years. One was forty-eight-year-old Agawam resident Gary Edward Schara; at the time of the murder, he was married with a young son. He had no known criminal record. However, he had been a suspect since 1993 after his ex-wife (now deceased) told her attorney that she believed he was involved in Lisa's murder. He came home late that night and did not tell her where he was. He also had cuts on his hands. She noticed that he seemed preoccupied with the case whenever it was mentioned on television. She also had reportedly found some "disturbing" writings in his diary that led her to believe he was responsible. She later fled with their son and hid with relatives because she was afraid of him. Unfortunately, because she was an alcoholic, her tip was not taken seriously at the time.
In September, a state trooper went to Schara's apartment with a court order, ordering him to provide a DNA sample. He was not home at the time, but his roommate was there. The trooper gave the roommate a business card and told him to have Schara contact him. When his roommate told him about the visit, Schara wrote three documents and left them at his girlfriend's house: a confession to Lisa's murder; a last will and testament; and a brief apology letter to her family. He then fled the area.
Later that day, Schara's girlfriend found the letters and handed them to the police. He was later found in a Connecticut hospital after he attempted suicide. His DNA was then matched to the evidence at the crime scene. On September 16, he was arrested at the hospital and charged with murder, aggravated rape, and kidnapping.
On September 25, 2019, Schara unexpectedly pleaded guilty to first-degree murder in this case. The rape and kidnapping charges were dropped as a result. He admitted in court to being responsible for her death. He was sentenced to life in prison without the possibility of parole. In his confessions, he stated that he had been "fascinated" with abduction and bondage from an early age; on the day of the murder, he "let himself do something terrible". He claimed that he had not intended on killing her when he abducted her, but "events spun out of [his] control." Although he never mentioned it in his confession, police believe that he became obsessed with Lisa after he bought a music box from the store. He later gave the box to his then-wife.
Links:
---