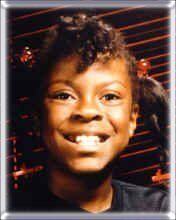 Real Name: Malakia Zali Logan
Nicknames: Kia Logan
Location: Greenwood, South Carolina
Date: May 15, 1988
Occupation: Student
Date of Birth: August 1, 1979
Height: 4'2"
Weight: 60 lbs.
Marital Status: Single
Characteristics: African-American female, Born with two holes in her heart.
Details: On May 15, 1988, Malakia Logan and her sister were playing in the basketball court of a park near their apartment in Greenwood, South Carolina. At around 8:15pm, Malakia left on her bicycle and vanished while heading back home, which was just 300 yards away. Her bike was later found near the apartment office. Her case remains unsolved.
Suspects: Witnesses reported seeing a stranger near the basketball court shortly before Malakia vanished. He was described as white, blond, and pockmarked. He was believed to be driving a dark, older-model Chevrolet Monte Carlo. He has never been located.
Extra Notes: This case first aired on the January 24, 1990 episode along with three other missing children cases: Leticia Hernandez, Jessica Gutierrez, and David Borer.
Results: Unresolved. In 1990, Malakia's remains were found in a wooded area on U.S. Forest Service property in Newberry County. However, they were not positively identified until 1998, ten years after she vanished. DNA testing confirmed her identity.
In November 2002, fifty-year-old Charles Wade Hampton was charged with murder, abduction, and sexual misconduct in relation to her case. He confessed to her murder and the rape and murders of at least two other people. At the time, he was serving time for "peeping Tom" crimes. He had been a suspect in Malakia's case since 1996. However, the charges against him were dropped in 2007. DNA testing ruled him out in one of the other murders, and investigators did not have any evidence to corroborate his confession to Malakia's murder.
However, he did plead guilty to obstruction of justice and was sentenced to eight years in prison. Prosecutors noted that they could charge him again if new evidence would surface.
Links:
---
Community content is available under
CC-BY-SA
unless otherwise noted.