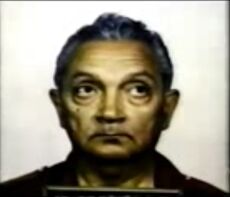 Real Name: Manny Moreno
Aliases: None known (Marino is a misspelling)
Wanted For: Fraud
Missing Since: 1991

Details: In June 1990, Franklin, Pennsylvania newspaper reporter Fran Fry was visiting friends when one of them began talking about an investment plan involving a housing development. After hearing about it, Fran became suspicious, suspecting that the plan was a scam. The creator of the plan was Manny Moreno, whom Fran met a few weeks later. Moreno appeared to be a born-again Christian, which Fran believed was a ruse to make his investors be more trustworthy of him. Moreno told Fran about an area of land that he had been developing near Conneautville, Pennsylvania, which was what people were investing in. However, Fran knew that no such development was being created.
More suspicious than ever, Fran decided to search through deeds at local courthouses. He could find no deeds registered in Moreno's name. Fran then went to Moreno's business address, which was a run-down house. Neighbors confirmed that nobody was living in the home. Fran talked to Moreno's investors, all of whom believed him to be honest and trustworthy. When Fran decided to call Moreno himself, Moreno became frustrated when Fran kept asking questions about the investment, and he eventually hung up. The next day, Fran released an article about Moreno and his investment plan.
The U.S. Postal Service became suspicious of Moreno after one of his investors moved to Florida and began receiving investment checks through the mail. The postal investigators felt that Moreno's plan was too good to be true; they interviewed several of Moreno's investors. Around this time, the interest payments stopped being sent to the investors. Two of the investors went to the area where the housing development was allegedly located; all they found was an empty field.
By 1991, Moreno had been exposed as a fraud; he fled the area and has not been seen since.
Extra Notes: The case was featured as a part of the January 6, 1995 episode and an update on this case aired on November 3, 1995. The case is not to be confused with another fraud case, Danny Marino.
Results: Captured. A viewer from Canada called the telecenter, identifying Moreno as a man he knew as "Manny Martinez". Moreno was located and arrested without incident on February 22, 1995. Three months later, Moreno was extradited from Toronto, Canada, to Pittsburgh, Pennsylvania. On July 25, 1995, Moreno pleaded guilty to mail fraud and was sentenced to twenty-seven months in prison.
Links: 
---
Community content is available under
CC-BY-SA
unless otherwise noted.