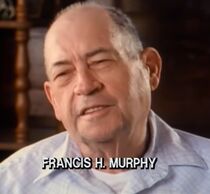 Real Name: Margaret Murphy
Case: Lost Sister
Location: New York
Date: 1928

Details: Francis Murphy was eleven when he rode the orphan train in 1928. The trains operated from 1854 to 1929, shuttling parentless children from New York to new homes in the Midwest. Sadly, many of them were separated from their siblings as a result. Francis was forced to leave his impoverished mother and infant sister, Margaret, behind. For him, the trip seemed exciting with the prospect of moving west. However, at each stop, more children would get off and be adopted while he was left behind. Sadly, he was never adopted; he went from family to family as a foster child. However, his life changed for the better when he married and became a high school teacher. He has five children and six grandchildren, but he is still desperate to find Margaret.
Extra Notes: This case first aired on the January 25, 1989 episode about orphan trains, along with The Brother of Sylvia Wemhoff.
Results: Unsolved. Francis developed heart disease in 1987; tragically, he passed away immediately after his interview was filmed in November 1988. His wife Christine and their children are still searching for Margaret. She was born in either Yonkers or New York City and may have been adopted. She was born in either 1926 or 1927 and would now be around ninety-two-years-old. Their mother was Hilda Harding Murphy. Their grandparents were John and Elizabeth Harding of Nova Scotia. Francis's father was Martin Murphy. Due to the passage of time, it is possible that Margaret is now deceased.
Links:
---
Community content is available under
CC-BY-SA
unless otherwise noted.