Cobra Kai Season 4 - The Loop
Play Sound
Real Name: Marlene Santana
Nicknames: No known nicknames
Location: Brooklyn, New York
Date: October 21, 1985
Bio
[
]
Occupation: Minor
Date of Birth: October 18, 1985
Height: 1'8"
Weight: 7 lbs.
Marital Status: Single
Characteristics: Hispanic female with brown hair and eyes. Her feet may appear somewhat "C" shaped when viewed from the bottom. She was in a blanket with a white background and a pastel-pink-and-blue print decorated with little white rabbits.
Case
[
]
Details: Marlene Santana was the infant daughter of Thomas and Francesca Santana. She was born on October 18, 1985, at Brookdale Hospital in Brooklyn, New York. Three days later, on October 21, Francesca was preparing to bring her home when she met a woman outside the nursery. The woman said she had come to see another baby, but she liked Marlene better. She also said that Marlene was the most beautiful, quiet, and well-behaved baby in there. Francesca was glad to hear the kind words from her, but did not think much else of it at the time.
A few hours later, at 9pm, Francesca checked out of the hospital. Her two sisters-in-law came to take her and Marlene home. As they went through the entrance, the woman came up to them. She asked Francesca where they were going and said that she had been waiting for her all day. Francesca said that they were going home. The woman then pulled out a gun, pointed it at Marlene's head, and told them to walk. She threatened to kill her if they did not comply.
At gunpoint, the woman forced the group to walk for six blocks. Finally, they stopped near a deserted junkyard. At first, Francesca thought that they were being robbed. Then the woman demanded her to hand over Marlene. She complied; the woman then got into a car driven by an accomplice and drove off. After Francesca and her sisters-in-law went to the police, detectives were assigned to this case. She was able to describe the accomplice's car. At the hospital, police tried to gather descriptions of the woman. Some believe that she was not a professional criminal, but rather an emotionally disturbed woman unable to have a child of her own. Police looked into several women who had miscarriages or stillbirths shortly before the abduction, but were unable to find any suspects.
Francesca no longer felt safe living in the United States. She later returned to the Dominican Republic, to be with Thomas and their other two children. Three years after the abduction, a composite artist sketched Marlene as she might have looked at the age of three (seen above). She might celebrate her birthday around Halloween. She might have been put up for an illegal adoption in late 1985 or 1986. Since her abduction, Thomas and Francesca have held a birthday party for her every October 18. They hope that one day they will be able to celebrate it with her.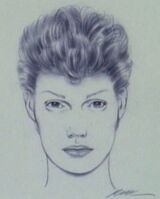 Suspects: Based on eyewitness descriptions, a composite was created showing the abductor. She is described to be 5'2" and 130 pounds, and between the ages of twenty-four and thirty in 1985. She was Caucasian with Hispanic features, but had no accent. She had dyed reddish blonde hair. Police believe that she might have been mentally disturbed and unable to have a child of her own. Her accomplice's car was a white 1976 Chevrolet Malibu with red lettering on the door.
Marlene is believed by some to have been sold for adoption by the woman. There was a similar abduction that occurred at another New York hospital the day before this one. In that one, two-month-old Christopher Morgan was found alive at his abductor's house a few days after his abduction. His abductor had tried to pass him off as her own child that was stillborn. Police later ruled her out as a suspect in Marlene's case.
Thomas was in the Dominican Republic at the time of the abduction. He is not considered a suspect.
Extra Notes:
This case first aired on the January 25, 1989 episode, along with those of Christopher Abeyta and Carlina White.
Because Marlene was just a newborn, no photographs are available of her.
One source states that Francesca left the hospital with her sister, while another states that she left with her cousin and sister-in-law.
Some sources state that the abductor escaped in a "gypsy cab".

Results: Unsolved. Marlene would now be in her mid-thirties. Her abductor would now be in her sixties.
Links:
---