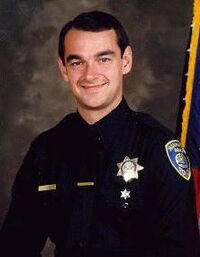 Real Name: Martin L. Ganz
Nicknames: No known nicknames
Location: Manhattan Beach, California
Date: December 27, 1993

Details: On December 27, 1993, twenty-nine-year-old police officer Martin Ganz took his twelve-year-old nephew out on patrol as part of a school project. At around 11PM, they pulled over a gray Daihatsu, suspecting that the driver was drunk. As Ganz approached, the man shot him several times at point-blank range, and he died soon after.
The shooting occurred next to a bank within range of ATM surveillance cameras. However, the camera footage only showed the killer's car as it was driving away. Police brought in a computer image enhancement company called Cognitech, hoping it could enhance the video and find more information about the vehicle.
Suspects: The killer's vehicle was a gray Daihatsu. Cognitech determined that the vehicle's bumper had been damaged, partially separated from the vehicle. They also noticed that the front license plate was tilted and badly bent in the upper left corner.
Extra Notes: The case was featured as a part of the May 5, 1995 episode which focused on the company Cognitech.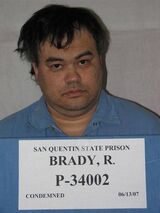 Results: Solved. Eight months after the murder, a man named Roger Hoan Brady was arrested in Oregon. Police discovered that his car was a silver-gray Daihatsu and its front right bumper was separated. In his trunk, they found a California license plate with a noticeable bend in the upper left corner.
Brady had previously served time for bank robbery. Investigators believe that he killed Ganz because he was planning to rob a nearby supermarket when he was pulled over. Ballistics testing determined that a gun found in his home was used to kill Ganz and Catalina Correa. She was killed after she witnessed Brady rob a Portland supermarket. Ganz's nephew and another witness identified Brady as the killer. He was convicted of murder and sentenced to death. His conviction was upheld in 2010.
Links:
---
Community content is available under
CC-BY-SA
unless otherwise noted.