Spider-Man: No Way Home Trailer Dropped - The Loop
Play Sound
Real Name: Martin Hernandez
Nicknames: No known nicknames
Location: Los Angeles, California
Date: July 25, 1993

Case
[
]
Details: Twenty-six-year-old Martin Hernandez and Ida Mesa were married on October 10, 1992. Nine months later, he was robbed and murdered in his liquor store in Los Angeles, California. The attack took place early in the morning on July 25, 1993. Security cameras in the store caught it all. However, when police looked at the tape, they were disappointed to discover that it was of poor quality. In fact, they were unable to make out any features of the assailants.
The video showed four different camera views, simultaneously pictured in quadrants. Cognitech, a computer image enhancement program, was used to enhance a store surveillance video in attempt to identify the murderers. They found several problems with the videotape. First of all, the video system used by the store was not functioning properly. Also, during the attack, one of the murderers fired several times at the video equipment.
Cognitech was asked to focus on one of the quadrants which seemed to have the best view of the gunman. They enlarged, slowed, and computer-enhanced the gunman's image in the tape. They created a continuous, repeating loop of the gunman. A composite sketch was made of him based on the video enhancement. However, his identity remains unknown, along with the rest of the robbers.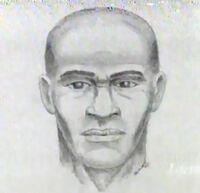 Suspects: The gunman is described as an African-American, 6'0" tall, twenty-two to thirty years old (in 1993), 185 pounds. There were several accomplices, but no description was given of them.
Extra Notes: This case was featured as a part of the May 5, 1995 episode about the Cognitech software used to enhance surveillance footage to help catch criminals. Mr. Hernandez's daughter Jessica is also looking for information about her father's family.
Results: Unsolved
Links:

---