Cobra Kai Season 4 - The Loop
Play Sound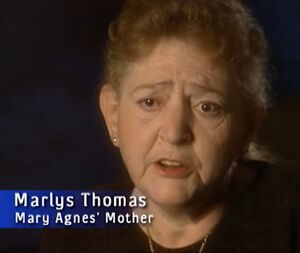 Real Name: Mary Agnes Gross
Nicknames: No Known Nicknames
Location: Worthington, Minnesota
Date: June 12, 1962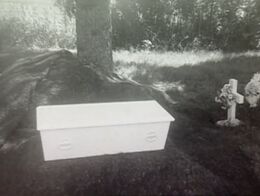 Bio
[
]
Occupation: Minor
Date of Birth: June 12, 1962
Height: Unrevealed
Weight: Unrevealed
Marital Status: Unknown
Characteristics: Caucasian female. Brown hair.

Case
[
]
Details: Fifty-five-year-old Marlys Janice Thomas of Sioux Falls, South Dakota, is in failing health. More than thirty years ago, she thought she buried her infant daughter in a Minnesota graveyard. Now, she believes that daughter is still alive. In 1962, she was twenty-years-old, seven months pregnant, and separated from her husband, Laton Gross. She had moved to Bigelow, Minnesota, to be near her mother, Clara, when her baby was born. On June 12, she went into a difficult labor at a hospital in Worthington. She was heavily sedated during it.
The next thing Marlys remembers is waking up and seeing her daughter, Mary Agnes Gross, for the first time. She saw her feet moving back and forth. She then drifted back to sleep. When she woke up again, she looked for Mary Agnes, but did not see her. She asked the nurse, who told her that the doctor would be in to talk to her. When the doctor came in, she asked to see Mary Agnes. He told her that she had died. She asked how long did she live, and he said about an hour. She wanted to see her mother, but he told her to stay in bed. She was in shock and did not understand how she could be dead because she remembered seeing her feet move earlier.
When Marlys left the delivery room, she passed a bassinet that was on its way to the morgue. She asked to see her baby. The nurse lifted up the sheet for about fifteen seconds. When she looked at Mary Agnes, she thought that she did not look dead. It looked like she was just sleeping. She was not purple, as one would expect if she was dead. She remembered that she had lots of long, dark brown hair. She also noticed that Mary Agnes had marks on her forehead, which were left by the doctor's forceps during the delivery.
Hospital officials never told Marlys how Mary Agnes died. She asked for an autopsy but was told it was too late. While she was still in the hospital, her friend, Judy Voges, visited the funeral home, along with Marlys' mother, Clara. Judy claims that the baby she saw looked different from the infant that Marlys had described. There were no marks on her forehead. Her hair was light brown or blonde, not dark brown. There was only a sparse amount of it on her head. Stranger still, when Clara tried to take a picture of the baby, the funeral director would not allow it. He said that she could take one at the cemetery, after the casket was closed.
Later that day, Clara did take pictures of the casket just before the burial. The day was marked by an additional bizarre occurrence. She told Marlys that another family was at the gravesite, mourning the death of a child. The family took the death hard; they were crying and praying. Marlys could not figure out who the other family was. Clara could not figure out who they were either.
A week after the funeral, Marlys was well enough to visit Mary Agnes' gravesite. There was only one grave there at that time. She visited it about three or four times a week. She accepted Mary Agnes' death as a natural occurrence. But just three months later, another unsettling development: she received a mysterious photograph in the mail. There was no letter or return address in the blue envelope. Just a picture of a husband, a wife, and three children, one of them a baby girl. The baby looked like Laton, Marlys' estranged husband and Mary Agnes' father. She did not recognize anyone in the picture, however. She showed it to her family and they did not know the people either. They also thought that the baby looked like Laton. It would be nearly three decades before Marlys would come to realize the significance of the picture.
A year passed before Marlys saved enough money to buy a headstone. But inexplicably, cemetery workers did not place the stone atop Mary Agnes' burial plot. Instead, it was positioned a few feet off to the side. Though she moved away, remarried, and had three more children, Marlys periodically visited Mary Agnes' grave. On one visit in 1993, she got the shock of her life. Four years earlier in 1989, a headstone for a different baby had been placed on Mary Agnes' burial plot. That baby's name was Pamela Rae Dickey. Marlys immediately questioned the funeral director. He said that he always wondered why Mary Agnes' headstone was there because there was no grave at the spot. He told her that Mary Agnes was not buried there. The cemetery also confirmed that there was no record of Mary Agnes being buried there. However, there was a record of Pamela being buried in the cemetery.
Marlys was deeply disturbed. The old doubts and questions came flooding back. She began researching the details of Mary Agnes' supposed death and burial and discovered an odd coincidence. Pamela had died only a few hours before Mary Agnes on the same day in the same hospital. And even more startling, Mary Agnes and Pamela were also buried on the same day. However, there was not two funerals that day; there was only one funeral and one grave. And after the funeral, according to Marlys, there was only one heap of dirt there.
There was more. Marlys found Mary Agnes' last name, Gross, written in the upper corner of one of Pamela's funeral papers. Even more puzzling, hospital records said Mary Agnes was healthy at birth (with a normal heart rate and color), but the death certificate said she had never drawn a breath. The birth certificate said she was born at 6:23pm. Incredibly, the death certificate said she died three minutes before she was born, at 6:20pm. Based on the discrepancies, Marlys began to suspect that Mary Agnes had never died.
Marlys asked Pamela's mother, Margaret Dickey, for help. But understandably, she preferred not to disturb her daughter's grave, which had been marked with a small brass plaque until 1989, when the headstone was finally erected. Nonetheless, Marlys had to make certain Mary Agnes' body had not been moved without her knowledge. In November 1996, with the help of her lawyer, she had the grave that lay beneath Mary Agnes' tombstone exhumed. The remains were old and difficult to identify, but Marlys was right: DNA testing revealed that the child buried there was not Mary Agnes, nor was it Pamela. It was that of an unidentified full-term baby girl.
Marlys began to wonder if the casket her mother Clara had photographed was, in fact, Pamela's. She showed the pictures of the casket to Margaret. Margaret had been hospitalized when Pamela was buried and never saw the casket. However, she said that the casket was Pamela's; her husband had bought it. Marlys then asked her if anyone went to Pamela's funeral. She said her in-laws and her husband had went. However, none of them recalled seeing any strangers at the gravesite. Despite this, Marlys now believes that Clara went to Pamela's funeral, and that Pamela was buried correctly underneath her tombstone. She also believes that the baby found in the grave beneath Mary Agnes' tombstone was buried years before 1962; she remembers that part of the cemetery once was filled with old headstones of children who had died.
If Marlys is right and Pamela is buried where she thought her own daughter was laid to rest, what happened to Mary Agnes? Today, she has only one possible explanation. She is convinced that Mary Agnes is still alive, and that the baby in the picture she received more than thirty years ago was her first-born daughter. She believes that the family in the picture had adopted Mary Agnes, and that someone wanted to show her that her daughter was in a family.
At the time of Mary Agnes's birth, Marlys was twenty and living by herself. She suspects that employees at the hospital thought that she would not be able to take care of her baby, so they gave Mary Agnes away to another family. Marlys still suffers the agony of not knowing what happened to Mary Agnes. She really hopes to find her; she refuses to give up until she is found.
Mary Agnes was born on June 16, 1962, at Worthington Regional Hospital in Worthington, Minnesota.
Suspects: Suggestions are that Mary Agnes was abducted by illegal black market baby-selling organizations. Whether the Minnesota hospital had any part of it at the time is unrevealed. See the profiles on The Children of Ethel Nation and The Children of Georgia Tann for more stories of children abducted from their mothers by these organizations.
The pediatrician who signed Mary Agnes' death certificate was later interviewed; he said that he could not remember her birth/death, but does not believe there was a conspiracy involved. The doctor who delivered her died in 1993 without being questioned.
Extra Notes:
This case originally ran on the April 3, 1998 episode.
It was also featured on "The Trail Went Cold" podcast.
Unfortunately, Marlys lost the photograph of the other family. The photograph shown in the segment was a re-enacted photo.
There are similarities between this case and that of Lydia Reid.

Results: Unsolved. Recently, there have been several stories where children have been reunited with biological parents, and the parents had been told that their child was deceased. These stories have occurred throughout the mid-twentieth century in the United States, Canada, and Spain. They seem to add credibility to Marlys' claims about Mary Agnes. However, Mary Agnes has still not been found. If she is alive, she would now be in her late fifties.
Mary Agnes' father, Laton Gross, died in 1991. Sadly, in 2012, Marlys passed away at the age of seventy. However, her other children are still searching for the truth regarding Mary Agnes.
Links:
---