Spider-Man: No Way Home Trailer Dropped - The Loop
Play Sound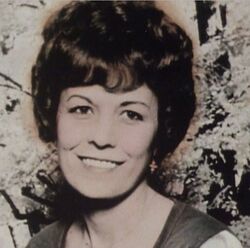 Real Name: Mary Ann Viola Thomas Perez
Nicknames: No known nicknames
Location: Chalmette, Louisiana
Date: March 25, 1976

Bio
[
]
Occupation: Unrevealed
Date of Birth: 1943
Height: 5'4"
Weight: 108 lbs.
Marital Status: Married
Characteristics: Caucasian female. Reddish brown hair, blue eyes.

Case
[
]
Details: On March 25, 1976, thirty-three-year-old Mary Ann Perez of Chalmette, Louisiana, said goodbye to her teenage daughter, Donna. Donna had agreed to babysit her younger brothers and sisters so that Mary Ann could go out with one of her girlfriends. She told Donna that she would call around 10 or 11pm to check on them. She did, indeed, call around that time and said that she was okay and would be home shortly. At around 1:30am, Donna got a call from a woman named Dorothy, who claimed to be a friend of Mary Ann. She said that Mary Ann was having car trouble but would be home soon. She hung up soon after.
When Mary Ann's brother, Wayne Thomas, heard about the call and the name "Dorothy", he could not imagine who that would have been. He knew something was wrong with the situation because Mary Ann's car was practically new and should not have had any problems. Mary Ann never called and never came home. Her family soon discovered that she had gone to meet her friend at a country western club on the outskirts of New Orleans. The next morning, her car was found parked in front of the club. When the New Orleans Police inspected it, they saw no evidence of car trouble. It was in perfect running condition. Three days later, her purse, weighted down with a brick, was found in Lake Pontchartrain ten miles away. There was no trace of her.
Nine years passed and Mary Ann's family waited, not knowing whether she was dead or alive. Then, in 1985, the New Orleans Police Department dispatched detective Bob Lambert to Wichita, Kansas, to question a man named David Courtney. He, along with his wife Donna, had confessed to a multi-state killing spree. One of their victims seemed to have a lot in common with Mary Ann. He told Lambert that on that night, he was driving down the highway when he pulled into the parking lot of the country western club. He noticed Mary Ann, who appeared to be tipsy, as she walked to her car. He said that he was going to pick Donna up from work and offered to drive Mary Ann home. She initially refused, saying that she lived all the way in Chalmette. However, he said that he lived near there, so it would be no trouble. She then accepted the ride and got in.
David then picked up Donna and the three went to the Courtney's trailer. He said that Mary Ann fell asleep on a chair. Donna tried to make sexual advances towards her, which woke her up. She became disturbed, irate, and upset about what was happening. They agreed to give her a ride home. While Donna drove, he sat in the back seat with Mary Ann. He told Lambert that he had already killed once, and he was afraid that Mary Ann would go to the police if he let her live. When she realized that they were not going the way home, he strangled her. He and Donna then dumped her near either the Louisiana/Mississippi state border or the Mississippi/Alabama state border. They made no attempt to hide the body.
Lambert became certain that Mary Ann was the victim they had described. He next showed David a picture of her. David believed that she was their victim. He then showed David a picture of her car; he identified it as the victim's car. Lambert next questioned Donna. He specifically asked her about Mary Ann's purse. She confirmed that she had thrown it over a bridge that they were crossing at the time. After the confession, Mary Ann's husband told their children that she was dead and that they had caught her killers. Her children were upset because they still had hope that she could be alive. After the confession, an extensive search was conducted. A body was not recovered, even though all of David's other victims had been found where he said they would be. Because her body was never found, the Courtney's were never charged with her murder. The slim hope that she was alive continued to flicker.
In 1990, fifteen years after Mary Ann's disappearance, her case was resurrected once more. Shawn Perez, the wife of her oldest son Elward, received a phone call from a woman who claimed to be Mary Ann's best friend. She asked to speak with Elward, but he was not home, and Shawn did not want to tell her that she was home alone. She asked to speak with Elward again, so Shawn said that if she would not say who she was, she would not let her speak with him. She then said that she was calling about Mary Ann; she said that she was still alive. She said that she was calling for Mary Ann because Mary Ann could not remember. The caller was emphatic - she would not be able to telephone again. Like Mary Ann, she was not allowed. The caller became upset and then hung up.
The call led Mary Ann's family to believe that she was still alive. Some, however, speculated that the call was a hoax. The authorities believe that it is almost impossible that she might still be alive. However, her family clings to the fragile hope that David Courtney, who admits he was drunk at the time, did not succeed in his attempt to strangle her. Her daughter Shannon hopes that he strangled her unconscious, thinking that she was dead, and threw her out. Wayne hopes that she might have amnesia as a result of the attack, and is living somewhere, unaware of her true identity.
Did Mary Ann miraculously survive, the victim of amnesia? Or did David kill her? He is currently serving a life sentence for the confessed murder of one of his other victims, Tammy Taylor. Mary Ann's family hopes to find out what really happened to her.


Suspects: David Courtney is considered the prime suspect in Mary Ann's disappearance and presumed murder. In 1985, he confessed to abducting and killing a woman who matched her description. He claimed to have picked her up from in front of a country western club. He took her to his trailer and later strangled her in his car while his wife Donna drove. They then dumped her body near the Louisiana/Mississippi or Mississippi/Alabama state line. He identified her through a picture of herself and her car. Donna confessed to throwing her purse over a bridge, where it was found shortly after she vanished. David is currently serving a life sentence for the murder of another victim. He has never been charged in Mary Ann's case because her body was never found. Donna served ten years for her involvement in the other murders; she was paroled in 1990.
The woman calling herself "Dorothy" who contacted the Perez family on the night Mary Ann vanished is also a possible suspect in this case. Her identity is unknown, although some suspect that she could be Donna.
Extra Notes: This case first aired on the October 30, 1991 episode.
Some sources state that David confessed to the murder in 1980.
Results: Solved. In 2017, cold case detective J.T. Thornton re-examined a Jane Doe case: on November 28, 1976, the victim's skeletal remains were found by hunters in a cornfield off of Old Pascagoula Road in Grand Bay, Alabama, just over the Mississippi border. Through his investigation, he met with a Mississippi detective who pointed him to Mary Ann's case. He found similarities between the victim and Mary Ann. The victim's physical description matched Mary Ann; specifically, there were injuries found that were consistent with a car accident, which she had been in shortly before she vanished. A partial dental plate on the victim's upper front teeth also matched one that Mary Ann had at the time. Furthermore, jewelry and clothing found on the victim matched what Mary Ann was wearing when she vanished.
In December 2017, Mary Ann's family was informed of the potential match. In May 2018, Thornton tracked down the victim's remains to a warehouse in Oklahoma. A DNA sample from the victim was compared to one from Mary Ann's daughter, Donna. In November, the victim was positively identified as Mary Ann. Thornton forwarded the information to Alabama and Louisiana prosecutors in hopes of having charges filed against David for her murder. His wife, Donna, has since died.
Sadly, Shannon passed away in 2009 without ever seeing the case solved.
Links:
---