Wiki Targeted (Entertainment)
Play Sound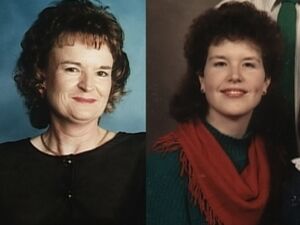 Real Names: Mary Lou Henderson Morris and Mary McGinnis Morris
Nicknames: No known nicknames
Location: Houston, Texas
Date: October 12, 2000 and October 16, 2000
Details: On the morning of October 12, 2000, forty-eight-year-old bank loan officer Mary Lou Morris said goodbye to her husband Jay, left for work, and was never seen again. She did not answer his calls throughout the day and did not arrive at work. At around the same time, a badly burned body was found in the smoldering remains of a car, three miles from their home. The victim was later identified as Mary Lou. Because of the condition of the body, it was impossible to determine how she had been killed. There seemed to be no reason that she would have been murdered. Three days later, the body of thirty-nine-year-old Mary McGinnis Morris was found in her car in nearly the exact spot under nearly the exact same circumstances.
Police began looking into Mary McGinnis Morris's life. She was a nurse practitioner in charge of several clinics for a major industrial corporation. They found that she had feared a man that she worked with at her nursing job. One evening, she found her office to be in disarray with picture frames turned over. She also noticed that the man's desk had "Death to her" written on it. She allegedly told her husband, Mike Morris, that she was very afraid of the man and that she wanted a gun for protection. After showing her how the gun worked, he placed it under her car's driver's seat.
A few weekends later, she met her friend, Laurie Gemmell, at the clinic to give her an allergy shot. According to Laurie, she seemed fine; she claimed that she was going to stay a few more hours at the clinic, run a few errands, and then go home and make dinner. Later that afternoon, she made an alarming phone call to Laurie. She said that she had seen someone in the drug store that gave her the "creeps". She said that she was going to return to work, sign off of her computer, and head home. Twelve minutes later, she made a frantic 911 call. During the call, she was apparently abducted and attacked by an assailant. She was found dead soon afterwards. The medical examiner determined that she had been beaten and shot to death. The killer tried to stage the scene to make it look like a suicide. Investigators found blood on the passenger door, which was left open, and the keys were outside the car.
Police suspected both the coworker and her husband, Mike. Mike claimed that the was at the movies with his daughter at the time of the murder. However, he refused to take a polygraph and would not let his daughter be interviewed by police. He also hired an attorney shortly after the murder. Investigators learned that Mike and Mary were having problems with their marriage. Shortly before the murder, Mike confronted Mary about an alleged affair that she was having with a friend. Investigators also discovered that there was a life insurance policy on Mary that totaled $700,000. Finally, investigators discovered that Mike had called her cell phone around the time that she was murdered. The call lasted for four minutes. They believe that he might have been calling the killer. He claimed that he called her, but she didn't answer. He also claimed that the four minutes was a mistake on the phone company's part.
Some suspect that due to the similarities in the two cases, a contract may have been put on Mary McGinnis Morris's life, but that the killer accidentally killed Mary Lou Morris and then later corrected his mistake. This theory was supported by a caller to a Houston newspaper who said that they had gotten the wrong Mary Morris the first time. Also, Mary Lou Morris's wedding ring was missing, which is a sign of a hit because the killer would take it back to the person that hired the hit to ensure that the person was dead. Further supporting this is that the two Marys lived in close proximity and were similar in appearance.
However, the investigators claim they have found no evidence to support the theory and believe that the murders may have been just a coincidence. The victims' families, however, are certain that the cases are not coincidental. The cases remain unsolved.
Suspects: The male worker was an obvious suspect in Mary McGinnis Morris's murder. Along with the apparent death threat, he had left on bad terms, quitting his job after several failed attempts to discredit Mary. Investigators say that they may have evidence to link the co-worker to the crime. Her husband, Mike Morris, is another prime suspect. They are suspicious of his lack of cooperation, multiple motives, and four minute phone call that happened at the time of the murder. Interestingly, Mary's wedding ring was missing from her body. A few months later, a friend noticed that the Morris's daughter was wearing the ring. However, they claimed that they had "found" it.
If the cases aren't related, which some investigators suggest, then there are no suspects in Mary Lou Morris's murder. However, six months after the killing, her husband Jay received $2,000 in bills for his wife's phone card, which detectives traced to a sixteen-year-old Galveston girl. She told detectives she found a purse with the card and other belongings the month earlier sitting in the parking lot of a Galveston convenience store. However, Mary Lou's family did not recognize the purse as belonging to her. Around the same time, Jay received three phone calls from someone asking for Mary. The caller remains unidentified and it is unknown if they are connected to the case.
Extra Notes: This case first aired on the June 17, 2002 episode. It was also profiled on America's Most Wanted.
Results: Unsolved
Links:
---
Community content is available under
CC-BY-SA
unless otherwise noted.