Doctor Strange in The Multiverse o Madness - The Loop
Play Sound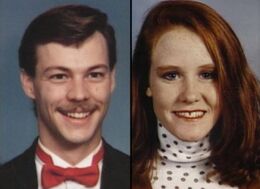 Real Names: Michael A. Johnston and Rochelle Lee Robinson
Nicknames: Mike (Michael); Seachelle (Rochelle)
Location: Puyallup, Washington
Date: June 26, 1994

Case
[
]
Details: To play "Magic: The Gathering", you need nothing more than a set of special cards and a vivid imagination. The game involves mystical creatures, magic, and fantasy, elements that some say push participants dangerously close to ritual violence and the occult. But twenty-five-year-old Michael Johnston and nineteen-year-old Rochelle Robinson showed no such concerns as they left just such a game at a friend's house in Spanaway, Washington, at around 11:30pm on the night of Sunday, June 26, 1994. Perhaps they should have. The next day, they were both found dead, victims of a hideous double murder.
Michael was a married day laborer and father of two who lived with his family in Puyallup. Rochelle worked at a Taco Bell in Spanaway, was a "computer enthusiast", and was studying to be a teacher. She lived with her family in Spanaway. The two met through classes at Pierce Community College and quickly became friends. Both had an interest in "Magic" and Michael often visited Rochelle at her home.
Detectives soon learned from the couple's friends that they had been lovers. In light of the secret romance, authorities ascribed the savage murders to an explosion of jealous rage. However, a private investigator and a respected psychic disagree. They see the homicides as the work of a charismatic killer entangled in the shadowy world of the occult.
A woman discovered Michael's body at about 4:45am on June 27, less than six hours after he and Rochelle left the card game. His throat had been cut and he had been shot once in the head at point blank range. He was sprawled next to Rochelle's 1988 Mazda, which was parked near the 16400 block of Canyon Road East in Puyallup. It was also in close proximity to a popular shooting range called the Tacoma Sportsmen's Club. The area was known as a "lover's lane".
Rochelle's body was found about 5pm that afternoon, partially hidden in shrubbery along a remote, tree-shrouded access road off 66th Avenue East, some five miles from where Michael had been killed. She had been stabbed repeatedly and her throat was slashed to the bone. Her body was left partially covered by a large cardboard box. A weathered, wooden picnic table and two five-foot long wooden benches were found nearby.
Eyewitness accounts and crime scene evidence enabled authorities to piece together a possible scenario for that fatal evening. The couple left their friend's house in separate cars. Rochelle later picked Michael up from the parking lot of Spanaway Junior High School near her home; his car was found in the lot. Police believe that sometime after 1am, they parked her car on the quiet road near the sportsmen's club. They were alone, for a while. When the killer appeared, he opened the back door to find them having sex. They were forced to dress hastily. Rochelle had Michael's t-shirt on inside out when her body was found. Police believe they were forced out of her car, probably at gunpoint.
Forensic evidence suggests that Michael was handcuffed, then forced to kneel near the front of Rochelle's car. He was then shot and slashed in the throat, as Rochelle was forced to watch. Police believe he was a passive victim to the real target, Rochelle. There were several straight end-type knife pricks, about a quarter of an inch deep and a quarter of an inch wide, in her neck, which indicated to police that somebody held a knife to her throat to force her to accompany him.
Detective Fred Reinicke concluded that the killer drove Rochelle to the isolated road some five miles away. He then stabbed her to death and covered her body. Police believe that it was a crime of passion based on the brutal way in which she was murdered. They believe that the killer is a person that knew her well and probably wanted to have a boyfriend/girlfriend relationship with her or was an ex-boyfriend of hers.
According to Rochelle's friend, Kevin McMicheal, she felt that she was being stalked by a man that came into her work approximately three or four months before her murder. She told a coworker that she had lunch with the man once and after that, he would not leave her alone. She felt that he had followed her home several times. She said he would come to her work and just stare at her until she left. He would also show up at other places where she was.
At one point before the murders, Rochelle told her coworker that she was afraid to leave because the man was "hanging around." The coworker told him to leave; five minutes later, he did. The coworker did not recognize the man and has not seen him since the murders. A sketch of the stalker was created based on eyewitness descriptions (seen below). However, his identity and any connection he may have to the case remain unknown. Police currently consider him a "person of interest."
After a year, the official investigation began to wind down. To keep the inquiry alive, Michael's wife of six years, Janet, hired a private investigator, Jim Wright. He played it by the book. First, he had to clear the victim's family members, starting with Janet herself. She confirmed that she and Michael both had very large life insurance policies on each other, at about $250,000. However, she says that it was at her insistence. She wanted to make sure that if something happened to her, he would have enough financial stability so that he would not have to work and could instead take care of their children.
Janet says she was aware that Michael and Rochelle had been seeing each other. She did not know how long it had been going on. She did not know if they planned on ending it, or if he was going to leave her (Janet). Based on a polygraph test, the police had already cleared her. Wright found no concrete evidence that might implicate her. He did not find anything from either Michael or Rochelle's side that indicated that Janet was a suspect.
But Wright did uncover a secret side to Michael, a world of role playing, fantasy games, black magic, and the occult. Wright now believes that this passion put Michael and Rochelle on a collision course with their killer. According to Wright, Michael had an extensive collection of material relating to the occult. Because of the nature of the crime, Wright believes that people who were involved in possible occult-type activities could be the kind of people that would commit this type of a murder.
But more than a year had passed since the murders. Every which way he turned, Wright found the trail stone cold. Clearly, this was an investigation that demanded an unorthodox approach. He turned to Nancy Myer, a respected psychic who has assisted police on more than 300 homicides. She told him not to tell her anything ahead of time, because it would have no validity if he did so. She says she does not want someone else's theories, because, to her, if she is going to work psychically and do it purely, she does not want to "pre-read". She wants to go out and work it "cold".
Without revealing his destination, Wright took Myer to the road near the sportsmen's club where Michael had been murdered. While there, she said she could feel him there; she could feel his pain and fear, she could feel him pleading. She also got images of what happened to Rochelle, so she felt that he must have died second. She says she does not agree with the theory that Michael was an "innocent bystander". She believes he was the "object" of the killing, instead of Rochelle.
Myer believes that Michael and the killer knew each other from their involvement in black magic. As she "sees" the crime, Michael and Rochelle were parked on the isolated road. Myer believes that the killer, a man in his late thirties, and two young accomplices crept up on the unsuspecting lovers. She believes that the killer forced Michael out at gunpoint, while the accomplices pulled out Rochelle and taunted her. They accused Michael of violating some kind of regulations related to an occult type of situation.
According to Myer, after the killer stabbed Rochelle, he and his accomplices drove Michael to the sportsmen's club. According to Myer, the older man seemed to have emotional control over his accomplices. He seemed to be able to tell them what to do, and like a "bunch of foolish puppets", they did it. Myer says that her crime scene impressions were so vivid that she was able to envision the three assailants. An artist sketched her impressions (seen below).
Myer feels that the killer teaches at a local college or university and probably has killed before. She believes that the accomplices are in their early to mid-twenties. According to her, they are now in danger of being murdered themselves. In addition, she envisioned a stylized dragon winged medallion. She feels that the symbol comes from the occult world that links Michael and the assailants.
The authorities, however, are unmoved by Nancy's visions or theories that the double murder is linked to the occult. They remain convinced that the killer will be found among Rochelle's friends or acquaintances. Meanwhile, Rochelle and Michael's families must wait for resolution. Her mother, Lynn Robinson, says that it is a horrible feeling. They keep going around and around like a "merry-go-round". She wants to "get off" the ride and get rid of the feeling, but she does not think that will ever happen. Michael's father, Ken Johnston Sr., is certain that the killer(s) will pay for this crime "either in this life or the next."
Authorities believe the solution to this brutal crime may lie with one of its more mundane clues: the cardboard box the killer placed on Rochelle's body (seen below). It was white and two-feet by three-feet. It had decal information on it reading: "Gilcrest Laid", "India White 23 x 35", and "Sub 22 1500 sheets 95 mm Short". Originally, the box held large sheets of high grade paper used only by professional printers. Forensic tests have convinced investigators that the carton was brought to the site by the killer. Further evidence suggests that for several years the box may have been in the killer's home or vehicle. Perhaps, someone saw it there.
Authorities would also like to find the owner of the picnic table and benches that were found near Rochelle's body. It is believed that the killer may have been carrying these items in a vehicle and removed them at the time of the murders for some reason.
A $16,000 reward has been offered in this case.

Suspects: Police believe that the couple was murdered by either a jealous ex-boyfriend, acquaintance, or stalker of Rochelle. They believe that she was the target of the killer, and that Michael was a "passive victim." They said it is possible that they knew their killer and that more than one person was involved.
Rochelle's friend Kevin confirmed that she had been stalked by an unidentified man in the months prior to her murder. He often went to her work and stayed there for several hours, watching her. The man was described as white, twenty-five to thirty (in 1994), 5'10", 170 pounds, with brownish-blond hair and acne. He walked with a slouch and may have worked for a glass company. He was seen driving a truck carrying panes of glass. Police believe he lived in the Parkland-Spanaway area at the time because he was often at her work and would "hang around" for several hours.
Rochelle had broken up with her boyfriend about four months prior to the murder and began "playing the field". There was some speculation that he was responsible. Following the murder, he said that he had hoped for a future with her and believed that they probably would have gotten engaged someday, even though they had broken up. However, according to one source, he was later cleared of any involvement.
Rochelle was known to her friends as a "computer enthusiast" and served as a system operator for a computer bulletin board. She often made friends with people online and would spend hours chatting with people on the bulletin boards. After her death, her friends feared that her computer activity may have been related to the murders. However, no evidence was found to support this theory.
Jim Wright believes that more than one person was involved in the murders. He believes that the couple knew their killer(s). He also believes that they attended a "party or outdoor gathering" shortly before they were killed. He acknowledged that no known witnesses placed them at a party; he declined to say on what evidence his theory was based on. Detectives said there was no evidence the couple had been at one that night. Wright believes that the picnic table and benches found near Rochelle's body are important clues to the case. He believes they might have been taken from the party the couple supposedly attended. He hopes that someone who had discarded such furniture or had it stolen around the time of the murders will come forward.
Wright and Nancy Myer believe that the couple was killed because of their involvement in the occult. Three composites were made of the killer and his two accomplices by Myer. According to Myer, the killer was in his thirties (in 1994), tall, balding, and muscular. He was a college professor, and he may have killed before. His accomplices were in their early twenties, with thin builds and long hair. They were under great control of the killer. According to Myer, they are in danger of being murdered themselves.
Psychic Sylvia Browne believed that the murders were a "crime of passion" committed by someone who wrongly believed the two were romantically linked. She also believed the murders were related to a man she called "Paul L.P."
Extra Notes:
This case first aired on the March 15, 1996 episode.
It was also featured on The Trail Went Cold podcast and Northwest Afternoon, a Seattle television talk show. In the latter, Janet appeared and spoke with psychic Sylvia Browne.
Some sources spell Rochelle's last name as "Robison". One source states that Michael and Rochelle were last seen leaving the Tacoma Sportsmen's Club.

Results: Unsolved. In 1998, a detective was reassigned to the case to work on it full-time. In 2012, cold case detectives examined it. However, it is not known if any new evidence was uncovered.
Links:
---