Wiki Targeted (Entertainment)
Play Sound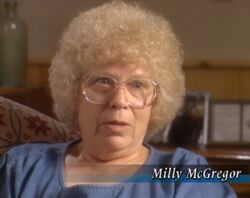 Real Name: Mildred McGregor
Nicknames: Milly
Location: Cisco Grove, California
Date: September 1995
Bio
[
]
Occupation: Retired
Date of Birth: 1931
Height: Unrevealed
Weight: Unrevealed
Marital Status: Married
Characteristics: Amazing mother, sister and aunt! Has been kicking cancer's butt for decades and is an inspiration to her whole family!
Case
[
]
Details: During Labor Day weekend in 1995, sixty-three-year-old Milly McGregor went on a hike alone in the Sierra Nevadas in Northern California. During it, she apparently took a wrong turn and got lost. Later in the afternoon, it was noticed she was not home yet. The next morning, a search party began looking for her. Helicopters with infrared technology scanned the mountains for any trace of her. However, after two days, authorities feared that she would not be found alive.

Extra Notes: This case first aired on the May 17, 1996 episode. It was already solved prior to the broadcast; it focused primarily on the psychic vision. It was also featured on It's a Miracle.
Results: Solved. Two days after she vanished, a cowboy named Randy Spears learned about Milly's disappearance. He reported that he had a psychic vision telling him where she was. In it, he saw the silhouette of Sierra Peak, about fifty miles from his ranch. He was certain that he would find her on the southern slope.
Sometime after midnight, Randy left with his friend, Frank Smith, and they drove to the mountains. En route, he pointed out a specific spot where he believed Milly was located. The next morning, they went to the search command center. They convinced others to follow them to the specific area on the mountain. Forty-five minutes of riding took them about three miles from the command center. Randy and Frank separated to cover more ground. Within minutes, Randy found Milly on a mountain, exhausted but alive.
Milly explained that her heart medication had caused her problems and made it difficult for her to find her way back to safety. She was overjoyed to see Randy and know that she would finally be rescued. A few minutes later, she, Randy, and Frank returned to the command center. She was then reunited with her family.
Milly believes that God answered her prayers through Randy.
Links: None

---