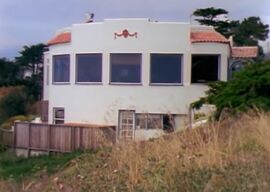 Case File: Moss Beach Distillery
Location: Moss Beach, California
Date: 1927 to present
Description: The Moss Beach Distillery is a seaside restaurant with an ocean view located on the Northern California coast near San Francisco, California.

History: In 1927, the Moss Beach Distillery was opened as a speakeasy. Various people who died at the distillery are claimed to haunt the area years after their deaths.
One of the ghosts is a woman dressed in blue who was in love with a piano player at the distillery, despite the fact that she was married to a bootlegger. Legend states that one night, the woman in blue and her piano player lover met at Moss Beach and were surprised and confronted by the woman's husband. The piano player pulled out a knife, and the jilted husband drew a gun, and somehow, during the middle of the fight, the piano player accidentally stabbed the woman and killed her.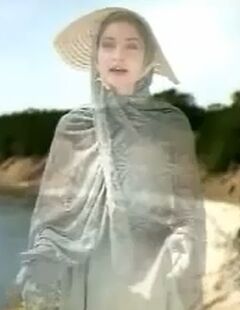 The workers at the Moss Beach Distillery claimed the ghost of the lady in blue had blown her breath against their neck and called their names; furthermore, one of the managers even had a book fly off the shelves! Several witnesses saw the "Lady in Blue" in the years that followed, either at or near the restaurant.
Another theory as to the Blue Lady's identity was that she was Alma Reed, a woman who was in love with a popular Hispanic singer in the early 1930s and drowned herself because she was not allowed to be with the singer.
The last theory to the ghost's identity was from a psychic named Sylvia Browne. Browne claimed that the ghost was a woman named Mary Ellen Morley, who died from "crushing blows to the head and body." Two of the workers found records that proved a woman named Mary Ellen Morley died in a car accident while on her way to visit her mother's grave. She died from "crushing blows to the head and body" exactly as Browne predicted.
The true identity of the "Blue Lady" is unknown. Many believe that "The Blue Lady" and other ghosts at the restaurant are real.
Background: The Moss Beach Distillery is a restaurant located in Moss Beach, California. It was originally established as a speakeasy in 1927 but was converted into an actual restaurant in 1933. The claims about the deaths and the bootlegger have yet to be confirmed.
Investigations: Psychic Sylvia Browne went to the Moss Beach Distillery to attempt to contact any of the spirits haunting the restaurant. She was able to learn the possible identity of one of the spirits, a woman named Mary Ellen Morley.
Extra Notes: The case was featured as a part of the October 28, 1992 episode.
The location was also featured on an episode of Ghost Hunters. Sylvia Browne passed away in 2013.
Results: Unsolved
Links:
---