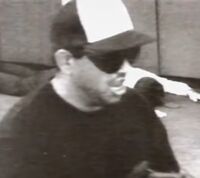 Real Name: Unrevealed
Aliases: None Known
Wanted For: Armed Robbery
Missing Since: December 31, 1990

Case
[
]
Details: Since August 1989, an unknown Hispanic man has held up fifteen banks in Dade County, Florida, netting more than $128,000. The FBI refers to this pugnacious robber as "Mr. Nasty" because he is verbally and physically abusive to bank tellers and customers. His latest heist was on New Years' Eve 1990. Unlike most bank robbers, he usually enters the bank with his gun drawn; he then jumps over the counter, robbing more than one teller. He sometimes holds his gun to their heads while he spouts a non-stop stream of profanities.
Extra Notes:
This case first aired as a part of a Bank Robber Roll Call in the January 23, 1991 episode. Also featured were Jockey Bandit and Mary Poppins Bandit.
It was excluded from the FilmRise release of the Robert Stack episodes.

Results: Captured. After the broadcast, a viewer contacted the FBI, identifying "Mr. Nasty" as twenty-nine-year-old Gainesville resident Armando Soto. He became a primary suspect in the FBI's investigation and was eventually indicted by a Miami grand jury. On September 11, 1991, FBI agents arrested him outside of his Gainesville apartment. He was charged with four counts of armed robbery and faced up to 120 years in prison. Further details are unavailable.
Links:
---