Cobra Kai Season 4 - The Loop
Play Sound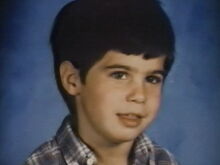 Real Name: Nicholas Arthur Karopoulos
Nicknames: Nippy, Pup
Location: San Francisco, California
Date: June 21, 1989

Bio
[
]
Occupation: Student
Date of Birth: April 20, 1983
Height: Unrevealed
Weight: Unrevealed
Marital Status: Unrevealed
Characteristics: Caucasian male. Brown hair, green eyes.

Case
[
]
Details: Nicholas Karopoulos is the son of Arthur Karopoulos and Levia Molinari. She grew up in San Francisco. In 1981, she met Arthur, a bartender from Boston. They never married; however, in 1983, they had Nicholas. As he grew older, his parents grew apart. Levia experimented with different religions including Catholicism, Jehovah's Witnesses, and Buddhism. When Nicholas was four, his parents began living apart. They verbally agreed to joint custody of him. Arthur recalled that he and Nicholas had a close relationship and that he always looked forward to the times that they were together.
By early 1989, whenever Arthur visited Nicholas, he would find Levia's living room full of people praying. Fourteen of them actually lived in the three-bedroom apartment, sleeping on mattresses commune-style. He believed that Levia had joined a cult. According to her, the group, called "Evangelic Church Ministry", was a strict Christian sect with only sixty members that preached "poverty theology". Many of the members did not have homes of their own. All of them wore drab, home-spun garments.
During one visit together, Nicholas asked Arthur if he really loved him. He then said that Levia claimed that if Arthur really loved him, he would hit him on the knuckles. He explained that if he was bad, cult members would use the "rod of discipline" to hit him on his back and knuckles. According to Arthur, Levia no longer let Nicholas spend time with his old friends. She also refused to take him to conventional doctors. Finally, she withdrew him from school. Arthur became concerned about the cult's influence on his son's life. Clinical psychologist Dr. Margaret Singer explained that cult members may have told Nicholas that Arthur didn't love him and that he abandoned him. They may have also tried to brainwash Nicholas into believing that Arthur was an evil, sinful, bad person because he wasn't in the cult.
On June 21, 1989, Arthur arrived at Levia's apartment to pick up Nicholas. No one answered the doorbell. The next morning, he called the apartment several times but received no answer. That afternoon, he returned to the apartment. Concerned about his son, he decided to climb in through a back window. He discovered that the apartment was completely empty. There was no sign of Levia, Nicholas, or the fourteen cult members. In the living room, however, he found a note written by Levia which said: "I hope you find the path to righteousness. God's, not man's. Shalom, Levia".
Arthur left the apartment, horrified that Nicholas had been kidnapped by Levia and the cult. He then noticed that there were several garbage bags outside. He took them home and sorted through the garbage with his wife Debbie. They found a list of "drive away" companies, which pair up people who want their cars transported cross-country with licensed drivers. One of the "drive away" companies had an address for Levia in Cincinnati, Ohio. Arthur immediately left to go there. The building there was a run-down slum. He staked it out for three days, but never saw Levia or any other women.
Finally, in desperation, Arthur followed a man dressed in the familiar drab home-spun clothing of the cult. He followed him for about five miles as the man rode a bicycle through the city. Finally, the man arrived at a grocery store and went into their dumpster, looking for food that hadn't yet perished. Arthur realized that the man was looking for food to feed himself and other cult members.
Forty-eight hours later, Arthur arrived in New York City. For six days, he staked out a run-down tenement in Brooklyn. This was another address given to him by the "drive away" company. One afternoon, as a few of the members left the building, Arthur noticed that one of them was a woman who had stayed in the San Francisco apartment with Nicholas and Levia. He decided to follow them, hoping that he would find his son along the way. He followed them on foot for four hours.
Finally, the group ended up in downtown Manhattan. Arthur decided to confront the woman from San Francisco. She recognized him but told him that she wasn't allowed to tell him Nicholas's whereabouts. Another member, the group's leader, told him that he thought that Levia had already contacted him. Arthur gave him his address and phone number and pleaded with the man to have Levia contact him. However, the man instead began to proselytize him. Outraged, Arthur left. He later learned from the tenement owner that the group left quickly after the confrontation.
Arthur finally returned to San Francisco. Within a month, he received a letter from Levia. In it, she said: "Arthur, I regard the gift of life in Nicholas is sacred. He is bone of my bones and flesh of my flesh. I must raise him up with standards of righteousness. Life is not just a matter about surviving and seeking after pleasures, but rather a preparation for the end of the matter. Trying to be a Christian, Levia".
Arthur felt that there was a finality to the letter. He believed that Levia was saying that he would not be able to see Nicholas again. He believed that she was saying that she was planning to raise him up the way that she wanted to raise him. He also felt she was telling him not to worry, because he would be on the "right path" and God would watch over him.
Arthur sued for custody of Nicholas and won. The FBI issued a warrant for Levia's arrest on charges of parental kidnapping and unlawful flight to avoid prosecution. FBI agents have noted that she is living in an environment in which she is not leaving a "trail" for them to follow, traveling with a group that uses abandoned buildings for shelter and takes up odd jobs for cash. This makes it difficult for the FBI to determine where she has been and where she is going.
Arthur has felt that is life has been incomplete since Nicholas vanished. He feels that he will not be "complete" again until Nicholas is back in his life.
Extra Notes: This case first aired on the February 5, 1992 episode; the update aired on April 29, 1992.
Clinical psychologist Margaret Singer was interviewed for this case. She was also interviewed for Alexander Olive's case.

Results: Solved. On the morning after the broadcast, a viewer's tip led authorities to an apartment in Chicago where Levia and Nicholas were living. FBI agents arrested her on charges of parental kidnapping. Nicholas was immediately placed in protective custody.
Nine hours later, Arthur and Nicholas were reunited after a nearly three-year separation. He also was reunited with his stepmother Debbie and met his two-and-half-year-old half-brother for the first time.
Sadly, Arthur passed away in 2005 at the age of fifty-two.
Links:
---