Real Name: Unrevealed
Aliases: Dr. No, Stargazer, Dragon
Wanted For: Murder
Missing Since: November 1990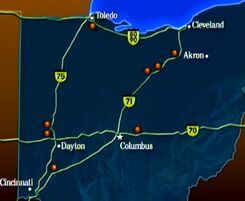 Case
[
]
Details: On April 19, 1990, the partially nude body of a woman was found behind a truck stop in Licking County, Ohio. She had been beaten to death. All of her jewelry and some articles of clothing were missing. Despite an extensive investigation by county sheriffs, she was never identified. No one was aware that her murder was not an isolated case. Four years earlier, on July 20, 1986, the body of twenty-three-year-old Shirley Dean Taylor was found behind a traffic barrier on Interstate 71 in Medina County, about 100 miles away. She was a known prostitute. She had also been beaten to death. As in the case of the Jane Doe, all jewelry and several pieces of clothing had been removed from her body. No one would connect the nearly identical murders until 1990.
In November, Michael Berens, a reporter for "The Columbus Dispatch", began preliminary research for a possible story on serial killers. He had remembered a statement that an FBI agent had made about prostitutes being the ideal serial killer victim because they are transient and, often, their disappearances are not reported immediately. He started looking at prostitute deaths across Ohio, primarily using newspaper stories as a way to track them. He began to cross-reference unsolved murder cases in Ohio. A sinister pattern soon emerged. Eight women in eight different counties had been beaten or strangled to death. Each was found alongside a major interstate. Each was a known or suspected prostitute. Finally, each worked at truck stops or were last believed to have been working at one.
Michael began an investigation that took him into a little known subculture of Ohio's interstate truck stops. He went undercover and discovered a flourishing sex-for-sale industry at stops throughout the state. On any given night, any number of women were available. They worked off of a CB radio and did everything anonymously. They would get on the radio and give their handle and a catchphrase that they developed as their trademark. The trucker would then answer back with a description of their truck and location. After having sex, the women would use the trucker's radio to contact their next customer.
Twenty-seven-year-old Anna Marie Patterson, who used the CB handle "Sleeping Beauty", was the sixth known victim. In reviewing the investigation of her murder, Michael uncovered several possible clues to the killer's identity. On February 8, 1987, she was working at a truck stop in Austintown, Ohio, 150 miles northeast of Columbus/70 miles southeast of Cleveland. According to witnesses, just after midnight, she answered a call from a driver of a black or dark blue Peterbilt truck. He used the CB handle "Dr. No".
Earlier that night, Anna Marie had received a call from "Dr. No" but turned him down because she, along with several other prostitutes, were afraid of him. She also had had problems with him in the past. However, despite her fears, it is believed that she went with him that night. She was never seen alive again. Interestingly, the day before, she told a police officer that she knew who was responsible for the murders of other prostitutes. She said she was afraid she would be killed if she relayed this information to investigators.
Twenty-five days later, Anna Marie's body was found wrapped in a sleeping bag alongside Interstate 71 northeast of Cincinnati. She was found in about four-to-six inches of water in a drainage ditch in a field about 250 miles from where she was last seen. She had been beaten so brutally that her head had been bashed in. She had a rule of staying in the truck stop and would not allow a trucker to take her off the stop. As a result, it is believed that she was probably killed or knocked unconscious at the stop. At the time of her death, she was six months pregnant.
An autopsy revealed that Anna Marie had been killed within forty-eight hours of her disappearance. The condition of her body clearly indicated that the killer had kept it refrigerated for nearly a month. There is speculation that the victims have been driven many more miles than the actual distance from "last seen" to "found". There is also an indication that the killer is doing something with the victims, either verbally, physically, or otherwise, after death.
According to Michael, the killing spree began with the murder of an unidentified woman in April 1981. Over the next nine years, the bodies of seven other victims were dumped along interstates in different counties. Each woman was viciously beaten or strangled to death. Each had jewelry and clothing removed from her body. Three were last seen working at an Austintown truck stop. The other victims included twenty-five-year-old Marcia Matthews, who vanished from a Mansfield truck stop and was found beaten on June 12, 1985, just off I-70 in Richland County (she died from her injuries two days later); eighteen-year-old April Barnett, who was found dead on December 4, 1986, strangled and dumped behind a guardrail along I-71 in Ashland County; an unidentified woman found dead on August 10, 1987, in Englewood; and twenty-six-year-old Kathryn Jo Hill, who was found dead on November 5, 1990, in the parking lot a Lake Township hotel.
Michael concluded that there was overwhelming evidence that a potential serial killer was trolling Ohio interstates in search of victims. He suspected that the killer may have also targeted women in Midwest states and the East Coast as well. In fact, three other women found along interstates in Illinois, Pennsylvania, and New York were also believed to be victims of the killer. Twenty-six-year-old Jill Allen was found strangled to death in Springfield, Illinois, on December 19, 1986. Nineteen-year-old Lamonica Cole was found dead at the rear of a truck stop in Breezewood, Pennsylvania, on November 22, 1987; a scarf was found stuffed in her throat. Finally, thirty-one-year-old Terry Roarke was found dead in Saratoga County, New York, on March 29, 1988; she died of blunt force trauma to the head and is believed to have been dumped from a car.
On March 10, 1991, "The Columbus Dispatch" ran Michael's story. It detailed compelling evidence that suggested that the murders of the eight women were the work of one killer. Ten days later, Ohio Attorney General Lee Fisher and the Buckeye State Sheriff's Association formed a special task force. They established a twenty-four hour, toll-free hotline as part of an unprecedented statewide investigation. They found that what was happening in one county was not necessarily being told to another one. Also, clues found in one county that may have meant nothing there, actually meant a great deal in the adjacent county.
What may be the most significant clue in this case is also the most perplexing. Michael noted that killers tend to dump in places that they are comfortable with. However, the Ohio killer scattered the bodies of his victims. There has been speculation among officers that he knows enough about law enforcement to have dumped the bodies in different jurisdictions. There has even been speculation that he could be a security guard or former police officer who knows enough about investigative techniques to do that.
Michael is convinced that one killer is responsible for the eight murders. He is equally convinced that the victims were all doomed by their occupation. He believes that the killer picked prostitutes because their cases may not be pursued as aggressively as, for example, a child or a suburban housewife. Lee Fisher, however, feels that the public has compassion for anyone that has been innocently murdered, no matter their profession or lifestyle.
The last known victim in Ohio was discovered in November 1990. However, authorities have been stunned to learn of as many as 150 other homicides nationwide that fit the same basic pattern. Recently, truck drivers have been arrested in three separate murder investigations. In each case, the victims were prostitutes. However, none of the suspects have been connected to any of the Ohio murders. Authorities have also noted that they are not certain that all of the Ohio victims were killed by the same person.
At least two of the victims were last seen getting into a black or dark blue Peterbilt tractor, possibly pulling a refrigerated trailer. The driver may use the CB handles "Dr. No", "Stargazer", or "Dragon". He is described as being between twenty-five and forty (in 1987), having dark hair, and possibly being of Middle-Eastern descent. He has never been identified and the murders remain unsolved. Investigators have noted that semen was recovered from five of the crime scenes, which could be used to help identify the perpetrator(s).
Extra Notes:
This case first aired on the February 19, 1992 episode.
Some sources state that Anna Marie's body was found forty-three days after she vanished. Some sources also spell her name as "Anne Marie".

Results: Unresolved. Amazingly, all of the unidentified victims profiled in the broadcast have since been identified. In 2010, the 1987 Jane Doe was identified as Paula Beverly Davis, who vanished from Missouri in 1987. In 2017, the 1990 Jane Doe, also known as "Hebron Jane Doe", was identified as Patrice Corley. In 2018, the 1981 Jane Doe, also known as the "Buckskin Girl", was identified as Marcia King of Arkansas.
On April 9, 1992, another unidentified victim was found near a truck stop near Youngstown, Ohio. She had been beaten to death and some of her clothes were missing. In February 2013, she was identified as forty-three-year-old Sharon Lynn Kedzierski, who had vanished from Miami Lakes, Florida, on October 25, 1989. Even before she was identified, truck driver Dennis Hetzel was named as a suspect after bite marks on her body were matched to him; he was indicted for her murder in 1993. However, he never stood trial in her case and later died in prison. New evidence in it has disputed this conclusion. As for Paula, authorities believe she was the victim of serial killer Lorenzo Gilyard. It is uncertain whether the other murders are connected to either Hetzel or Gilyard.
Many investigators believe that the murders may be related to other cases throughout the United States. Several truck drivers have been looked at as suspects. In April 1991, investigators looked into thirty-six-year-old truck driver Alvin Wilson; he abducted, raped, and choked a prostitute from Akron in 1986. He also attacked another woman in 1989. Credit card receipts placed him in Youngstown around the time of three of the murders. However, he was in jail when one of the murders occurred and was arrested the day before another victim's body was found. It is not known if he was connected to any other cases. He was later convicted and sentenced to life in prison for the 1989 attack.
In 1994, investigators looked into thirty-six-year-old James Robert Cruz, a truck driver who lived in Ohio and murdered a teenager in Pennsylvania in 1993. Investigators noted that the Ohio murders stopped around the time that he was arrested. They also noted that his victim was killed in a similar manner as the Ohio victims. However, Cruz was never charged in any of the Ohio cases.
In 1995, investigators looked into twenty-eight-year-old Sean Patrick Goble, a truck driver who committed murders in Tennessee and North Carolina during the mid-1990s. Some of his victims were prostitutes, and they were killed in a manner similar to the Ohio victims. He also drove a Peterbilt truck, which was the same type of truck that the Ohio killer drove. Although authorities believe that Goble committed more murders throughout the United States, he was never charged in the Ohio cases. It was also determined that he was in the Army and stationed outside of Ohio when several of the Ohio murders took place.
In February 2019, yet another suspect emerged in this case. Forty-nine-year-old truck driver Samuel W. Legg was arrested and charged with raping a seventeen-year-old woman near a rest area in Ohio. He was also charged with Sharon's murder. DNA evidence linked him to it, along with two others in Ohio and one in Illinois. All of the victims were found near truck stops, either nude or partially clothed. There has been some speculation that he is the killer in the other Ohio prostitute murder cases. However, it is believed that he was too young to have committed the murders that occurred in the early-to-mid 1980s. He has not been charged in any other cases. He is also suspected, but has not been charged, in the 1990 murder of his stepdaughter, Angie Hicks. In May 2021, he was ruled incompetent to stand trial for the murder and rape charges.
Links:
---