Obi-Wan Finale - The Loop
Play Sound
Real Name: Unknown (at the time of broadcast)
Aliases: East Area Rapist, Original Night Stalker
Wanted For: Murder, Rape
Missing Since: May 1986

Case
[
]
Details: One night in October 1976, in an affluent suburb outside Sacramento, California, a woman sleeping in her bed woke up to a masked man wielding a gun and shining a flashlight in her face. He said to her, "Don't move, don't make a sound, or I will kill you." He tied her hands behind her back, blindfolded her, and then brutally raped her. She is one of more than forty women believed to have been assaulted by a man who terrorized the Sacramento area during the 1970s. The mysterious attacker, known to police as the "East Area Rapist", was never identified. Incredibly, more than twenty years later, dramatic advances in law enforcement technology determined that the same man was responsible for a series of murders in the 1980s. Authorities need help in tracking down a suspect who has eluded them for decades.
During the 1970s, the man who would defy detection for decades established himself as a unique offender with unusual signature habits, including boldly lingering in victims' homes for hours. The 1976 victim knew that, at one point, he was out in her living room smoking. Police believe that he may have went into her refrigerator as well. She believes that he was in her house for almost three hours. After laying there for a long period of time without hearing any noise, she thought he was gone. Then, he came back to her bed and taunted her. She believed that she was going to die. Eventually, after sexually assaulting her, he quietly snuck away.
Detective Carol Daly interviewed many of the rapist's victims. She felt that he did a "psychological rape" along with a physical rape. He did this by threatening them and staying in their houses for long periods of time. His crimes were very different and unique compared to ones she had dealt with before. For Lieutenant Richard Shelby, this would become one of the most demanding cases of his career. He recalled that it was high priority and high publicity. The man had a large number of victims and was very dangerous. Shelby's office and the city police both had special teams working on it.
Evidence recovered near two crime scenes indicated the rapist had spied on his victims before he struck. According to Shelby, the rapist prowled the area surrounding the victims' homes and knew it well. In some of the cases, he knew the victims, their schedules, and that of the neighbors as well. In others, they were crimes of opportunity. For example, some victims were not supposed to be home at a certain time, but showed up anyway while he was nearby, so he took advantage of it. The first fifteen attacks occurred in homes only inhabited by women and children. But then, the rapist became even more brazen. He targeted homes in which a man was also present.
When the rapist would come in, he would, at gunpoint, order the woman to tie up the man. He would then remove the woman to the other part of the house, where he would also tie her up. Then, he would put dishes on the man. He would threaten to kill everyone in the house if he heard a dish break. While he was in the other room attacking the woman, he could hear whether or not the man was trying to get free. Daly could not recall any other case she had worked on where a rapist would commit crimes while others were in the house.
The community became filled with fear over the rapist. Many rumors were being put out about what he was doing to the victims. In order to help dispel the rumors and give out important information, Daly and other detectives held town hall meetings. Some residents were incensed to think that a man could have been in the home when these rapes occurred and not have done anything about it. During one meeting, a man got up and said, "I don't believe that could happen. But if he ever comes into my house, I'm going to be ready." That man and his wife would later become victims. This led Daly to believe that the rapist was in the audience that night and probably followed the couple home. She believes that he liked the excitement of the "game". She thinks that it was as much a game with the investigators as it was for what he was doing to the victims.
The sadistic game being played by the rapist often extended beyond the attack itself. Several victims reported receiving disturbing phone calls from the rapist years later. The 1976 victim received a call from him; she felt that, by what he said to her, he had still been watching and stalking her. She felt absolutely terrified; she thinks that the phone calls were his way of saying, "you're still my hostage. Even though I'm not in your house, psychologically, you're still my hostage."
By the late 1970s, the rapist had moved west to communities in Contra Costa County, fifty miles from Sacramento. Authorities traced five more sexual assaults to him there before the attacks abruptly stopped. Authorities speculated on where he might have gone or why he might have stopped. However, there was nowhere to go with it because they did not have a good physical description of him.
Years passed and the trail grew colder. Then, in 1996, 400 miles south at the Orange County, California Sheriff's Department, forensic scientist Mary Hong compared semen samples from several unsolved rape-murders in the southern California area and linked the crimes to the same perpetrator, who was named the "Original Night Stalker". Meanwhile, back in Contra Costa County, Sheriff's Department criminalist Paul Holes ran DNA profiles on semen recovered from the East Area Rapist assaults in his county.
Then, in 2001, Holes contacted Hong. Independently, he was thinking that the rapist had to have been committing more crimes somewhere else. So, he called several agencies in order to find out if they had any cases that fit his profile. Over the phone, she had him read the profile that he had on his case and she compared it to the profile that she had on her cases; they matched all the way across. At that point, they knew that they had just connected the East Area Rapist crimes in northern California with the series of homicides down in southern California. Daly and other detectives had felt that when the rapist left Sacramento, he was ready to kill. His behavior was becoming more bizarre. The threats he was making to the victims were more severe. Overall, his demeanor was changing.
The East Area Rapist had become a southern California killer, leaving a trail of deaths in his wake. On March 13, 1980, Charlene and Lyman Smith were found bludgeoned to death in their Ventura home; Charlene was also raped. A few months later on August 19, newlyweds Keith and Patrice "Patty" Harrington were also bludgeoned to death in their Laguna Niguel home; Patty was raped as well. The next victim was Manuela Witthuhn. She was raped and bludgeoned to death on February 27, 1981; her husband was spared because he was in the hospital at the time.
Surprisingly, the killer stopped his murderous rampage for almost five years until May 4, 1986, when he came upon eighteen-year-old Janelle Cruz of Irvine. She was unable to go with her family on a vacation to Mexico and thus left to tend to the house while they were gone. The killer entered her home that night, tied her up, sexually assaulted her, and then bludgeoned her to death. Janelle's rape and murder was the last suspected murder of the rapist.
Larry Pool of the Orange County Sheriff's Department has headed up the southern California investigation. He has been unable to link any crimes to the rapist/killer after May 5, 1986. However, based on the killer's MO, he has come to believe that the killer also murdered two couples in Santa Barbara before and after the string of cases connected by DNA began. Dr. Robert Offerman and his girlfriend Debra Manning were shot to death in his Santa Barbara home on December 30, 1979. On July 26/27, 1981, Cheri Domingo and Gregory Sanchez were brutally murdered in her home. It is believed that he is also responsible for a failed attack on a young couple in Santa Barbara in October 1979.
Pool notes that the rapist/killer is a very unique offender, with at least fifty rapes and ten murders connected to him. It is suspected that he is responsible for more rapes, murders, and other crimes outside of what has been identified. Two potential cases include: the September 11, 1975, murder of Claude Snelling and attempted kidnapping of his daughter (which took place during the crimes of the Visalia Ransacker) and the February 2, 1978, murders of Brian and Katie Maggiore (who were killed while walking in a neighborhood frequented by the rapist/killer).
With the biological link to the northern California rapes confirmed, investigators now had fifty additional cases to comb through in search of new clues to the serial killer's identity. The East Area Rapist's MO of stacking plates on the victim's partner during the assault is believed to be particularly unique. It has been theorized that he may have been abused and terrorized in a similar way when growing up.
If the old police adage that serial killers do not stop unless they are caught is true, how is it possible that this one has not been heard from since 1986? Pool theorizes that he could be dead or disabled to a point that he is no longer capable of committing crimes. He also could have moved to another state, changed his MO somewhat, and committed multiple offenses that have yet to be linked to the California cases.
Another possibility is that the killer is incarcerated, perhaps on death row, for an unrelated murder. Pool advocates DNA testing of every death row inmate. However, in California, investigators are blocked by an injunction that prohibits the extraction of blood from any prisoner on death row against his will. According to Pool, there are at least 600 men in prison in California that do not have DNA profiles in the DNA databank. Daly believes that once he is caught, the victims will have some sense of closure in that they will know that he will not be able to victimize anyone else.
Extra Notes:
This case first aired on the July 22, 2002 episode.
This case was also profiled on Cold Case Files and On the Case with Paula Zahn during the investigation and documented on Dateline after it was resolved.
The case was also referenced on an episode of Forensic Files II, which focused on the murders of Jay Cook and Tanya Van Cuylenborg and the GEDMatch technology that helped solved the cases.
During the broadcast, the names of Larry Pool and Paul Holes were accidentally switched for their interviews.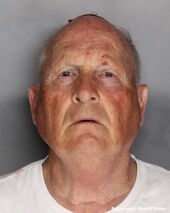 Results: Captured. As a result of this case, new laws were created which allowed for DNA profiles to be taken from California prisoners. However, none of theirs matched the profile of the killer. DNA testing initially showed that the Santa Barbara murders were committed by a killer separate from the Original Night Stalker. However, in 2011, advanced DNA testing confirmed that these four victims were also killed by EAR/ONS. In June 2016, the FBI announced that there was enough evidence to connect the murders of the Maggiores to the EAR/ONS case as well. A new moniker was also given to him, the "Golden State Killer".
Finally, on April 25, 2018, it was announced that the perpetrator had been identified. Police arrested seventy-two-year-old Joseph James DeAngelo and charged him with the murders of the Maggiores and the Smiths. DNA testing linked him to the rapes and murders. DeAngelo was a police officer in Exeter and Auburn during the East Area Rapist crimes, but he was fired in 1979 for shoplifting a can of dog repellent and a hammer from a drugstore. He was living in Auburn during the time of the rapes. Along with being identified as the Golden State Killer, he was also identified as the Visalia Ransacker (and the killer of Claude Snelling).
Investigators solved the case by uploading the then-unidentified killer's DNA profile to a public genealogy website "GEDMatch". Through the website, they were able to locate a fourth cousin of the killer. They then mapped out a family tree, which helped them narrow down their search to DeAngelo. A DNA sample was taken from trash discarded by him, which was found to match the DNA from the crime scenes. Similar methods were also used to solve the cases of Jay Cook and Tanya Van Cuylenborg, Christine Mirzayan, Bobbie Oberholtzer and Annette Schnee, and Roger Dean.
In June 2020, DeAngelo pleaded guilty to thirteen counts of first-degree murder and thirteen counts of kidnapping in a deal to avoid the death penalty. He received multiple consecutive life sentences without the possibility of parole.
Links:
---