Spider-Man: No Way Home Trailer Dropped - The Loop
Play Sound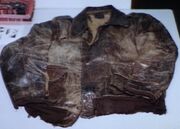 Real Name: Unknown (at the time of broadcast)
Case: Unidentified Remains
Location: Paducah, Kentucky
Date: September 30, 1991

Case
[
]
Details: Just after 6pm on September 30, 1991, a young man approached airport worker Wes Weaver at Barkley Regional Airport in Paducah, Kentucky. The man asked him if he was a pilot or if he knew one; he said no. The man said that he was in a bind and needed to get out West. He asked if he could give someone his jacket in exchange for a flight. Wes believed that the man may have been involved in nefarious activities and was running from something. He did not believe that the man was crazy, nor did he believe he was on drugs or alcohol. He just seemed desperate. Wes told him that he could not help him and asked him to leave. He stood around for awhile, then went back through the hangar and left.
What began as an odd encounter soon evolved into a tragic and perplexing mystery. Thirty minutes after Wes's initial encounter with the man, he saw him again while driving near the airfield. He watched as the man ran across a ditch, jumped onto the airport fence, climbed over it, and ran towards a plane sitting on the runway. At that point, Wes radioed for someone to call security. Two other witnesses saw the man run across the runway. Linda and Jerry Leab were in their yard when they saw the man run quickly across the runway to the other side of the plane. They felt that he was up to something.
The only aircraft on the runway was Northwest Airlines Flight 2940, destination: Memphis, Tennessee. Just before sunset, at exactly 6:49pm, the plane was cleared for takeoff. Everything seemed normal. Linda watched as the plane took off. About a minute later, she saw something fall from it. As darkness fell, airport authorities mobilized an extensive search, looking for any sign of the man witnesses had seen. At the northern end of the airfield, director of airfield services, Ron Jones, noticed a section of fence which had been damaged. Lying at the base was the man's body.
Ron was shocked at what had apparently happened: the man had jumped onto a plane and then fell from it to his death. No identification of any kind was found on or near the body. Along with the leather bomber jacket, the man was wearing $50 running shoes, two pairs of blue jeans, a blue knit jogging jacket, a green sweater, and a brown shirt. He was also carrying a Sony Walkman.
Blood tests revealed no traces of drugs or alcohol in the man's system. Coroner Jerry Beyer noticed that the man's body was well-tanned with no tan lines. The pubic hair was shaved and in a swimmer's type style, or of someone who wore tights. He also had a well-developed physical appearance. Jerry tried to determine if the man was involved with a male dancer troop, the Chippendales, that was in the area the week prior. However, this lead was ruled out.
In one of the man's jacket pockets, investigators found a pair of swimming goggles. Sewn into the collar was an ID tag inscribed "Lieutenant L.F. Price, USAF". A check of military records could find no such person.
Airport manager Richard Roof reviewed the incident and was surprised and what the man was able to accomplish in a short period of time. The man had between ninety seconds and two minutes to climb over a seven-and-a-half foot high fence, traverse approximately 800 feet of terrain (including one ditch system), run around the plane's tail system, and then climb onto the plane. He notes that there were no actual eyewitnesses to the man climbing on it.
Within seconds, Flight 2940 was barreling down the runway at 125 miles per hour. Once airborne, the speed increased to more than 190 miles per hour. Richard notes that the man would have experienced a substantial wind force while trying to stay on the plane's wing with no handholds. It is believed that he stayed on until the plane reached between 3,000 and 3,500 feet.
Ron wonders what was so important to the man that he took the chance of riding on the outside of a plane. Detective Jim Greif believes that the answers to this case and the man's strange behavior lie with his family. He believes that the man may have been trying to come home to them. Six weeks after the man's death, a funeral was held for him at Oak Grove Cemetery. A headstone was placed above his grave, which reads: "unidentified, about 25 years of age, fell to his death from an airplane at Barkley Regional Airport, September 30, 1991."
Extra Notes:
This case first aired on the September 16, 1992 episode, along with another unidentified victim, Estelle.
Stunt performer Dan Barringer portrayed the unidentified man.
Some sources state that the man fell 300 feet from the plane.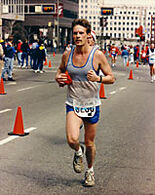 Results: Solved. In 1997, an Ohio woman named Dee Duecker watched a repeat of the broadcast and believed that the man was her missing stepson, a twenty-eight-year-old marathon runner named Brian Stanley Duecker. He was last seen by his family on September 26, 1991, when his sister visited him at his apartment in Cincinnati, Ohio. She noticed that he was busy cleaning the apartment, acting irritated and preoccupied. She felt he was acting strange, so she left and contacted their father, Jerry. The next day, Jerry went to Brian's apartment, but he was not there. He left his ID, a handwritten will, and a note behind. The note mentioned that he wanted to head west to go mountain climbing. Although he was known to go on unannounced trips in the past, he normally returned within a few days or contacted his family. When several days passed without contact, they reported him missing.
There were few leads in Brian's disappearance until Dee saw the repeat broadcast. However, when she contacted Paducah investigators, they claimed that he did not match the man's description completely. She was still convinced that he was Brian. She felt that he matched the description of the man; their height, weight, and ages were about the same, they were both physically fit, and they both owned expensive jackets and running shoes. She and other family members also viewed autopsy photographs of the man and felt that he was Brian.
In early June 1999, after reading an online article from The Paducah Sun about the man, Dee contacted its author, Bill Bartleman. He forwarded Brian's photograph and description to coroner Jerry Beyer. Jerry believed that the man was Brian. A detective, who was a family friend of the Dueckers, was able to locate Brian's fingerprints, which were on file from a previous arrest. Jerry then faxed him the man's fingerprints. On June 8, the man was identified as Brian after the fingerprints were matched.
According to Brian's family, he was diagnosed as a paranoid schizophrenic when he was twenty-two. His mother also suffered from schizophrenia. He begged that his family not have him institutionalized or heavily medicated. Due to his schizophrenia, he was unable to hold down a job and often thought that people were following him. He also had difficulty separating his imagination from reality. It is believed that his mental issues may explain why he acted strangely at the airport and later jumped onto the plane.
In September 1999, Brian's family held a memorial service for him. They also added a second marker to his grave, which lists his name and date of birth of March 9, 1963. They decided to leave him in Paducah, as they felt that the residents there were his "surrogate family" while he remained unidentified.
Links:
---