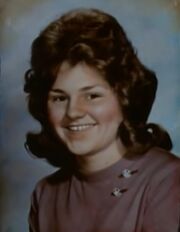 Real Name: Pamela Jean Mason
Nicknames: No Known Nicknames
Location: Manchester, New Hampshire
Date: January 13, 1964

Case
[
]
Details: In the winter of 1964, fourteen-year-old Pamela Mason placed an ad on a local laundry bulletin board, advertising her babysitting services. On January 13, 1964, a man called the Mason home, asking if Pamela could babysit his child. Her mother agreed to let the man pick her up, but only if his wife came with him. That night, the man came and picked her up as planned. However, she never returned home. Her father then discovered that the phone number and address given by the man belonged to an elderly couple with no need for a babysitter.
Eight days later, a truck driver spotted Pamela's purse and school books in a snowbank along Interstate Route 93 in Manchester. He then discovered her body nearby. She had been raped, stabbed, and then shot to death with a .22 caliber gun. Authorities began investigating the case and found that it had similarities to the unsolved death of Sandra Valade in 1960. She had been found just two miles from the spot where Pamela was found. Authorities believed that the two cases were related.
A few weeks after Pamela's murder, a Hooksett woman named Rena Paquette began telling people that she knew who was responsible for Pamela's death. However, the police did not take her seriously. On February 3, 1964, she was found dead in a barn on her property. She had burned to death. Surprisingly, her death was ruled a suicide. However, he family believed that she had been murdered by the same person that killed Pamela and Sandra.
Suspects: None known
Extra Notes: This case first aired on the October 24, 1990 episode. It was solved prior to the broadcast; it was featured due to its connections to the deaths of Rena and Danny Paquette.

Results: Solved. In February 1964, investigators began questioning residents who owned .22 rifles. One of those questioned was a twenty-seven-year-old deliveryman named Edward Coolidge. He had also been previously questioned in Sandra's case. He admitted that he had gotten his car stuck in the snow along Route 93 the night Pamela vanished. A couple had helped him free the car; however, they said the time was different from what Coolidge said, and at a spot closer to where Pamela was later found.
Investigators searched Coolidge's vehicle and obtained several weapons from him, including his .22 caliber Mossberg rifle. Gunpowder particles were found in his vehicle. His Mossberg rifle was later determined through ballistics testing to be the weapon that was used to kill Pamela. Microscopic analysis indicated that clothes from the Coolidge residence had been in contact with Pamela's body. Her hair was also found on the clothing. As a result, on February 19, Coolidge was arrested and charged with Pamela's murder.
At Coolidge's trial in May 1965, witnesses testified that he had given three different versions of where he had been on the night of the murder. He claimed that four men would be able to substantiate his alibi for that night. However, they all testified that they had not seen him. Ballistics testing showed that his rifle was used to kill Pamela and Sandra. However, Coolidge testified that he had won the weapon in a contest in 1961, after Sandra's murder. The prosecutor rebutted by showing that the weapons do not have serial numbers, meaning that he could have had two rifles (one from the contest and one that was used to commit the murders). In the end, Coolidge was convicted and sentenced to life in prison.
In 1971, Coolidge appealed his conviction. The U.S. Supreme Court determined that a search of his vehicle had been done on a search warrant signed by the attorney general, who later became the prosecutor for the trial. The court said that a neutral party should have signed the warrant; they ordered a new trial for him. However, before the new trial began, he pleaded guilty to second-degree murder. He was then sentenced to serve between twenty-five and forty years.
In 1985, Rena Paquette's son Danny was shot to death near his home. Although the authorities did not believe that his death was related to Rena or Pamela's, his family was convinced that he was killed because he had information about the two cases.
In March 1991, Coolidge was released on parole after serving the "maximum term". That same year, Rena's body was exhumed and the manner of death was changed from "suicide" to "undetermined". Her family remains convinced that Coolidge was responsible. Danny's case was later found to be completely unrelated to the others; he was killed by Eric Windhurst, a friend of his stepdaughters'. In 2006, Windhurst was sentenced to fifteen years in prison and was released on parole in 2020.
Links: 
---