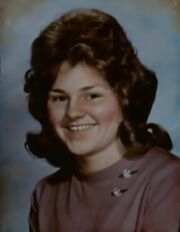 Real Name: Pamela Jean Mason
Nicknames: No Known Nicknames
Location: Hookset, New Hampshire
Date: January 13, 1964

Details: In the winter of 1964, fourteen-year-old Pamela Mason responded to a newspaper ad asking for a babysitter. On January 13, 1964, she was picked up by the person who had placed the ad but then vanished. Eight days later, she was found stabbed and shot to death in a snowbank near Manchester, New Hampshire. Authorities began investigating the case and found that it had similarities to the unsolved death of Sandra Valade in 1960, and believed that the two cases were related.
A few weeks after her murder, a local woman named Rena Paquette began telling people that she knew who was responsible for Pamela's death. Then, on February 3, 1964, she was found dead in a barn on her property, burned to death. Surprisingly, her death was ruled a suicide. Then, decades later, on November 9, 1985, her son Danny Paquette was shot to death near his home. Although authorities believe that these cases are not related to one another, the Paquette family is convinced that Rena knew the identity of Pamela and Sandra's killer, was silenced about it, and that Danny also had information about the cases and was silenced as well.
Suspects: None known
Extra Notes: This case first aired on the October 24, 1990 episode.
Results: Solved - Investigators questioned a deliveryman named Edward Coolidge in connection with Pamela's murder. They searched his vehicle and obtained several weapons from him. Gunpowder particles were found in his vehicle. His .22-caliber Mossberg rifle was later determined to be the weapon that was used to kill Pamela. Microscopic analysis indicated that clothes from the Coolidge residence had been in contact with Pamela's body. As a result, Coolidge was arrested and charged with Pamela's murder. He was later convicted and sentenced to life in prison. However, due to issues with searching and seizing evidence in the case, Coolidge's conviction was later overturned. He then pleaded guilty to second-degree murder and received a reduced sentence. In 1991, he was released from prison.
Rena's death remains unsolved; however, her family believes that Coolidge was responsible. Danny's case was later found to be completely unrelated to the others; he was killed by a friend of his stepdaughters'.
Links: 
---
Community content is available under
CC-BY-SA
unless otherwise noted.