Cobra Kai Season 4 - The Loop
Play Sound
Real Name: Philip (last name unknown at time of broadcast)
Case: Lost Friend
Location: Linz, Austria
Date: December 1945

Case
[
]
Details: During the Christmas season in 1945, a Hungarian family who had escaped from the ravages of World War II met an American GI named Philip. This refugee family was living a hand-to-mouth existence in an abandoned train in rural Austria. The kindly soldier offered them friendship when they had few friends, food when there was often hunger, and faith when despair seemed insurmountable. With his help, the family survived their ordeal. They now live in the United States. They want to reunite with their benefactor so they can thank him for a Christmas that changed their lives.
In May 1945, as Hitler's Third Reich crumbled, refugees from Eastern Europe choked the highways and rural roads. Some were escaping the Nazis, others the vengeful Russian army. Charles "Carl" Dentai, then twenty-seven, and his family fled from Budapest, Hungary, one step away from the guns of the Red Army. He recalled that the Russians were just a few miles behind them, so he had only thing in mind: getting his family out of there. It was a very strange feeling for them to leave the country where they were born. But they, along with thousands of other families, had no choice but to leave everything and run away.
After their perilous journey, the Dentais and other refugees found temporary sanctuary in Austria, in a town occupied by the Americans. As the fall turned to an extremely cold winter, the family was forced to live inside a boxcar. Despite their hardship, Carl and his wife, Terezia, managed to survive and provide a shelter for their five-year-old daughter, Brigitta. As the winter approached, they had a tough time getting food. They also had almost no clothing and no other place to go. Carl remembered, however, that his family never complained despite their struggles.
A few days before Christmas, an American soldier named Philip met Brigitta at her American-run school. He went to meet her parents later that day. Somehow managing to surmount the language barrier, Philip asked if Brigitta would come as a guest to a Christmas party given for the refugee children by the American occupation force. Carl and Terezia eagerly said yes. When Carl was able to scavenge some material, Terezia made a party outfit for Brigitta. He was very excited for her to go to the party, as she had never been to one before. Along with having little food, she also had not had candy or sugar in almost a year.
Although decades have passed since that night, Brigitta remembers it like it was yesterday. Philip came to pick her up in an army Jeep. She remembered that he looked very handsome, "like Prince Charming". He had a shiny U.S. button on his lapel. Along with making her feel safe and happy, he made her feel very special. She felt like a "big girl" for that night. When they arrived at the party, she felt like a princess. It was as if someone had opened a magic door for her into another world. There were lights, music, and a very happy atmosphere. The food was very fancy; she had never had many of the dishes before. She felt like she was in a dream, which she never wanted to end.
Philip brought a big change into the Dentai's lives. It gave them back a lot of confidence in the human race. When Philip brought Brigitta back from the party, he and the Dentais celebrated the holiday together. He brought them presents and drinks. It was a night that Carl would never forget. Philip and the Dentais discovered that, though they did not share a language, they shared a friendship. Even though they had a difficult time communicating, they shared a lot of laughter and had a great time together.
Carl thought that they would not see Philip after that night. But he did come back. He became a real-life Santa Claus to the refugees, giving the children candies and the parents food, clothing, and other necessities that helped their families endure the many hardships of life without a homeland. Over the next five months, a deep and caring friendship grew between Philip and the Dentais. But one day, it came to an end. Philip arrived and told the Dentais that he and his troop were being transferred to France and would soon return to the United States. He was very sorry he had to leave. He then gave them his photograph and his address, hoping that they would find him again. When he left, Carl felt like they were losing a member of the family.
It took eleven years of struggle and hardship for the Dentais to finally make their way to the United States. Sadly, Terezia passed away in 1959, a few years after they arrived. Carl and Brigitta currently live in Michigan; he runs a hotel in Cheboygan. Unfortunately, during the family's flight across Europe, they lost most of their possessions, including Philip's address. All they have to remember him by is his picture (seen above).
Based on the appearance of Philip's uniform, military experts believe he was a private. He also told the Dentais that he was from Maine. These may be important clues as to his whereabouts. For years, Carl has placed advertisements in newspapers in order to try and find him, but they have been unsuccessful. Carl and Brigitta hope to find and reunite with this kindly soldier. They have not forgotten his generosity and want to give him the thanks he so richly deserves.
Extra Notes: This case first aired on the December 21, 1988 episode; it was updated on the February 1, 1989 episode.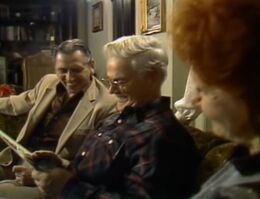 Results: Solved. Within an hour of the broadcast, Paulie Doftie of Augusta, Maine, called the telecenter to say that Philip is her cousin, sixty-three-year-old Philippe Pelletier. He is a retired postal worker who lives in Hammond, Indiana. Arrangements were soon made for a reunion between him and the Dentais.
On Wednesday, December 28, 1988, one week after the broadcast, Carl and Brigitta's thirty-year search for Philippe came to an emotional end when they were reunited with him and his wife Lucille at his home. He had thought of them often and was excited to see them after all that time. Carl was overjoyed to see him after so many years, especially since they were not sure they would ever see him again. The minute Brigitta saw him, she could see the warmth and the happy look on his face, and felt as if they had never lost touch.
Carl, Brigitta, and Philippe spent the afternoon looking through photographs that brought back memories of that special time they spent together. They planned to stay in touch and visit each other as much as possible. They renewed the friendship that they had before; as Carl put it, it was "a friendship forever".
In 1990, Carl wrote a book about his experiences of World War II and emigrating to the United States. Sadly, in 2000, he passed away at the age of eighty-two. On November 17, 2001, Philippe passed away at the age of seventy-six. On December 11, 2004, Brigitta passed away at the age of sixty-five.
Links:
---