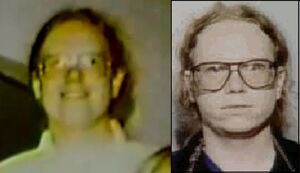 Real Name: Raymond Merrill Scoville
Aliases: Ralph Scoville, Robert Branch, Raymond Scovil, David Shaw, Harvey Lnu
Wanted For: Murder
Missing Since: April 13, 1983

Details: Raymond Scoville is wanted for the murder of his lover and business partner, Colleen Rachich. The two had begun a relationship in 1974, when Colleen was just fourteen. He later hired her to work at his Joilet, Illinois store Third Ring Records, initially as a store clerk. A few years later, she became a co-owner. However, their relationship began to sour when she discovered that he had not been making payments on bank loans or paying income tax.


She accused him of embezzling fund from the company and tried to end both their business and personal relationships. The dispute turned bitter and both filed civil suits against each other. On August 3, 1982, he asked her to come over, asking to settle their differences. The two had an argument which turned deadly when he shot her eight times. He then put her body in her car and abandoned it in a Chicago parking lot. She was discovered four days later.
One week later, Scoville was arrested for Colleen's murder. He gave police a written confession to the crime; however, he claimed that he killed her in self-defense. He was released after his mother posted a $50,000 bond. He vanished on April 13, 1983, a week after his trial began. He was convicted in absentia of her murder in September of 1983, and a forty year prison sentence is waiting for him.
Surprisingly, Scoville is a suspect in the deaths of two of his other former girlfriends, one of them being Jill Clark. Jill was found shot to death shortly after he began his relationship with Colleen. Despite the fact that she was shot with Scoville's gun, her death was ruled a suicide. Currently, he is only wanted for Colleen's murder.
Scoville is a white male, six feet tall, and weighed 160 pounds at the time of his disappearance. He has red hair and brown eyes. His date of birth is Jan. 24, 1951.
Extra Notes: The case was featured as an FBI alert as a part of the September 19, 1990 episode, along with Mike Cline, Michael Lassen, and Thomas Geers. The case was profiled on America's Most Wanted.
Results: Wanted. If he is still alive, Scoville would be sixty-seven-years-old. Investigators noted that he spoke fluent Spanish; they suspect that he may have fled to South America.
Links:
---
Community content is available under
CC-BY-SA
unless otherwise noted.