Jurassic World: Dominion Dominates Fandom Wikis - The Loop
Play Sound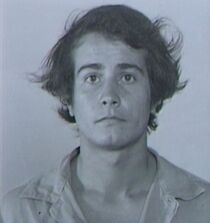 Real Name: Ricardo Silvio Caputo
Aliases: Ricardo Martinez Diaz, Ricardo Pinto, "The Lady Killer"
Wanted For: Murder, Escape
Missing Since: October 1977

Case
[
]
Details: At 11pm on July 31, 1971, a twenty-year-old Argentine man named Ricardo Caputo made a late-night call to the police in Nassau County, New York. He told them to go to a Flower Hill home that belonged to the parents of his nineteen-year-old girlfriend, Natalie Brown. They had been dating for over a year and he told authorities he intended to marry her. However, she had told friends that she was planning to end the relationship. When police arrived at the home, they found her body on the kitchen floor, laying against a cabinet. She had been stabbed repeatedly and the room was covered with blood. It was the worst crime scene that Detective Vance Rendell had ever seen.
Natalie's brother Edward did not recall any signs of volatile behavior from Caputo. Their parents seemed to like him and got along with him as well. Her friends and family described him as amiable and attractive with a winning personality. However, in his case, appearances were more than deceiving; they became a lethal weapon. Police believe that since 1971, he has employed his charms to kill again and again and again.
After Caputo was taken into custody for Natalie's murder, authorities learned that before arriving in the United States in 1970, he had been treated for mental illness in an Argentine hospital. A psychiatric review ruled that he was incompetent to stand trial for the murder, so he was remanded to the Matteawan State Hospital for the Criminally Insane in upstate New York. It is a maximum security institution, and it was there that Caputo would meet a twenty-six-year-old psychologist named Judith Becker. Her sister Jane believed that their relationship was that of a psychologist and a patient. She apparently felt that her patients were also her friends. She wanted them to trust her, and she needed them to do that in order for her to help them.
Judith was charmed by Caputo; over the next two years, he worked overtime to gain her trust. Apparently, he succeeded. According to other inmates at the hospital, he bragged that he was going to use her to gain his freedom from there. In 1973, with her assistance, he managed to get transferred out of Matteawan to a Manhattan psychiatric hospital. It had been two years since Natalie's murder. This hospital was much less restrictive than Matteawan and allowed patients to leave the facility during the day. This new freedom allowed him and Judith to spend more time together outside the hospital walls.
Detectives believe that Judith and Caputo started a romantic relationship soon after. From time to time, he would leave the grounds and go up to her apartment in Yonkers. Jane does not believe that the two had a romantic relationship because Judith never described it as such. Jane believes that she knew enough about her profession and her patients to not have allowed it to happen. Jane believes that she was just trying to help him. Interestingly, Judith later took Caputo home to meet her family. She introduced him as someone who worked with her at Matteawan.
On October 21, 1974, Judith failed to meet her parents as planned for a family boating trip. Concerned, they went to her apartment. They located the building's super and he gave them a key to enter her apartment. Inside, they found dinner for two on a coffee table in the living room. In her bedroom, they found her lying on her back in bed wearing only a half slip. She had been brutally beaten about the head and strangled with one of her stockings. Police believe that after killing her, Caputo took her car, checkbook, and some of her clothing. Then, he disappeared.
Six months later, Caputo met another trusting woman in San Francisco, California. Twenty-eight-year-old Barbara Ann Taylor was a local book editor. The two began dating and later took a romantic trip to Yosemite. However, after that trip, she told her family that she planned on ending the relationship. On March 30, 1975, she was discovered beaten to death in her apartment. His fingerprints were found at the scene of the crime. By the time her body was discovered, he was nowhere to be found. Five days later, a man calling himself "Ricardo Diaz" was delivered into the hands of US immigration by Mexican authorities. He was incarcerated at an alien detention facility in El Paso, Texas.
Diaz attracted little attention until he was fingerprinted. He knew then that it would not take long for his real identity to be uncovered. He was, in reality, Caputo. On April 7, 1975, he and three other detainees picked up makeshift weapons in the kitchen and took the guard hostage. The men then fled the compound and crossed the border into Mexico in a stolen car. All of them were recaptured with the exception of Caputo. His companions told police that he was headed to Mexico City.
When Caputo arrived there, he moved in with a twenty-one-year-old college student named Laura Marie Gomez. Two years later on October 3, 1977, she was found dead in her apartment. She was twenty-three. She had been brutally beaten and stomped to death. She had been tortured prior to death. Her teeth had also been pulled out. An autopsy revealed that she was two-and-a-half months pregnant. Police believe the killer and the father were the same man, Caputo.
Incredibly, police believe that Caputo has killed again. On August 2, 1983, sixty-year-old Jacqueline "Jacqui" Bernard, a prominent author and social activist, was found murdered in her West Side Manhattan apartment. Her throat had been crushed. On January 22, 1985, Gordon McEwan, a private investigator hired by her family, received an anonymous phone call identifying her killer as Caputo. The caller also said that Caputo boasted about killing several other women and some men. At Jacqui's residence, her superintendent told McEwan that he was positive that he had seen Caputo on the premises attempting to gain entry into her apartment. He even added that Caputo's hairline had receded somewhat when shown an older picture of him. He also noted that Caputo spoke with a South American accent. Others in the apartment building also recognized him as her boyfriend.
Caputo has been described as handsome, charming, and intelligent, with a violent temper that results in homicidal outbursts. Police consider him to be a "chameleon" who can easily change his identity and appearance. They believe he can kill without remorse. Since he has committed multiple murders in the United States and Mexico, police consider him a serial killer.
Extra Notes:
This case first aired on the December 12, 1990 episode.
It was also featured on America's Most Wanted.
Jacqui's friend Linda Wolfe later wrote the book "Love Me to Death" about her murder and Caputo.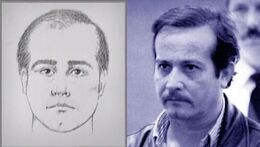 Results: Captured. On March 9, 1994, Caputo flew from Argentina to New York City and turned himself in to police there. He claimed that his victims were haunting him in his dreams and that he was afraid that he would kill again. During his time on the run, he married twice, had six children, and traveled throughout North, Central, and South America. After he surrendered, he confessed to the murders of Natalie, Judith, Barbara, and Laura. In April 1995, he pleaded guilty to manslaughter in Natalie's death and was given an eight-to-twenty-five year sentence. In June, he pleaded guilty to Judith's murder and was given a sentence of twenty-five years to life. On October 1, 1997, he died of a heart attack while playing basketball in Attica Prison's courtyard. He was forty-eight.
Along with Jacqui's murder, Caputo is suspected in the 1981 murder of Devon Green from Los Angeles, California. A coworker of hers recognized him as a man who had worked with them at a restaurant shortly before her death. However, he was never officially deemed responsible for her or Jacqui's murders.
Links:
---