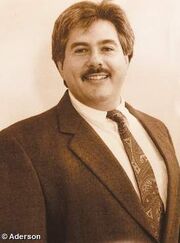 Real Name: Richard Howard Aderson
Nicknames: Ritchie
Location: Fishkill, New York
Date: February 5, 1997

Case
[
]
Details: Forty-seven-year-old Richard Aderson was an assistant superintendent of the Valley Central School District. He was also married and had three children. At around 6pm on February 5, 1997, he was driving home in rush hour traffic along Eastbound Interstate 84 in Fishkill, New York, when he was sideswiped by another vehicle. The cars pulled over to the side of the road at approximately 1/5 mile from Exit 12, about two miles past the Newburgh-Beacon Toll Plaza. The two men got out of their cars and the driver of the other vehicle began yelling at Richard.
After the brief but heated argument, Richard asked to see the man's license. The man pulled out a gun and shot Richard once in the chest. The man then drove away, heading eastbound. Richard returned to his car, dialed 911, and described the accident, the shooting, and the perpetrator. He was taken to the hospital but passed away from his injuries about an hour later. His family was shocked at what happened. His wife Laura noted that they had moved from New York City to LaGrange because they thought it would be safer. When his friend John listened to the 911 tape, he could hear the pain and fear in Richard's voice.
Police set up a road block in an attempt to locate the killer or any witnesses. Several people did report seeing the argument, but nobody saw the accident or the actual shooting. Richard's killer has never been identified or apprehended.

Suspects: Richard, along with the other witnesses, described his killer as a white male in his late forties to early fifties (in 1997) with medium complexion. He was 6'0" tall and very thin, with a bald or receding hairline, thin nose, glasses, and a beard. He was also dressed messy.
The killer's vehicle is described as a late model 1997 Jeep Cherokee-type, sport utility vehicle, possibly green-colored, and has New Hampshire license plates with green letters and numbers on a white background. Investigators have checked hundreds of similar vehicles, but have been unable to find the killer's car.
There has been some speculation that Richard's killer may be connected to someone in law enforcement. This information has not been confirmed.
Extra Notes: This segment originally aired on the May 29, 1998 episode of Unsolved Mysteries along with another road rage incident, the death of Robert James. The case was also profiled on America's Most Wanted.
Results: Unsolved. Police have noted that they continue to receive tips regarding the case. Unfortunately, none of the tips have led to an arrest.
Links:
---