Obi-Wan Finale - The Loop
Play Sound
Real Name: Richard Lynn Bare
Aliases: Lynn Bare
Wanted For: Murder, Escape
Missing Since: July 17, 1985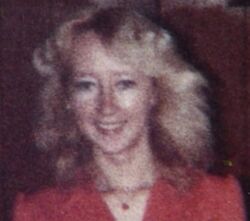 Case
[
]
Details: Most teenagers would do anything to avoid being with their parents. But to seventeen-year-old April Hart of Ashe County, North Carolina, nothing would be more precious than spending a few moments with her mother, savagely murdered when April was six. She wishes she could go back to when she was six, so that she could be with her mother and be happy with her. April's mother, Sherry Elaine Lyall Hart, was last seen alive on the night of January 15, 1984. The twenty-four-year-old divorcee had recently moved herself and April back in with her parents. That night, she was supposed to meet a date outside a local restaurant in West Jefferson. Her date never showed up. Yet she did not come home that night, or the next. Her parents reported her missing; a few days later, her father found her car in the restaurant parking lot.
Police located several friends who had seen Sherry that evening. However, they found no evidence of foul play, no explanation for her sudden disappearance. For months afterwards, April heard rumors that Sherry had run off to Florida with a lover. April thought that Sherry hated her, and did not want to come back because she did not feel that she was responsible for her. She thought that Sherry did not love her anymore.
The truth was worse, far worse. On December 10, 1984, eleven months after Sherry vanished, an unrelated investigation led police down a 2000-foot cliff at the edge of N.C. Highway 16. Locals call it the "Jumpingoff Place." It was there, at the base of the cliff, that authorities found Sherry's decomposed body. X-rays confirmed her identity. Investigators immediately reopened the case. They located a witness who had seen Sherry on the night she vanished with two twenty-year-old high school friends, Jeffrey Scott Burgess and Richard Lynn Bare.
Police interrogated Bare and Burgess separately. Bare's brother had once dated Sherry. Bare claimed that they had dropped her off at her car around 9pm. However, witnesses had placed her with him and Burgess after 9pm. Overall, Bare volunteered little information, so detectives pushed forward with other leads. They interviewed many people with information about the case. As a result of those interviews, detectives developed a scenario as to what occurred on the evening of Sherry's disappearance and death. With this information, they confronted Burgess during questioning on March 29, 1985.
Burgess told police that he and Bare picked up Sherry from her car and drove her around in Bare's white Ford Mustang. They told her that they were going to a place to party, possibly a nightclub or a bar. At some point during the drive, she asked to make a rest stop. Authorities allege that Sherry and the two men pulled off the highway about one quarter of a mile from the Jumpingoff Place. She went into the woods to go to the bathroom.
As Sherry walked back to the car, Bare caught up with her. He grabbed onto her and tried to kiss her. She repeatedly refused his sexual advances; however, he continued to hold onto her. Eventually, she broke free of him and ran back to the car. She asked Burgess for help. That night, Bare was apparently carrying a handgun. As she pleaded for help, Bare, enraged, came from behind and struck her in the head with the gun. He then forced her back into the car.
Bare had Burgess drive them to a spot on Highway 16 near a bar called the Moonshine Inn, about a quarter-mile from the Blue Ridge Parkway. Bare forcibly pulled Sherry, who was bleeding profusely, out of the car. He told Burgess to drive down the road. He then dragged her up to the cliff of the Jumpingoff Place and pushed her off. Burgess returned a few minutes later, and the two drove away. When questioned by police, Burgess claimed that Bare threatened to kill him and his family if he went to the police. Using information from Burgess, police found her checkbook and other personal items along the Blue Ridge Parkway, about a mile from where her body was found.
On April 1, 1985, Bare and Burgess were arrested and charged with Sherry's murder. Conviction could have led straight to the gas chamber. However, on July 17, 1985, four months after his arrest, Bare managed to escape from the Wilkes County Jail. The jailer accidentally left his celldoor unlocked during visiting hours. Bare was able to leave while the jailer's back was turned. He hid in the kitchen and then escaped through the front door. The jailer was later fired.
Burgess was released on bail pending Bare's recapture. Years later, the trial has yet to begin. Police feel that they let Sherry and her family down. They want to find Bare so that they can get justice for her. Detectives consider her murder one of the most brutal they have encountered, based on the horror and fear she went through in the minutes leading up to her death.
Sherry's mother, Betty Lyall, described Sherry as an outgoing person who liked people and liked to have fun. She said that Sherry loved April very much. She thought more of April than anybody or anything. April is still very upset that Sherry is gone; she wishes that she was still alive so that she could give her a hug and just have her in her life again.
In 1993, Bare was nearly captured in Delaware. However, he slipped away just hours before FBI agents converged on the home of a relative where he had been hiding. In December 1994, prosecutors asked for the murder charge against him to be "dismissed without leave"; this meant that they could re-charge him if he was ever located.
Bare is between 5'6" and 5'8", weighs between 145 and 175 pounds, has dark brown hair, green eyes, and a tattoo of a panther on his right forearm. At the time of his disappearance, he had a mustache and a beard. He was born on July 6, 1964. He may disguise himself as a woman and may have colored his hair red or blond. He has ties to South Carolina, North Carolina, Virginia, West Virginia, and Florida. A $10,000 reward is being offered in this case by Sherry's family and the police.
Extra Notes:
This case first aired on the December 15, 1995 episode.
It was also featured on America's Most Wanted and Prime Suspect.
Some sources state that Sherry was last seen outside of a local supermarket.
Some sources state that Bare's sister helped him escape by convincing a jailer to "look the other way."

Results: Wanted. In June 2002, a judge ordered that fingerprints be taken of a man named "Richard Presnell" who was believed to be Bare living under an assumed name. However, before authorities were able to locate him, he had moved without leaving a forwarding address. Presnell was later located and determined to not be Bare. It is suspected that Bare may have stolen his identity, however.
Sadly, in 2011, Betty passed away without seeing Bare apprehended. Burgess never went to trial for Sherry's murder. He served four years for violating probation in an unrelated case. He was in and out of jail for several years on drug-related offenses. In 2012, he passed away.
Unconfirmed reports have stated that Bare returned to North Carolina several times in a disguise while visiting the funerals of relatives. Other reports have stated that he is still living in Ashe County "in plain sight". However, he has still not been located. Police believe that he may now be deceased. April is now married with three children of her own and goes by the name April Billings; she continues to hope that Bare will one day be found.
Links:
---