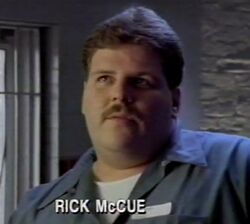 Real Name: Richard "Rick" McCue
Case: Appeal
Location: Rochester, New Hampshire
Date: October 18, 1987

Case
[
]
Details: On October 18, 1987, a woman's body was found in a local dumping site near the Spaulding Turnpike on the outskirts of Rochester, New Hampshire. She had been strangled and beaten to death. She was soon identified as thirty-four-year-old Alene "Lulu" Courchesne, a divorcee with three daughters. She was engaged to Darren Healy, a local man who was then in jail. Six months after her murder, police arrested the man she had last been seen with, twenty-four-year-old Rick McCue. He had moved to Rochester just three weeks before the murder.
At Rick's trial, the prosecution theorized that he and Lulu had argued after a sexual liaison at his apartment. He had then killed her, probably in his pickup truck, and dumped the body. On December 6, 1988, he was convicted of murder and sentenced to life in prison without parole. Almost three years later, Tom Magruder, one of the jurors from the trial, came forward with a stunning declaration. He felt that he had made a mistake at the trial by not fully grasping the evidence that was presented. He also felt that there was enough doubt that they should not have convicted Rick.
Rick maintains his innocence; he is saddened for Lulu's family's loss, and he is angry that it has taken so long for the truth to come out. In July 1992, he was granted a retrial based on the misconduct of one of the jurors, brought to light when Tom went public with his belief that Rick was not guilty. In addition, at least two witnesses have now come forward and stated that another man confessed to the murder.
Rick met Lulu at the convenience store where she worked on Friday, October 16, 1987, less than forty-eight hours before she was murdered. Despite the fact that she was wearing an engagement ring, they went out for drinks and made a second date for the next night. That night would end in her murder. At around 11:30pm on the evening of October 17, Rick arrived at her apartment. While he waited for her to get ready, a man named Russell Healy entered the apartment without knocking. Only later did Rick learn that Russell's brother Darren was Lulu's fiancée.
A few minutes after Russell arrived, Darren telephoned from jail. When Lulu answered, she put her finger up to her mouth, which indicated to Rick that he should not say anything. When she handed the phone back to Russell, he told Darren that no one else was there, even though Rick was sitting right in front of him. Rick suspected that Darren was her fiancée and that Russell didn't want him to find out about Rick.
That night, Rick and Lulu went to two different bars. They drank and shot pool until around 2am. They then went back to Rick's truck. While waiting for it to warm up, they kissed. They then went to his apartment. Two of his friends, Cheryl and Marty McGuire, were visiting that night and staying in the master bedroom. They remembered being awaken by Rick and Lulu, who were in the spare bedroom. They did not think that the two sounded violent. To them, it sounded like they were being intimate. At one point, Lulu said "Slow down", and a minute later, Rick said "Get dressed, I'll take you home." To Cheryl, it sounded like a normal conversation.
At Rick's trial, the prosecution tried to use Cheryl's testimony to establish a motive, claiming that he was angry with Lulu because she rejected his sexual advances. Specifically, they claimed that her saying "slow down" was her way of rejecting him. Cheryl felt that her words were misinterpreted. She maintained that their conversation was not angry.
That night, when Cheryl heard Rick's truck pulling away, she went to the kitchen to call the all-night donut shop where she was employed. Phone records showed that it was 2:42am. According to Rick, he dropped Lulu at her apartment building sometime after 2:30am. It was a four-minute drive between the two apartments.
Laurie Clark and her husband lived in the same building as Lulu. Laurie was still awake when Rick brought Lulu home. She claims that she did not testify at his trial because of health problems. Her bedroom window was at the front of the building. When his truck pulled up, he was about ten feet away from her window. She heard Lulu get out of the truck and walk up onto the porch. She heard them talking loudly; they were doing so because of the muffler sound on his truck.
Rick claims that Lulu had forgotten her pocketbook and boots in the truck, so he called out to her and handed them to her. He said goodnight to her and then drove back home. Laurie heard Lulu enter the building and walk down the hallway. She heard her stumbling up the stairs (presumably because she was drunk). She also heard a loud banging sound. She did not hear any sounds after that, so she went to sleep.
About fourteen hours later, on Sunday afternoon, Lulu's body was found. The medical examiner determined that she had been killed between 2am and 5am, but believed that it happened closer to 2am. Bodily fluid samples indicated she had drank alcohol and smoked marijuana between thirty and ninety minutes before her death. A gash over her right eye had produced a significant trickle of blood. On Wednesday, Rick was questioned at the police station. Later that day, police took his truck to make wheelbase measurements, and to check it for blood and soil samples.
Police obtained a sample of dirt from the crime scene and another sample of dirt from Rick's truck. Both were sent to the FBI laboratory. The results indicated that the samples were not a match. No blood was found in his truck either. Several hours after the murder, Lulu's youngest daughter reportedly found blood in Lulu's bathroom. Later, a bloody towel was discovered in a closet. However, the apartment was not searched by the police for five days and some evidence was lost. Although that blood was never analyzed, some spatters remained in the front hall of the apartment building.
Five months after Rick's arrest, his attorney, Richard Howe, brought in a forensic chemist to test the blood spatters. It was determined that the blood was human and Type A, matching Lulu's blood type. This suggested that she may have been attacked in her apartment. Despite the complete absence of blood in Rick's truck, and the presence of blood in her apartment, the prosecution still contended that he had killed her and dumped her body sometime between the time they left his apartment and the time he returned alone. Cheryl swears that he would not have had enough time. She says that fifteen minutes elapsed between the time she started using the phone and the time he came back.
The defense claimed that it was impossible for Rick to have committed the crime within the fifteen minute window (driving her to her apartment, strangling her, dumping her body and returning to his apartment). They noted that the coroner stated it would take three to four minutes just to strangle her. However, an officer claimed that the drive between Rick's apartment and the dump site was less than two miles and could take just four minutes. Also, a witness placed a truck similar to Rick's at the crime scene. However, this sighting occurred at 2:30am, even though Cheryl claimed that Rick and Lulu did not leave until 2:42am.
The prosecution claimed that wheelbase measurements taken near the spot where Lulu's body was found were consistent with Rick's truck. They also claimed that his tires closely matched the tracks found at the scene. Also, his boots were similar to prints found there. Officers testified that Rick's truck was leaking antifreeze; a puddle of antifreeze was found at the crime scene. They also testified that the truck had summer tires in the front and winter tires in the back, which matched the tire tracks at the crime scene. A tire expert testified that distinct tread characteristics found in the tracks at the crime scene matched the truck's tire tread.
The defense countered the wheelbase measurements with an expert witness, Pete McDonald, former chief of design for Firestone Tire and Rubber. He testified that the measurements did not match Rick's truck. During the jury deliberations, however, one jury member took it upon himself to conduct his own, unscientific test, which he then shared with his fellow jurors. He claimed that he could not get an accurate wheelbase measurement in sand. Several of the jurors now say that, in the end, the issue of the wheelbase measurements was essentially disregarded because it was so confusing.
Juror Tom Magruder felt that they were being overloaded with conflicting information about the wheelbase measurements, boot prints, and tire impressions. As a result, they were unable to fully comprehend it all and make a sound decision based on it. With the wheelbase evidence in dispute, the jury came down on the side of the prosecution. After two days of deliberation, they found Rick guilty.
In order to prove that Rick was guilty, the prosecution convinced the jury that he had killed Lulu sometime after they left his apartment. However, the only blood found during the investigation was at her apartment building. At the trial, Russell was called on to explain why there was blood in her apartment. He claimed that she cut herself while using a razor to shave her legs in the living room. She then used a towel to stop the bleeding. However, according to Richard Howe, Russell's testimony was inconsistent with the autopsy report, which stated that there were no scrapes or bruises on her legs.
Russell's testimony led some to speculate that he was involved. He reportedly gave police conflicting statements about his whereabouts on the night of the murder. Betty Grant claims that she went to the police about four months after Lulu's murder, even though the police deny it. She claims that she heard him boast about killing Lulu. He reportedly said, "Nobody has to worry about Lulu anymore because I took care of her." She felt that, by the way he said it, he was proud of what he had done. She says that the police did nothing to follow up. Then, in September 1991, she decided that she had to come forward again.
Another eyewitness account pointed to Russell. Lulu's ten-year-old daughter testified that she saw a man in Lulu's apartment on the morning of the murder. At 6am, she was awakened by someone in the shower. The shower stall was right next to her bedroom. She heard banging sounds coming from the shower. Then, she heard someone say "Give me my pants." She thought the voice sounded like Russell. Then, the man came to the door. She thought that he looked like Russell. He then left.
Laurie Clark also believes that Russell may have been involved because he was jealous of Darren and "wanted what he had". She also felt that he was around Lulu a lot and that it would make sense that the murderer was a person she was around a lot. Russell died of ALS on November 5, 1991. Despite the allegations against him, many maintain that he was innocent. A few days before he died, his wife, Diane, asked him if there was "anything he wanted to clear up" before he died. He said that he "didn't do it". She does not believe that he would have lied since he was going to die.
Richard Howe believes that there is more evidence in the case that has not yet come to light. He believes that there are people who know that Rick did not murder Lulu. He hopes that they will come forward. Rick's family and friends have told him that they will continue to fight until he is free. He is certain that his "day will come" and that he will be freed.
Rick's retrial is scheduled for January 19, 1993, before the New Hampshire Superior Court.
Extra Notes:
This case first aired on the January 6, 1993 episode.
It was excluded from Amazon Prime episodes.

Results: Unresolved. On January 19, 1993, two weeks after the broadcast, Rick was re-tried for Lulu's murder. Five weeks later, on February 26, a jury found him not guilty. He was immediately released from custody after serving five years in prison. He then returned to Lowell, Massachusetts, to be with his family. He later found work as a carpenter.
In September 2000, Rick allegedly raped a handicapped woman in her Lowell home. He had been hired to do repairs there. He also allegedly threatened to kill her and her family if she told the police. As a result, she did not come forward for six months.
Meanwhile, in October 2000, an elderly quadriplegic woman hired Rick to build a handicap ramp and an addition to her home. She paid him $52,000 - her life savings. He removed the old ramp and demolished half of the house. However, he never completed the work and never paid her back. In December 2002, he pleaded guilty to larceny in that case; he was sentenced to probation and ordered to pay the woman back. However, he never did. As a result, in May 2003, he was sentenced to five years in prison.
Rick was later charged with rape, assault, and threats against the 2000 victim. In December 2004, he was convicted on the assault and threat charges; however, the jury deadlocked on the rape charge. He was sentenced to two-and-a-half years in prison. In February 2007, he pleaded guilty to the rape charge and was sentenced to two years of probation. He has since been released, but remains a registered sex offender in Massachusetts.
In April 2005, two men came forward claiming to have information that could help solve Lulu's murder. They declined to be identified out of fear for their safety. They stated that they did not believe Russell was the killer; however, they did not publicly identify who they believed was the killer. Despite these new developments, Lulu's murder remains unsolved.
Although not mentioned in the segment, another suspect in the case was Barry Lazaro. As police were investigating the murder scene, he unexpectedly pulled up there. When police tried to talk to him, he returned to his vehicle and quickly drove away. When questioned that same day, he claimed that he had gone to the spot to go to the bathroom. Despite this claim, he never went the bathroom during his entire interrogation. Rick also claimed to have seen Barry arguing with Lulu two nights before the murder. However, another witness denied the argument took place, and Barry's girlfriend gave him an alibi for the night of the murder.
Links:
---