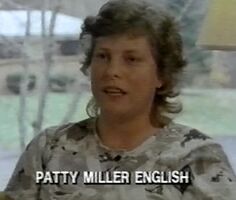 Real Name: Robert Wilson Miller
Case: Lost Father
Location: Ohio
Date: 1973
Details: Patti English is a hearing impaired woman searching for her birth father, Robert Wilson Miller. On December 25, 1958, Patti was brought home from the hospital by her mother, Helen, then seventeen. Patti was premature, which led to her hearing loss. When Helen entered the home, she found Patti's father Robert, whom she had separated from weeks earlier. Robert held his daughter briefly, but the couple's relationship was doomed; they divorced a few weeks later.
Helen remarried and for several years, Patti believed that her stepfather was her actual father. Then, one day when Patti was five years old, she saw a strange man at the door; it was Robert. At first Patti's stepfather refused to let him in, but he eventually allowed Robert to see Patti for a few minutes. Patti remembered Robert being very nice and friendly to her. He told Patti that he was her real father; after Robert left, Patti's stepfather told her that Robert was not her father.
Years passed and Patti continued to grow up in a house where she was not loved. Then, in 1971, when Patti was twelve, Robert had found her again. Her junior high school had allowed him to visit her in her classroom. Robert asked Patti if he remembered her, but she did not. Robert gave her a hug and then left with his wife. Patti's teacher then told her that the man was her real father; Patti left her class to go after him. However, by the time she reached the parking lot, Robert had left.
When Patti was fourteen, she ran away from home and ended up at a shelter. A social worker soon contacted Robert and he came to visit Patti. She told her father that she wanted to go live with him. Robert told Patti that he would try to get a lawyer. However, two days later, Patti was sent back to her mother and stepfather. A week later, Robert came to visit Patti, but Patti's stepfather threatened him and told him to never come back. Sadly, Patti never saw her father again.
Patti's life improved when she married her husband James in 1977. Although James and Patti are both deaf, their two children have no hearing problems. Now, Patti wants to find her father and reunite with him and his family.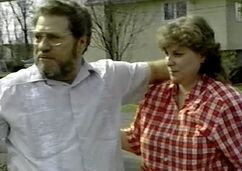 Extra Notes: This segment was featured as part of the January 17, 1990 episode.
Results: Solved. Patti's half-sister (who is also named Patti) saw the broadcast and called the telecenter. Two days later, Patti and her father Robert were reunited. Patti was also reunited with her half-sister and other relatives.
Links: None
---
Community content is available under
CC-BY-SA
unless otherwise noted.