Cobra Kai Season 4 - The Loop
Play Sound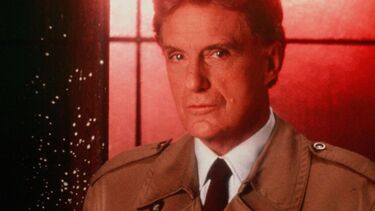 Robert Stack is an American film and television actor, possibly best known for the TV shows "The Untouchables" and "Unsolved Mysteries" and the movie "Airplane."
Born in Los Angeles, California, the younger son of James Langford Stack, the owner of an advertising agency, and Mary Elizabeth Wood, he has an elder brother named James Langford Stack, who died in 2006.
His parents had divorced when he was one-year-old, and his mother took him to Europe when he was three while his brother, James, stayed in the United States with their father. Young Robert spoke fluent Italian and French and had to learn English when they returned to Los Angeles. His mother and father remarried in 1928. Robert took drama courses at USC. He was not interested in team sports, so he took up skeet shooting. In 1935, he came in second in the National Skeet Shooting Championship (held in Cleveland) and, in 1936, his 5-man team broke the standing record at the National Skeet Championships (held in St. Louis). In 1939, Stack made his screen debut as her lover of actress Deanna Durbin in First Love. A make up man convinced him to change his blonde hair to black as an actor, and Stack soon became a matinee idol. He made several movies, teaming up with Durbin again in the 1941 film, "Nice Girl," but for much of his career, he only made Westerns, war movies and romantic comedies.
Stack was good friends with actor John Wayne, the two of them appearing in "Bullfighter and the Lady" in 1951, which was produced by Wayne. In 1952, he made movie history by starring in "Bwana Devil," the first 3-D movie, which was based on real-life lion attacks in Africa. The movie broke box office records, and immediately started a craze for more 3-D movies.
Around 1955, Robert was introduced to actress Rosemarie Bowe, by mutual agent Bill Shiffrin, and they wed two years later, later having two children: Elizabeth Stack and Charles Stack. For the 1956 film, "Written on the Wind," he received an Academy Award nomination fot Universal movies while under contract to 20th-Century Fox. Afterward, his contract with Fox came to an end, Stack made the transition to television and his role as Eliot Ness on the iconic 60s series, "The Untouchables." He also starred in the television movie, "The Scarface Mob" in 1959.
Stack went on to do other television shows, such as "The Name of the Game" and "Most Wanted" while having roles in comedies like "1941" in 1979 and "Airplane!" in 1980. Through the 80s, Stack became the regular host of the series, "Unsolved Mysteries," replacing Karl Malden and Raymond Burr from the two specials. He also made the movies "Caddyshack II" and "BASEketball" in the 90s. He also provided the voice of the character Ultra Magnus in "The Transformers: the Movie" in 1986. He returned to portrayed Ness again in the 1991 TV-movie "The Return of Eliot Ness.
In 2003, Stack was being treated for prostate cancer when he died from a heart attack at age 84 on May 14, 2003 at his home in Los Angeles, California.