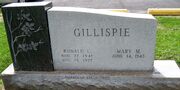 Real Name: Ronald Lee Gillispie
Nicknames: Ron
Location: Circleville, Ohio
Date: August 19, 1977
Details: Thirty-five-year-old Ron Gillispie was the husband of Mary Gillispie of Circleville, Ohio. In December of 1976, his wife recieved a letter from an anonymous writer calling himself the Circleville Writer. The writer claimed to have knowledge of her affair with the superintendant of schools and ordered her to stop along with threats of violence. It was postmarked Columbus, Ohio with no return address and no signature. She kept the letter a secret until Ron received one as well.
For a while, the letters stopped until August 19, 1977, when Ron received a phone call that appeared to give him the identity of the letter writer. He drove away from home with his gun only to be discovered a short distance away having driven off the road with a bullet wound in him. What was initially claimed to be an accident turned into a murder investigation blamed on Paul Freshour, Ron's brother-in-law, based on a gun used in a trap meant for Mary. Despite passing a polygraph, Paul was sent to prison as the letters continued and harassment continued on Mary. Considering the obvious second party in the case along with the circumstantial evidence, Paul was released from prison, but since then, Ron's killer, possibly the Circleville Writer, has not been identified.
Suspects: Witnesses report seeing a figure with sandy-blonde hair and a yellow El Camino as having set up the trap for Mary. The police did not follow up on this lead, but it is known that a suspect in the case has a brother with a yellow El Camino.
Extra Notes: This segment originally ran on the November 11, 1994 episode.
No photographs of Ron were shown in the segment.
Results: Unsolved
Links:
---
Community content is available under
CC-BY-SA
unless otherwise noted.