Obi-Wan Finale - The Loop
Play Sound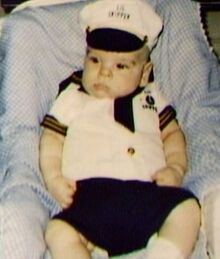 Real Name: Ryan Stallings
Case: Suspicious Death
Location: Jefferson County, Missouri
Date: September 7, 1989
Case
[
]
Details: On July 9, 1989, three-month-old Ryan Stallings was taken by his mother, Patricia, to Cardinal Glennon Hospital in St. Louis, Missouri, after he became violently ill. Since his birth, he had suffered from chronic gastric distress. On the day he was brought to the emergency room, his breathing became extremely labored and he was vomiting uncontrollably. She was originally planning to go to her doctor at St. Louis Children's Hospital, but in a panic, she accidentally turned off the freeway too early and went to Cardinal Glennon instead.
Ryan was immediately placed in the pediatric intensive care unit. He was hooked up to a respirator and had various tubes placed in him. By that point, he was listless, almost comatose, and still vomiting. Patricia and her husband, David, were told by doctors that they did not know what was wrong with Ryan and would not know how long he would have to be there. They were told to go to the waiting room and wait until doctors could figure out what was wrong. they rented a room at the hospital to be close to him. A complete medical examination was done on him which included blood and urine tests.
After three agonizing days, David and Patricia were told that Ryan would recover. The diagnosis, however, was stunning. He had apparently been poisoned. Lab tests, which included the use of a gas chromatography machine, showed that he had ethylene glycol and acetone in his body. Ethylene glycol is a colorless, sweet-tasting substance normally found in radiator antifreeze, industrial solvents, and resins. It can be fatal in large enough doses. Acetone is normally found in fingernail polish remover. David and Patricia confirmed that both substances were in their home. They did not know how Ryan could have gotten the substances in him, however. The doctors were polite, yet suspicious of them. They were not allowed to see Ryan alone; at least two nurses or a doctor had to be present.
Hospital officials notified both the sheriff's department and the Missouri department of family services. That same day, detectives were brought in to question David and Patricia separately. They asked Patricia if there were any fights or other problems at home. They also told her that they knew that either she or David had poisoned Ryan. She was infuriated by their accusations and denied poisoning him. Ryan's condition improved. After twelve days, he was released from the hospital, but not to David and Patricia's custody. Instead, he was given to a social worker who informed them that she would be taking custody of him and placing him with foster parents. David was angry and asked why she was doing do. She said that it was policy for them to take children from their parents when a suspected poisoning occurs.
David and Patricia's contact with Ryan was severely restricted. They were allowed only a one-hour visit each week on Thursdays. However, they made the most of the situation, always looking forward to their visits with him. They said that he always looked happy when he would see them. For five weeks, the parental visits continued. During the sixth visit on August 31, Patricia was left alone with Ryan for a short time. Three days later, he suffered another severe attack of vomiting. Once again, he was rushed to Cardinal Glennon Hospital. Once again, the diagnosis was poisoning. This time, even higher levels of ethylene glycol were found in his blood. A lab at St. Louis University used mass spectrometry to test it; it found ethylene glycol as well.
While returning from the hospital the next day, David and Patricia were confronted by two detectives. They had a warrant for Patricia's arrest. She wanted them to talk inside, but they refused. They put handcuffs on her and told her that she was under arrest for assault. She was booked on charges of poisoning Ryan. She knew those were wrong and that she did not poison him. She figured that within a few hours, the mistake would be realized and she would be released. As time passed, she realized that she was not getting out.
While Patricia languished in jail, Ryan was dying. On September 7, he was placed on life support systems. David found himself trapped in a private hell. Doctors told him that they had a feeling that Ryan was not going to make it. They told him to get in contact with a minister so that Ryan could be baptized. Soon after, he was done so and given last rites. David tried to get Patricia released so that she could see him, but the judge refused. Doctors then asked him if he could be removed from life support, and he tearfully agreed. For three hours, he held him as he slowly slipped away. At 6:30pm, one of the doctors shut off the machine to monitor his heart rate. He was pronounced dead soon after. He was not yet six months old.
At 9pm, Patricia received a call in jail from David who told her that Ryan had died. He was allowed to visit her that night. After Ryan's death, her charges were upgraded to first-degree murder. She was held without bail. She was not allowed to attend his funeral. A few weeks later, she discovered that she was pregnant again. For six months, she remained incarcerated, subject to a battery of mental fitness tests.

On February 27, 1990, David "DJ" Stallings, Jr. was born at a Madison County hospital. He was one month premature. Even though David was not a suspect and had been charged with no crime at all, he was not allowed to take DJ home with him. He became a ward of the state and was placed in foster care. Ironically, this devastating blow would turn out to be a stroke of good fortune. Without it, David and Patricia might have been accused of poisoning DJ.
When DJ was two weeks old, he was rushed to St. Louis Children's Hospital after he began to exhibit symptoms identical to the ones that had plagued Ryan. Within a month, the hospital diagnosed his illness as a rare genetic disorder, methylmalonic acidemia, or MMA. This inhibits the body's ability to process food, especially proteins. It also causes the body to produce chemical byproducts that may be remarkably similar to the ethylene glycol found in antifreeze.
Unsolved Mysteries contacted an independent expert, medical geneticist Stephen Cederbaum, about MMA. According to him, it would be very simple to confuse the diagnosis of MMA with multiple poisonings because the symptoms are very similar. More importantly, MMA and other similar disorders are very rare, and the majority of doctors either have never seen a case, or if they have seen one, they did not know it and actually confused it for something else (such as ethylene glycol).
While prosecutors re-evaluated the medical evidence, Patricia was released from jail on a recognizance bond. Pending the outcome of the investigation, she was denied visitation rights with DJ. She was certain that, in regards to being accused of killing Ryan, their nightmare was over. Even her lawyer, Eric Rathbone, said that it was over. However, Jefferson County officials continued to pursue this case. The prosecution's position was that Ryan had not died from MMA. In the judge's chambers, they cited four expert witnesses. They noted that two separate labs identified ethylene glycol in his blood. Also, at his autopsy, calcium oxalate crystals were found in his brain, consistent with ethylene glycol poisoning. Rathbone presented no expert opinions; he claimed that he could not find a medical expert to testify that MMA caused Ryan's death. The judge agreed with the prosecution. Neither DJ, nor the symptoms he shared with Ryan, were allowed to be presented as evidence at Patricia's trial.
Prosecuting attorney George McElroy did not believe that it would be relevant to bring up that DJ and/or Ryan had MMA, unless it could be proven that he died from it or that it was a contributing factor in his death. Cederbaum noted that first cases of MMA in a family are often missed. It is only when it occurs again that medical practitioners are tipped off to the fact that it may be a genetic disorder and that the first child may have had it as well.
In January 1991, Patricia's trial began. Without the medical testimony, the case against her seemed virtually airtight. Police and social workers testified that she showed little emotion upon learning of Ryan's death. Two bottles of antifreeze were found in the Stallings home; one was half-empty. Another son of Patricia's was in her sister's custody because of allegations of abuse. The prosecution focused on the events of Thursday, August 31, 1989, her and David's sixth parental visit with Ryan. On that visit, David's parents were invited for the first time. About twenty minutes into it, they decided to leave and let him and Patricia spend the rest of the time with Ryan. He then escorted them out of the room and down the hall. He was gone for no more than forty-five seconds.
However, McElroy claims that during the visit, Patricia was left alone with Ryan between three and eight minutes. During that time, she fed him a bottle. After he was taken to the hospital and diagnosed with poisoning again, several bottles were examined for possible traces of poison. All of them tested negative except for one. This was the one that she fed Ryan with. It contained trace amounts of ethylene glycol. It had actually been prepared by the foster mother and retrieved from the diaper bag during the visit. McElroy believes, and circumstantial evidence suggests, that she slipped ethylene glycol or antifreeze into the bottle during that feeding.
McElroy claims that Patricia started feeding Ryan at the beginning of the visit. David, however, states that she did not feed him until about halfway into the visit when he started getting fussy. David claims to have gotten the bottle from the diaper bag. He did not smell anything or see any discoloration in it. It was clear to him that nothing had been done to it. According to Patricia's lawyers, Ryan's symptoms did not appear until three-and-a-half days after the visit. Cederbaum does not believe that it would take eighty hours for ethylene glycol to cause symptoms in Ryan. He believes that it would have happened a lot faster than that.
According to McElroy, Ryan was taken from the visit by a DFS worker to the foster parents' home, but early the next morning, he was taken to a home of temporary foster parents who kept him for just the weekend. He believes that they, not knowing what Ryan was like, may have overlooked symptoms that the first set would have seen.
On January 31, after deliberating for ten hours, a jury found Patricia guilty of first-degree murder and assault with a deadly weapon. On March 4, she was sentenced to life in prison without the possibility of parole. David collapsed from shock after the verdict was read and had to be rushed to the hospital. She has only seen DJ three times: twice just after his birth and a third time when he was a week old. Each visit was limited to one hour. David is only allowed to see him once a week. He believes that if Ryan had been correctly diagnosed with MMA, none of this would have ever happened. McElroy believes that the jury made the right decision and that she is guilty. He believes that if evidence does surface that Ryan had MMA, then this case should be retried.
Patricia notes that she has lost Ryan and fears that she will lose DJ as well to MMA. She maintains that she did not kill him.
Suspects: Although the authorities claimed that Patricia murdered Ryan, her supporters believed that he died from MMA.
Extra Notes:
This case first aired on the May 8, 1991 episode.
It was also featured on Forensic Files.
In 1993, a CBS movie called Without a Kiss Goodbye aired; it was based on this case.

Results: Solved. On the night of the broadcast, several physicians familiar with MMA called the telecenter. One of them was William Sly, chairman of the biochemistry department at St. Louis University. He and James Shoemaker, director of the university's metabolic-screening laboratory, believed that Ryan may have died from MMA. Shoemaker tested frozen samples of his blood serum. He used a gas chromatography machine and found propionic acid in his blood, not ethylene glycol. The acid is normally found in patients with MMA. He noted that the two substances create similar results, which may have led to the previous misidentifications. In fact, the difference between them is just a few carbon atoms. He also sent test samples of blood spiked with propionic acid to seven other labs to see if they would misidentify it as ethylene glycol. Three of the labs did just that.
Patricia's new attorneys, led by Robert Ritter, petitioned the court to grant her another trial based on the fact that she had previously received ineffectual counsel from Rathbone, her former lawyer. Surprisingly, McElroy agreed that Rathbone's defense had been ineffective. On July 30, 1991, she was granted a new trial and released from prison.
To sort through the scientific inconsistencies, prosecutors contacted Dr. Piero Rinaldo, assistant professor of genetics at Yale, and had him look into this case. He spent several weeks reviewing the laboratory evidence. He determined that the original lab results were grossly inaccurate, finding major errors in both sets of findings. He agreed that the results of the gas chromatography machine and the mass spectrometer did not show ethylene glycol.
On September 20, a press conference was held in St. Louis. At the conference, Rinaldo revealed that independent blood serum tests showed Ryan had MMA and definitely died of it. Consequently, the prosecuting attorney dropped all charges against Patricia. McElroy also personally apologized to them for their ordeal. During the conference, David and Patricia heard for the first time that custody of DJ had been returned to them.
Scientists believe that some of the traces of ethylene glycol found in previous tests actually were caused by a sterilization process used to draw blood for the tests. They also believe that the process of washing Ryan's bottle caused false ethylene glycol readings. Furthermore, the crystals found in his brain are believed to have been caused by an ethanol drip given to him after the suspected poisoning.
In October, just over two years after Ryan's death, DJ came home for the first time. Although they knew his condition was scary, David and Patricia were certain that they would be able to help him survive his condition and that they would be okay. Patricia was also happy to finally have her life back after two years.
David and Patricia later sued Cardinal Glennon Hospital, St. Louis University Hospital, the doctors, and SmithKline Beecham Clinical Laboratories, who were all involved with incorrectly diagnosing Ryan with ethylene glycol poisoning. They claimed that the hospitals refused to perform additional testing, even after DJ was diagnosed with MMA. In 1992, Cardinal Glennon, St. Louis University, and the doctors settled out of court. In 1993, they settled a lawsuit with SmithKline. In total, they were awarded several million dollars. They later divorced.
Tragically, DJ passed away on September 17, 2013, at the age of twenty-three. David passed away on April 30, 2019, at the age of fifty-seven, following a lengthy illness. He was survived by four other children and one grandson.
Links: