Spider-Man: No Way Home Trailer Dropped - The Loop
Play Sound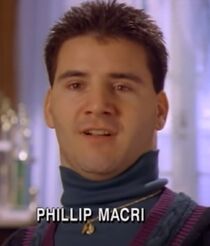 Real Name: Unknown
Case: Lost Rescuer
Location: Virginia Beach, Virginia
Date: August 28, 1987
Case
[
]
Details: Twenty-three-year-old Phillip Macri of New Castle, Pennsylvania is searching for an unknown woman who saved him from drowning. In high school, he was a star basketball player and college prospect. In the 1986-1987 season, he led his team into the state playoffs. He seemed destined to win a college scholarship. However, his life was turned upside down on August 28, 1987. That weekend, he and his sister, Charlene, went to Virginia Beach, Virginia for a softball tournament. When they arrived at the beach, he dove headfirst into a wave with his arms in front of him. The water was more shallow than he thought; he slammed his head against the ocean floor and instantly broke his neck. When he opened his eyes, he realized that he was underwater and unable to move his arms and legs. He was certain that he was going to die. In desperation, he screamed for help.
No one knows if Phillip's calls for help were actually heard. But miraculously, they were answered when an unknown woman found him and pulled him out of the water. Charlene was looking for him in the water when she saw the woman pulling him out to safety. She could only tell it was him by his swim trunks. She and a lifeguard immediately ran over to him. She asked him to move his arms or legs, but he was unable to do so. With everyone's attention on Phillip, his rescuer was all but forgotten. She disappeared before anyone could ask for her name.
Phillip's parents soon received a call from a doctor in Virginia Beach. He asked for Phillip's mother Dorothy's consent to do something on Phillip. She gave him consent and then asked what had happened. He told her that Phillip had broken his neck and was paralyzed. His parents immediately rushed there to be with him. For three days, doctors pumped sand from his stomach. For two weeks, he was wrapped in ice blankets to counter raging fevers resulting from multiple infections. Finally, his condition improved enough for doctors to surgically stabilize his crushed vertebra. However, the damage had already been done. Although he is not completely paralyzed, he remains paralyzed from the waist down with limited use of his arms.
More than five years have passed since the mysterious stranger gave Phillip a second shot at life. In that time, he has had to redefine his aspirations. However, he pursues them with the same determination he once brought to the basketball court. When he was in the hospital, he had three goals. The first one was to get off the respirator. The second one was to get in a wheelchair and not be depressed about being confined to it. The last one was to go to college, get a degree, and get a job. He has fulfilled all three goals; he is now majoring in telecommunications at Westminster College near his home in Pennsylvania. In fall 1993, he will return to the sport he loves, this time as a play-by-play announcer for a local high school's basketball games.
Philip has made the most of his gift of life. However, he still hopes to accomplish one very important goal. He would like to personally thank the woman who saved him. He feels that it is very important to find her, because he would not have been able live and fulfill his life goals without her.
Extra Notes: This case first aired on the February 17, 1993 episode.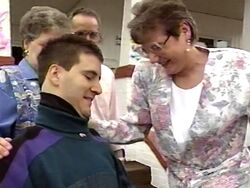 Results: Solved. On the night of the broadcast, forty-three-year-old surgical technician Linda Potts of Lorain, Ohio, called the telecenter and identified herself as the woman who saved Phillip. Coincidentally, they live less than sixty miles from each other. Linda, her husband, and young son were visiting Virginia Beach on vacation when she saved Phillip. Linda had actually learned years earlier from a coworker of her husband that Phillip was the person she had saved. However, she was unaware that he was searching for her until the broadcast.
On March 27, 1993, Linda and her family were reunited with Phillip and his family at his New Castle home. That evening, his parents hosted a dinner for Linda, their families, and friends in honor of her. Phillip also learned that Linda has had medical problems and was more than willing to help her out. They have been close friends ever since. He now owns and operates a home health care company.
Dorothy passed away in 2009.
Links:
---