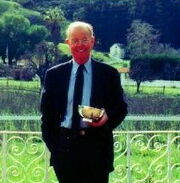 Real Name: Unknown
Case: Unidentified Remains
Date: April 27, 1990
Location: Santa Cruz Island, California

Case
[
]
Details: Dr. Carey Q. Stanton was a life-long bachelor who left New York City to tend to his family ranch on Santa Cruz Island in 1957. His father, Dr. Edwin Stanton, had acquired the island in 1937 when Carey was still a teenager. The sheep previously raised on the island had become feral, and Hereford cattle were introduced instead.
When the elder Stanton passed away, Carey inherited the island. He was very protective of the island and rarely had visitors. However, when he did have guests, they followed his rigid, somewhat quirky schedule. Dinner was always served at 7:30 pm, with the same five courses per week. At exactly 8:30 pm, coffee and oatmeal cookies would be served. At 9 pm, Carey would go to bed. He kept this same schedule every year.
On the island, he had a small church and private cemetery for those associated with the island. On December 8, 1987, he passed away and was interred in the cemetery. He left the entire ranch to the Nature Conservancy. The conservancy was in charge of keeping the island in pristine condition.
On April 27, 1990, the Deputy Agricultural Commissioner found a metal box in an old shed on the ranch. Inside the box were human remains, practically turned to ashes. The Santa Barbara County Coroner found a few clues within the remains, including: a snap-like clothing fastener manufactured during the 1940s, several false teeth from the 1950s, and a diamond-studded platinum ring from before WWII. Tests on the bone fragments determined that it belonged to an elderly female.
Investigators do not believe that Dr. Carey Stanton was responsible for the woman's death. It is suspected that she may have died of natural causes. The woman is believed to have died after WWII, at an age past fifty. She suffered from a slight arthritic condition. She has never been identified.
Suspects: It is unknown if the bones are the result of a crime. A date of death for the bones has not been revealed. It is not believed that Dr. Stanton had anything to do with the woman's death.
Extra Notes: This case first ran on the February 12, 1992 episode.
Results: Unsolved
Links: No known links. There is no outside verification outside the Unsolved Mysteries segment on the discovery of the bones.

---