Jurassic World: Dominion Dominates Fandom Wikis - The Loop
Play Sound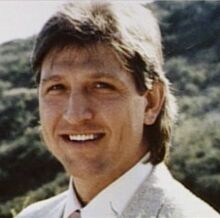 Real Name: Philip Taylor Kramer
Nicknames: Taylor
Location: Los Angeles, California
Date: February 12, 1995

Bio
[
]
Occupation: Computer Executive, Former Musician
Date of Birth: July 12, 1952
Height: 6'5"
Weight: 200 lbs.
Marital Status: Married
Characteristics: Caucasian male with Sandy blonde hair and blue eyes. When last seen, he was wearing a long-sleeved white dress shirt, silver tab Levi's blue jeans, and black and white high-top Reebok tennis shoes.

Case
[
]
Details: On February 12, 1995, a Los Angeles 911 operator received a baffling call from a man who said that he was going to kill himself. She asked for more information from him, but he hung up without responding. That call marked the moment forty-two-year-old Phillip "Taylor" Kramer vanished. The question is, did he commit suicide? And if he did, why have so many people seen him?
In the 1970s, Taylor was a bass player for the rock-and-roll band, Iron Butterfly. In the mid-1980s, he worked as an engineering specialist on a U.S. missile program. By the 1990s, he had settled down and become a family man in Thousand Oaks, California. He and his wife, Jennifer, had two young children, a boy and a girl. He was also a computer engineer and a math and computer whiz who founded his own high-tech multimedia company, Total Multimedia Inc., in 1990. He also created a nonprofit group that helped bring technology to local schools. In 1994, he grew emotionally distraught as his companies went bankrupt and were reorganized. He also owed tens of thousands of dollars he had borrowed from friends.
For several weeks before his disappearance, Taylor had been working around the clock on an exciting new breakthrough. He told Jennifer about it. He said that "it has been here the whole time" and that "it was so simple, that no one had found it before." He said that he had been developing technology that would allow a computer to use a camera to find a missing child in a sea of thousands of people by just showing the computer a small piece of the child's face. It would be able to find the child in a fraction of a second.
Taylor's research consumed him. It was based on revolutionary theories about data compression, ideas that his father Ray, a former professor of electrical engineering, had developed thirty years earlier. The two believed they had made an important mathematical discovery that could allow information to travel faster than the speed of light. According to Taylor's sister, Kathy, he was very excited that they had made this discovery that was going to help people. She believed that the discovery was real. However, she also believes that the excitement of the discovery overwhelmed him.
The day before Taylor's disappearance, he and Jennifer went on a hike in Thousand Oaks. At the top of a hill, they were able to see the whole Conejo Valley, where they lived. While there, he pointed to a cross that was on a nearby hill. He said to her, "look, honey, our house is right in the path of this cross." According to her, he started to see sacredness in everything. She blames his bizarre behavior on sleep deprivation. She said that in the weeks before his disappearance, he sometimes went days without sleeping.
On February 12, 1995, the day after the hike, Taylor left home at around 9am. He planned to briefly visit his father-in-law, then go to Los Angeles International Airport to pick up a business associate, Greg Martini, and Greg's wife. He then planned to return to Thousand Oaks with the Martinis, pick up Jennifer, and take them all to dinner. After visiting his father-in-law, he went to the airport as scheduled, waited forty-five minutes, then inexplicably left before his friends arrived. He drove north towards his home. Along the way, he made a series of phone calls.
At one point, Taylor left a message for his old friend, Ron Bushy, the drummer for Iron Butterfly. He said, "Bush, I love you more than life itself." According to Ron, his voice sounded stressed. It sounded like he was scared and may have been crying. Taylor made the call from his cell phone while driving. He made similar calls to his lawyer and his business partner. He also called Jennifer and several other people.
In Taylor's call to Jennifer, he said, "Hi Jenny. Tell Greg I'm not going to be able to meet him at the airport. He'll understand. OK?" He also told her to tell Greg to take a cab from the airport to the Westlake Hyatt hotel and that he would meet them there at 2pm. She asked him where he was, where he was going, and what he was doing. He responded, "Sweetheart, I want you to remember that whatever happens, I'll always be with you." She became scared and thought that something was wrong with him. She again asked him where he was going. He said, "You just tell him that, uh, I'll meet him at the hotel at 2:00, OK?" And then, very calmly, he said, "and when I see you, honey, I have a big surprise for you." However, she knew in her gut that he would not be at the hotel.
An hour later at 11:59am, Taylor made his last contact, the call to 911. The call was made somewhere in the San Fernando Valley on the Ventura Freeway. The operator said, "911, can I help you?" and he responded, "Yes, you can. I'm going to kill myself." Taken aback, she said, "OK, what is your name? Hello? Hello?" He then hung up the phone. He was never seen or heard from again. Private investigator Chuck Carter noted that it is very hard to commit suicide and also disappear. He figured that someone would find Taylor's car. However, no trace of him or the car were ever found.
No car, no body, no further activity on Taylor's credit cards or cellular phone. However, after his family papered the Los Angeles area with missing posters, several people claimed they had seen him near the area where he made his phone calls. Daniel Washington, a pawn shop employee in Canoga Park, California, spotted Taylor in late February. He said that when Taylor was there that day, he left an impression on him. He was not interested in pawning his wedding ring, but instead "talked computers." When Chuck came in and showed him the picture of Taylor, he was positive that it was him, because they had stood and talked together for a little while. He was 100% sure that it was Taylor. Interstingly, Taylor lived in Cangoa Park during the 1970s.
Around the same time, Jan Biondi and her daughter reportedly saw Taylor at a nearby garage sale. He was asking about buying clothes; however, they did not have any sizes big enough for him. Later that day, Kathy came by and passed out fliers to them. Kathy mentioned that he liked garage sales and had been seen in the area. When Jan's daughter saw the flier, she said that Taylor had been there that morning. Other witnesses reported seeing him at a soup kitchen in Long Beach, and at the Santa Monica Pier. Yet another witness reported seeing him begging outside of an Agoura Hills supermarket. Interestingly, he told the witness that he only had forty cents on him. That was the amount of money Taylor had on him when he vanished.
If Taylor did not commit suicide, what happened to him? On February 28, 1995, two-and-a-half weeks after his disappearance, Jennifer believes he made one final call to his family. According to her, he called the house, and the answering machine picked up. All he said was, "Hello, hello."
When last seen, Taylor was driving an emerald green 1993 Ford Aerostar minivan, California license plate number 3EBUO24. His family fears lack of sleep and the stress of overwork forced him into a state of amnesia, what psychiatrists call a "dissociative fugue state." He may have flashes of memories that he cannot connect into a whole.
Suspects: None known; police suspect that Taylor may have committed suicide due to his 911 call and the financial problems he and his company were having. However, his family does not believe that he committed suicide. Ray claims that Taylor told him that if he ever threatened to kill himself, it meant that he was actually in trouble. His family believes that he may still be alive and suffering from amnesia due to a mental breakdown. They have also speculated that he may have been kidnapped because of his research.
Extra Notes:
This case first aired on the November 17, 1995 episode.
It was also profiled on America's Most Wanted and "The Phil Donahue Show" during the investigation and on The Unexplained after it was resolved.
Some sources state that in his 911 call, Taylor also said: "And I want everyone to know O.J. Simpson is innocent. They did it." The quote was reportedly related to a running joke at his work.

Results: Solved. On May 29, 1999, two photographers snapping pictures of old car wrecks found the rusted shell of Taylor's van at the bottom of a canyon next to Decker Canyon Road in the Santa Monica Mountains near Malibu, California. The windshield was shattered and the front end was severely damaged. They notified police after they peered into the van and saw human remains. On June 3, the remains were identified as Taylor's through dental records.
In September 1999, Taylor's cause of death was determined to be blunt force trauma; this is consistent with him driving off of a cliff. The coroner ruled the manner of death as "undetermined." However, the police believe that it was a suicide based on his financial problems and the phone calls he made before he died. His family, meanwhile, believes he was murdered because of his research. No evidence has been found to support their claims.
On August 29, 2021, Ron Bushy passed away at the age of seventy-nine.
Links:
---