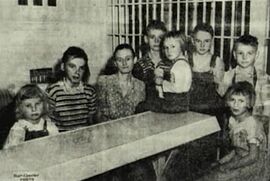 Real Names: Frank Jr, Clarence, Leonard, Betty, and Florence Craun
Case: Lost Siblings
Location: Annawan, Illinois
Date: December 1948

Case
[
]
Details: Frank and Hilda Ruth Craun lived with seven of their young children in a small farmhouse on the outskirts of Annawan, Illinois. They were dirt poor; their house had no plumbing or heating. Every night, the children crammed into a single bed to keep warm. One morning in December 1948, two deputies arrived at the house to deliver an eviction notice from the Craun's landlord. Hilda and the children were asked to leave the premises. Frank was not home at the time. The deputies learned that the Crauns had nowhere to go and took pity. They decided they could not let the family spend Christmas out in the cold. They then took Hilda and the children to the only available shelter in town, the Henry County jail.
Raymond (Craun) Anderson was eight at the time. He remembered being put in a car with his siblings and being taken to the jail. Suddenly, the jail was transformed; its cold cement walls were now home for the destitute Craun family. The children were free to roam throughout the jail. For reasons unknown, Hilda and Frank were forbidden to see one another. He was not allowed to come to the jail to see her, and she was not allowed to leave to see him. Raymond remembered that they were basically allowed to do whatever they wanted; they could go outside, talk to the other prisoners, and play with things throughout the jail. At the time, he was unaware of the true gravity of their situation.
Marie Ruth (Craun) Melton was four at the time. Her memory of jailhouse life was quite different from Raymond's. She remembered getting a bath from Hilda while in a jail cell. She felt nervous when the policemen would walk by. She was afraid to get another bath because she did not want the policemen to walk by and see her.
Two weeks passed. On December 17, 1948, the Craun family's plight was publicized in the local newspaper, which carried a photograph of Hilda and the children (seen above). It is the only Craun family portrait known to exist. In response to the article, many community members offered assistance. A well-intentioned social worker hoped to brighten the children's Christmas by taking them out of jail and placing them in foster homes for the holidays. However, Marie and her sister, Frances, did not want to go because they had never been away from Hilda before. Eventually, however, they had to go because there was no way for them to stay at the jail. Marie believes that Hilda let them go because she wanted them to have a nice Christmas, something that they had never had before. Sadly, they never saw Hilda again.
While Hilda remained at the jail, Marie and Frances were placed in separate foster homes and eventually adopted. Marie still wonders if Hilda actually consented to give the children away. She suspects that Hilda was illiterate and believed that she signed papers that allowed the children to be released for the holidays, when in reality, they were forms that allowed the children to be adopted.
On Christmas Day at the jail, the remaining children were given candy bars on their dinner trays. It made an impression on Raymond because it was the first Christmas present he had received in years. Within a month, he and his brothers, Clarence and Leonard, would be placed in children's homes. However, the fates of Frank and Hilda remain a mystery to this day. Marie's adoptive mother told her that they had been banished from the state of Illinois. If they were to return, they would be arrested. However, she never explained why this was the case.
The secrets about Frank and Hilda plagued Marie throughout her childhood. She and Frances, renamed June, had been adopted by neighboring families. For reasons unknown, the families insisted on keeping the sisters apart. One day, Marie went to the store and ran into June there. The two talked as they walked back home. When they arrived at June's home, her adoptive mother called her in. She told Marie that she would be right back out. Marie waited for several minutes. Finally, she knocked on the door. Her mother answered and said "she can't come out, she has things to do" and then slammed the door in Marie's face. Upset, she went home.
Years passed, but Marie never stopped wondering about her siblings. Finally, in 1966, she learned through a mutual friend that Raymond, whom she had not seen in eighteen years, was living in a nearby community. When she arrived at his house, she saw him standing on the porch. The two were then joyfully reunited. Although eighteen years had passed, they both immediately recognized each other. They spent the next few hours reminiscing and catching up on the years they had spent apart. Together, they vowed to find out what had happened to the rest of their family.
For eighteen years, Raymond and Marie suffered through a series of near-misses and false leads. Sadly, they discovered that Frances, who later went by the name June Frances Hancock, died in a house fire in 1985. However, her son, Scott, was eager to help in the search for his mother's siblings. Finally, in February 1993, they located and were reunited with one sister, Carol Van Sant (formerly Dorothy), of Rockport, Texas. However, several of their siblings remain unaccounted for. It is believed that some of the children may have been adopted illegally, or possibly sold, and taken to California or Arizona.
Extra Notes: The case was featured as a part of the December 22, 1993 episode.

Results: Solved. Within hours of the broadcast, five more siblings (two sisters and three brothers) were located: Betty Jane Hershiser of Jacksonville, Texas; Mary Tillman of Sicily Island, Louisiana (born after the family's eviction); Leonard of Winnfield, Louisiana; Clarence of Las Vegas, Nevada; and Frank Jr. of Marion, Indiana. Frank Jr. had actually contacted Unsolved Mysteries two years earlier, in hopes that they could help find his siblings. Sadly, he died of a heart attack on December 26, 1993, shortly after the broadcast; he was fifty-nine. Although he was never reunited with his siblings, he did speak to Marie on the phone. He confirmed that Hilda never signed any papers to give away her children. Instead, she and Frank Sr. were ordered to never see the children that had been taken away. They were apparently taken away because the Crauns were too poor to care for them.
Betty Jane told her siblings that, after the eviction, she and the other older siblings were placed in the Dixon State School. Frank Sr. later took them back, but was unable to get the siblings who had been adopted. The older siblings remained in contact over the years, but were unable to find their younger siblings until the broadcast. It was also discovered that Frank Sr. died of a heart attack at age fifty-three in Indianapolis, Indiana in 1965 and Hilda died at age sixty-seven in Louisiana in 1977.
On July 9, 1994, the Craun family gathered at Raymond's house in Houston, Texas, for their first reunion in forty-five years. For the oldest sister, Betty Jane, the reunion was particularly emotional. She recognized Marie right away. The siblings were overjoyed and began to catch up on decades of lost time.
At the time of the 1994 reunion, one sibling, Florence, was still missing. However, when the case was re-aired on August 21, 2000, Charlotte Ruth Rudicill was watching. She recognized herself as Florence and realized that her family was searching for her. Unsolved Mysteries was able to verify that she was Florence and she was reunited with her siblings.
Sadly, several of the siblings have since passed away: Charlotte in 2002, Leonard in 2006, Marie in 2015, Clarence in 2016, and Betty Jane in 2021.
Links:
---