Cobra Kai Season 4 - The Loop
Play Sound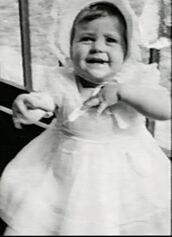 Real Name: Charlotta Sylvia Burian
Case: Lost Daughter
Location: Kaiserslautern, Germany
Date: 1961

Case
[
]
Details: Holocaust survivor Gerda Burian is searching for her long-lost daughter Charlotta whom she gave up for adoption decades earlier. Gerda gave birth to Charlotta in Kaiserslautern, Germany in 1960. Charlotta's father was a U.S. serviceman who wanted nothing to do with her. Gerda hoped to raise the child herself. However, one year later, she fell seriously ill; she entrusted Charlotta with the people she worked for, a U.S. Army family from Texas. They adopted Charlotta and brought her with them to the United States.
Gerda recovered from her illness and later emigrated to the United States as well. She now lives in Hayward, California and is hoping to reunited with her daughter.
Extra Notes: The case originally aired as a Special Bulletin in the November 3, 1995 episode; the update aired on February 2, 1996.

Results: Solved. On the night of the broadcast, Charlotta's adoptive sister was watching. She told Charlotta about the search; by the following Monday, she contacted Unsolved Mysteries. Incredibly, she lives in Foster City, California, just ten minutes away from her mother Gerda. Gerda and her daughter, now Charlotta Henderson, were reunited just five days after the case aired. Gerda was overjoyed to learn that Charlotta had also been looking for her, and that she also has four grandchildren.
Just one week after their reunion, Charlotta was by her mother's side for another very important moment in Gerda's life: the swearing in ceremony for her U.S. citizenship.
In 2017, she was interviewed about changes in the transit system in the city of Turlock. The new system removed a bus stop that was in front of her apartment. She did not feel that she would be able to walk over two blocks to get to a bus stop. One month later, the city agreed to reopen the bus stop.
Links:
---